Meet the new Emma — Anya Taylor-Joy
Taylor-Joy is an acting anomaly who seems to have been born, physiologically and psychologically, to perform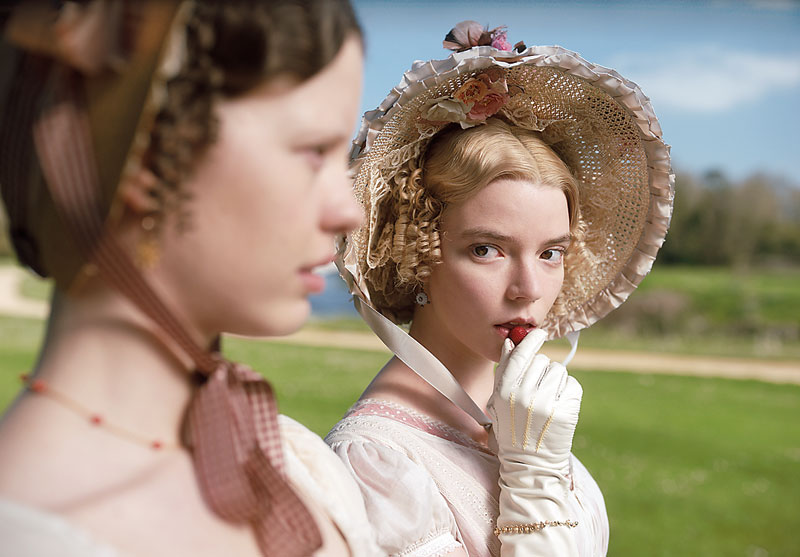 ---
Published 26.02.20, 02:25 PM
|
---
In the early summer of last year, on the Wiltshire set of the new adaptation of Jane Austen's Emma, something strange happened. It was during the filming of a pivotal scene between the romantic leads, Emma Woodhouse and George Knightley, which climaxes with Emma's sudden nosebleed. That was in the script, which was written by the Booker Prize-winning novelist Eleanor Catton for her director, the novice filmmaker and veteran rock photographer Autumn de Wilde (Willie Nelson, Sonic Youth, the White Stripes — she's snapped them all). The plan was to film Knightley, played by the musician-turned-actor Johnny Flynn, then Emma, played by Anya Taylor-Joy, and then to cut, add the fake blood under her nose and continue filming.
At the pivotal moment, however, Taylor-Joy was so in character that her own blood flowed freely from her nose, right on cue. "Johnny and Autumn were freaking out," Taylor-Joy, 23, says. "They were going, 'Oh my god, what do we do?' And I was, like, 'What do you mean, what do we do? Keep f***ing rolling! That's what we do!' I'm very pleased to have bled on cue, but I don't know if I can do it again."
LIVING HER PARTS
I wouldn't bet against it. Taylor-Joy is an acting anomaly who seems to have been born, physiologically and psychologically, to perform. She can cry on cue. She has a photographic memory. She reads scripts once, boom, and she's done. She can do any accent in the world just by listening. Dialect coaches are redundant on her sets. She broke into films at the age of 18 with a pitch-perfect Scottish accent in Robert Eggers's horror classic The Witch. She's just finished shooting the comic-book blockbuster The New Mutants in which she played Russian. "We didn't have a dialect coach for that," she says. "I just listened to Russian radio for a bit."
Taylor-Joy did American in Peaky Blinders, playing the steely, ambitious Gina Gray, as she did in the black comedy Thoroughbreds and in the blockbusters Split and Glass. She's doing Irish next in a gritty drugs drama, Here Are the Young Men, followed by soft cockney for Edgar Wright's Last Night in Soho. Today, in a swanky hotel in the West End of London, her accent hovers somewhere over the mid-Atlantic, but with sudden lurches towards Dublin later in the chat.
I ask her if she's impersonating me. She says she doubts it, but she can't stop it. It's to do with an early childhood raised in Argentina only speaking Spanish. "I mean, I struggle," she says. "But I only learnt English when I was eight and I was moved around a lot so I don't do it on purpose. But there's something about hearing the lilt in someone's voice and the cadence with which they speak that I just tend to match them. It's annoying because it's just this weird thing that I do and I wish I had more control over it. But honestly, it takes far more effort to stop it happening. And, obviously, it has been an absolute saving grace for jobs."
In Emma, of course, she's cut-glass perfect. But that's not why the film works or why she has wholly reinvented a tricky title character that for too long, on screen, has been cardboard-thin and either too priggish (Romola Garai in the BBC version from 2009) or too smug (Gwyneth Paltrow in the 1996 film). Her Emma is all about empathy, pinging between Knightley's droll banter-buddy and the potential affections of the caddish Frank Churchill (Callum Turner).
It's Taylor-Joy's thing. Huge wide eyes and an ingenuous face practically pulsing with emotions. There are scenes here, especially when Emma realises, shamefully, that she has been cruel to the tedious Miss Bates (Miranda Hart), in which Taylor-Joy seems to almost crumble to pieces. In other moments, such as her debates with Knightley over the appropriate romantic future for the schoolgirl Harriet Smith (Mia Goth), she is fiery and unrelenting.
Taylor-Joy is passionate about the film and talks about its resonance for modern audiences and the feminism at its heart. Emma is a woman in total control of her destiny. She is modest about her performance, but admits that the character felt like a twin sister and she felt everything that was happening to Emma as deeply as if it were happening to her. This, it turns out, is not unusual for the actress. She once cried on set for eight hours to get the right emotion for a scene in The Witch — "It doesn't feel like I've done a good job unless it's real". On the action film Morgan, she threw herself off a cliff even though she suffers from vertigo. Why? Because that's what the character would have done. "Something takes over me when someone yells 'Action'," she says. The excess empathy, the photographic memory, the imitative gifts and the, er, automatic bleeding — these are not the trademarks of a typical rising star. "My mum says that it's a bit like being Liam Neeson. I have a very particular set of skills and if this career did not exist, I'd be useless," she says.
ORIGIN STORY
Taylor-Joy has a good start-up story too. She was walking past Harrods in Knightsbridge, aged 16, wearing her mum's high heels and with her dog on the lead. At the time she was living on her own and was spotted by Sarah Doukas, the modelling agent who represented Kate Moss and who immediately put Taylor-Joy on her books. She got few jobs, but secured one particular gig that took place the night before her GCSE English exam: a photoshoot with the cast of Downton Abbey during which, bored and stressed, she recited Seamus Heaney's poem Digging for the actor Allen Leech (Tom Branson in Downton). Impressed, he put her in contact with his agent and within a week she nabbed the career-making gig on The Witch. She went, with the film, to the Sundance Film Festival and "never came back" to her old life.
But, rewind. Why was she living on her own in Knightsbridge at 16? She's the daughter of an English interior designer mother and a Scottish-Argentine former international banker and powerboat racer father, and she only moved to London at the age of eight. "I had quite a difficult childhood and I was going through a lot which I'm not ready to talk about yet," she says evenly. "I will one day because it's something I do want, eventually, to discuss. But my parents and I, we have a really good relationship and we just came to an understanding that, at that time, it was not beneficial for us to be living together and that I needed the responsibility of having to go out and get food and bring it home and do all of those things to sort of, well, get better, really."
Her childhood, it seems, is a genuinely painful place. She says that she was mocked relentlessly about her appearance. She may have classic "model good looks" today (the bone structure, the huge Bambi peepers), but as a child, her eyes were deemed by playground bullies to be too far apart.
"It was a thing for me when I was little because I used to be mercilessly teased for it," she says. "My head has only got slightly bigger as I've got older, but when I was young it was tiny and my eyes were literally on either side of my head. And it was something I wasn't aware of until the kids at school were really mean. And that influenced me not looking in mirrors any more."
Yes, that's another thing. She doesn't use mirrors. She rarely looks at herself on screen. And if she's at a premiere of one of her films she won't bring her glasses (she has terrible eyesight) so it will all be a blur anyway.
There's no self-pity in any of this. She is open and engaging and talks about herself as a riddle to be solved. Her capacity for empathy and accent-shifting, she says, is merely a product of biography. "I was transplanted so many times that it was always about just getting there and ingratiating yourself," she says, adding that her ability with accents, according to scientists (and she has checked), reflects someone who is keen to connect and be understood. "On the negative side it doesn't show masses of self-confidence. Which is definitely something that I want to work on."
She lives, er, nowhere. Literally, hotels and with friends. That's it. She's not joking when she says that she went to Sundance and never came back. Last year, she says, "I did Emma, then I had one day off. Then I did the Edgar Wright movie and had one day off. Then I did The Queen's Gambit (a series about a chess prodigy) and had one day off. It was insane. The last time I had a place to live I was 18." So where will she sleep tonight? "Here, in this hotel!"
She was papped last year "canoodling" with Eoin Macken from the TV series Merlin, but that wall-to-wall schedule must do terrible damage to her personal life. Does she even have time for a proper partner? "I have the space for the right kind of partner," she says, obliquely. "And I have that, which is great." End of.
Next in her crammed schedule is The Northman, the new film from Eggers, who is the talk of the town, courtesy of his startling horror flick The Lighthouse. "I think the only thing I can say about that, without Robert strangling me, is that it's a Viking revenge movie."
There are more films, including a possible Nosferatu remake, and another season of Peaky Blinders. She also wants to direct. And write. And, most importantly, at some unspecified point, to take a break. "I'll be curious to see when it happens," she says. "When I wake up one morning and say, 'Yes, I'm going to take a year off.' I'm curious to see when I decide to do something different with my brain."