Conflict zone
Gender, colour, race, region or religion, whatever the prejudice, it's always the path-breaking first person who faces the worst until a flight path is cleared for those following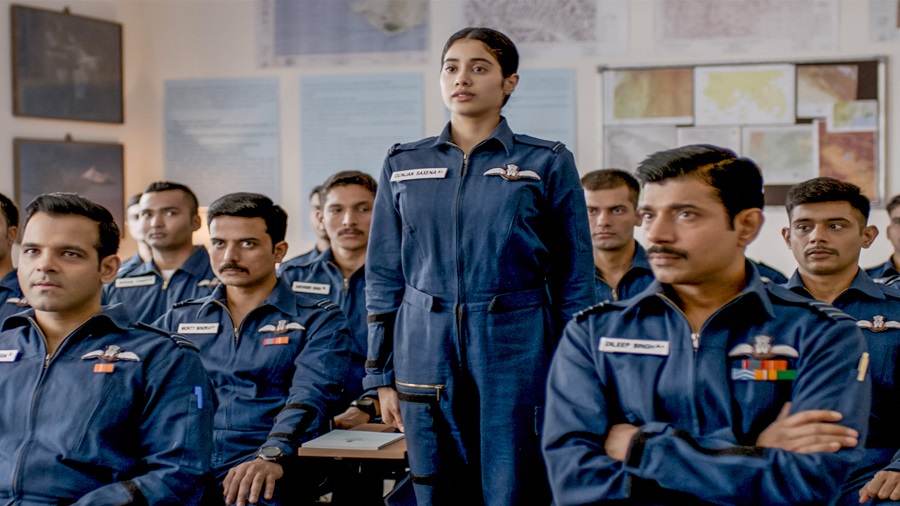 A still from the film Gunjan Saxena: The Kargil Girl, which was released on Netflix
PTI
---
Published 23.08.20, 12:33 AM
|
---
With due respect to the Indian Air Force, does the current outrage over the misogyny portrayed in Gunjan Saxena stem from genuine concern for the image of our defence forces or does it have its roots in the recently-discovered public taste for flogging successful names like Karan Johar?
One suspects it's more of the latter as words like "he's an anti-national" and "take back his Padma Shri" have been tagged to the perceived umbrage. Social media has been awash with remarks about getting away with "objectionable content" too because there is no censorship on OTT.
Well, here's a piece of unpublished information: Gunjan Saxena was cleared for Universal viewing by the CBFC, although Netflix, the OTT platform which has been successfully airing the Janhvi Kapoor film, did not require a censor certificate. But do remember that Dharma  Productions had originally intended it to be a theatrical release on April 24.
It requires not insider knowledge but application of two points of logic to comprehend that the film had a CC.
One, professional production houses such as YRF and Dharma are known to avoid last-minute scurrying for clearance from the censor board, to have enough time for cuts and reshoots if required. In the case of Gunjan..., since there were no red flags raised, the filmmaker was home safe with the censor certificate much before the lockdown. That works out to at least three months before a tragic death and the ensuing toxicity overtook collective sanity.
Secondly, when media reported that the IAF wrote to the CBFC raising objections over its portrayal in the film this month, didn't it stand to reason that it was because the board had cleared it? Else, where did the CBFC figure in an OTT release?
Coming to the outcry over permissions, with sets erected to depict training sequences and Kargil War scenes shot in Georgia, did the producers require an NOC from the IAF? The answer is, they needed one only from Gunjan herself and they got it.  
As for misogyny, ask any woman who made the first breakthrough in any field. Ask Kiran Bedi, our first female IPS officer. High-ranking male superiors were said to have stonewalled her rise with the remark that she couldn't be sent to, say, mofussil areas. One of the reasons was, when the male officer "went behind the bushes" due to lack of genteel facilities, his juniors formed a ring around him to shield him from public view. With no lady constables in the force, who would form the ring around a female officer?
Gender, colour, race, region or religion, whatever the prejudice, it's always the path-breaking first person who faces the worst until a flight path is cleared for those following.
Ask Karisma Kapoor. Born into a family renowned for grounding its actresses once they switched to a Kapoor surname (Babita, Neetu), it was tough for her to be the first female from the Raj Kapoor branch to go all out as a commercial film actress. After getting into a swimsuit for her first film, she had to prove again and again she was committed to her career. But once Karisma broke tradition, it was a breeze for sister Kareena.
Writing on her experience with the IAF, journalist Lakshmi Narayan recently posted on Facebook that she was one of the first women journalists to get permission to fly to Leh on a transporter to write about the place, especially their research centre. But one day before the trip, it was cancelled — she was told they didn't have toilets for ladies at the base. In other words, no place for a lady.
Defence bases have changed since. As has the IPS, as have the Kapoors. Also important to note that Gunjan... is set in the last millennium and it's not a documentary on the IAF. Besides, the prejudices of a few personnel don't make an institution. Nor can a pre-2000 story dent its image.
But then it's not about logic, it's about bashing someone for being "anti-national".