Flashback Friday: Chandni turns 30
Shine on, moonbeam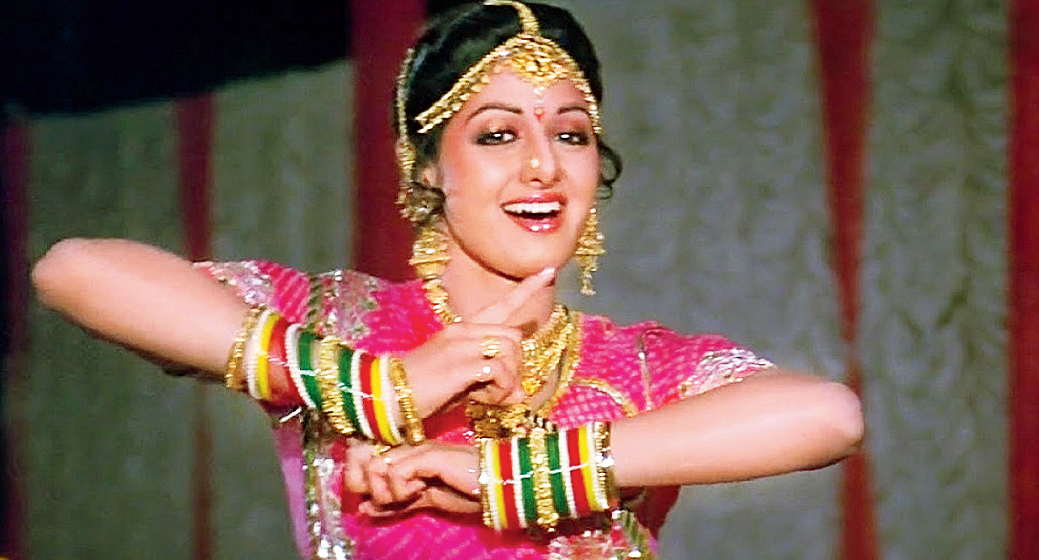 ---
Published 19.09.19, 09:35 PM
|
---
Rang bhare badal se, tere nainon ke kajal se, maine iss dil pe likh diya tera naam... Chandni, o meri Chandni
Not Shiv-Hari's best song, but that's Rohit, a rich, young Delhiite (an exuberant Rishi Kapoor) shouting his love from the rooftops. The utterly gorgeous Chandni (Sridevi simply lights up the screen) is someone Rohit falls for at a wedding. Chandni is from a small town and isn't rich, we're told, but you wouldn't know going by her enviable wardrobe.
Chandni, which turns 30 this month, isn't just one reason why director Yash Chopra got his King of Romance tag, it's also a cultural signpost. Think Mere haathon mein nau nau choodiyan hain (in picture), the original wedding anthem, Chandni's salwar kameezes that helped countless darzis make their pile, Sridevi's tandava dance that made a nation swoon.
Chandni (a favourite YRF name, including Rekha's in Silsila) is lovely, bubbly, every man's dream woman that he can also take home to mom. Rohit is entitled, impetuous, loves grand gestures and has an unpleasant family, but his heart is in the right place. Chemistry is instant, and the lovers paint the town red. (Nostalgia alert: check out the landline phone sweet nothings, the pen-and-ink love notes, Rohit's camera). There's a prolonged dream honeymoon sequence in Switzerland where a shopping-obsessed Chandni holds up Rohit for money. Crash-land to reality. Rohit, showering rose petals on Chandni from a chopper, lands in a wheelchair.
Paralysed and insecure, Rohit jilts Chandni. A heartbroken Chandni reaches Bombay for a job. But going by 1980s Bolly wisdom, she's too lovely to be an office drudge and the first man she bumps into is the rich, handsome and mature Lalit (a likeable Vinod Khanna), and voilà, he has a nice mom (the graceful Waheeda Rehman). You'd think our girl lucked out, getting a mature guy and a sweet sasuma. But you know what Hindi films say about pahla pyar and all that jazz.
Film critic Anupama Chopra has spoken about her mother Kamna Chandra's original story. "…Chandni marries Rishi Kapoor's character Rohit…post-crash Rohit becomes insecure. His family becomes abusive and finally Chandni walks out on her husband and young son. She finds a career and love again with Lalit…" Chopra settles for a safer story, but Sridevi elevates it to moon-drenched magic.
Too late to know how she did it.