Thalaivii functions best as an entertainer
Kanagana Ranaut starrer film on Jayalalitha is too reverential to qualify as a bonafide biopic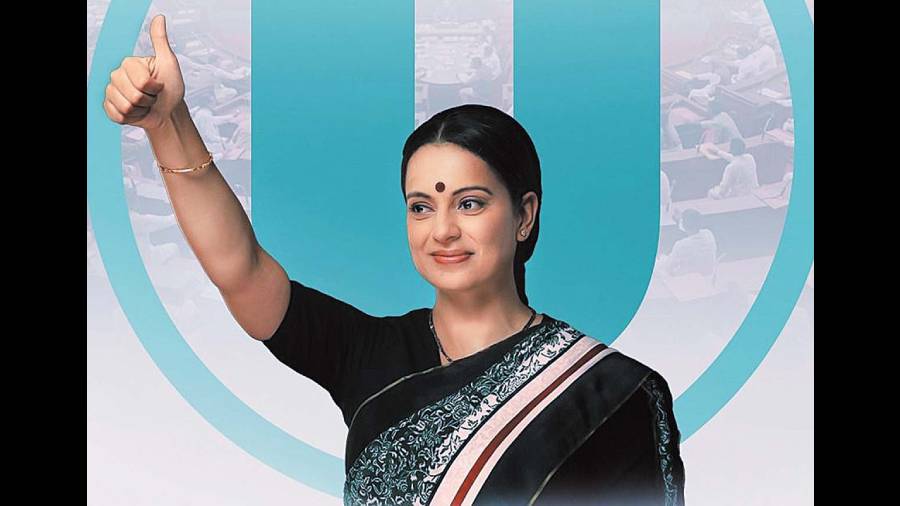 ---
Published 13.09.21, 04:12 AM
|
---
A persistent problem that plagues the biopic genre in India is its predilection to whitewash its protagonist. Warts, if at all made even remotely visible, are justified by a backstory earlier or a redemptive episode later. Controversial public figures like Sanjay Dutt, Mohammed Azharuddin and Balasaheb Thackeray have been served biopics that range from being subtly reverential to blatantly hagiographic.
So what happens when one sets out to tell the life story of a highly successful cine star, acting in more than 140 films, who went on to become a six-time chief minister, wielding absolute power not only over frenzied film fans but also members of her political party, many of whom publicly prostrated before her? How does one decode the enigma of a woman, addressed across generations as "Amma", who was often accused of fostering a personality cult? It results in a film like Thalaiviii, which is best enjoyed as a piece of entertainment, which traces its subject's meteoric rise, rather than an unfaithful biopic which focuses on turning a blind eye to her faults.
Slipping into the ginormous cape of J. Jayalalithaa is Kangana Ranaut. The cape is not just literal here, but also a metaphor. For Jayalalithaa, in more ways than one, was truly a superwoman. One whose Midas touch — whether it was the box office or an election campaign — turned everything into gold. Director Vijay, working off a script written by K.V. Vijayendra Prasad, covers about half-a-century in Jaya's life, starting from her time as a young, headstrong heroine who captures the attention and affection of her married hero MGR (Arvind Swami, playing a character named MJR here) to the time she takes over as Tamil Nadu's youngest-ever chief minister. Along the way, she demolishes many a gender barrier and smashes a host of glass ceilings, portrayed as a woman who is both vulnerable and volatile in love.
Thalaivii, now playing in single screen theatres in the city, may be selective in its messaging, but is laudably authentic when it comes to milieu. The film-within-film portions — with Jaya and MJR cavorting around in over-the-top wigs and even more over-the-top costumes — perfectly capture the movie industry of the 1960s where film stars invariably attained the status of demi-gods. So when MJR takes the plunge into politics, breaking away from longtime friend Karunanidhi's (played by a constantly sneering Nassar) party, the crowds swell around him, even as he keeps Jaya away, fearing it will harm his political image.
But Jaya is not a woman to be browbeaten for long. Sharp and street smart, she makes her way into MJR's party, and very soon, her enigmatic presence is enough to make her start winning elections on her own steam. Even when she's sidelined, as is the case after MJR's death, Jaya always finds a way to fight back in. She's the proverbial phoenix rising from the ashes, and it is predominantly this aspect of her personality that Thalaivii celebrates.
Thalavii has been made in Tamil and Hindi, and dubbed in Telugu. I watched the Hindi version which, inexplicably, came off as much more theatrical than what was perhaps the intention. Rajat Arora — who has the similarly themed The Dirty Picture to his credit — writes the Hindi version, making it a point to end almost every high-drama scene with a punchline or two. Some of it works, but a lot of it seems forcefully pushed in, taking away from both the emotion and authenticity of many a moment.
Thalaivii's runtime of 153 minutes may be a justified deterrent in these times of 30-second Instagram Reels, but that's redeemed by some strong performances. Kangana, as expected, scarcely puts a foot wrong, doing vulnerable as effectively as feisty and firebrand. Despite that unflattering wig, Arvind Swami perfectly captures the mood of the era, seamlessly transitioning from screen god to political heavyweight, with the film's other powerful act coming in from Raj Arjun who plays MJR's confidante Veerappan. Bhagyashree pops in for a few scenes as Jaya's mother, while Madhoo puts in an appearance as MJR's wife. But those hoping to relive some '90s Roja nostalgia seeing Madhoo and Arvind Swami sharing screen space, will be disappointed by her limited screen time.
A mention of Roja takes us back to its maker Mani Ratnam's Iruvar, which did a far more effective job of capturing the political-personal dynamics between MGR, Karunanidhi and Jayalalithaa. But Thalaivii is more obsessed with painting its protagonist in rainbow hues. There is no mention of the countless scams Jaya was accused of and even her controversial aide Sasikala is a perfunctory presence. As mentioned earlier, Thalavii is best enjoyed as a film that largely manages to entertain, and nothing more. The warts, as always, will have to wait.
More about the film
Thalaivii (U)
Director: Vijay
Cast: Kangana Ranaut, Arvind Swami, Nassar, Raj Arjun, Bhagyashree, Madhoo
Running time: 153 minutes