Film review: Photograph is a nostalgic ride
In the age of Instagram, Ritesh Batra's film conveys love through polaroid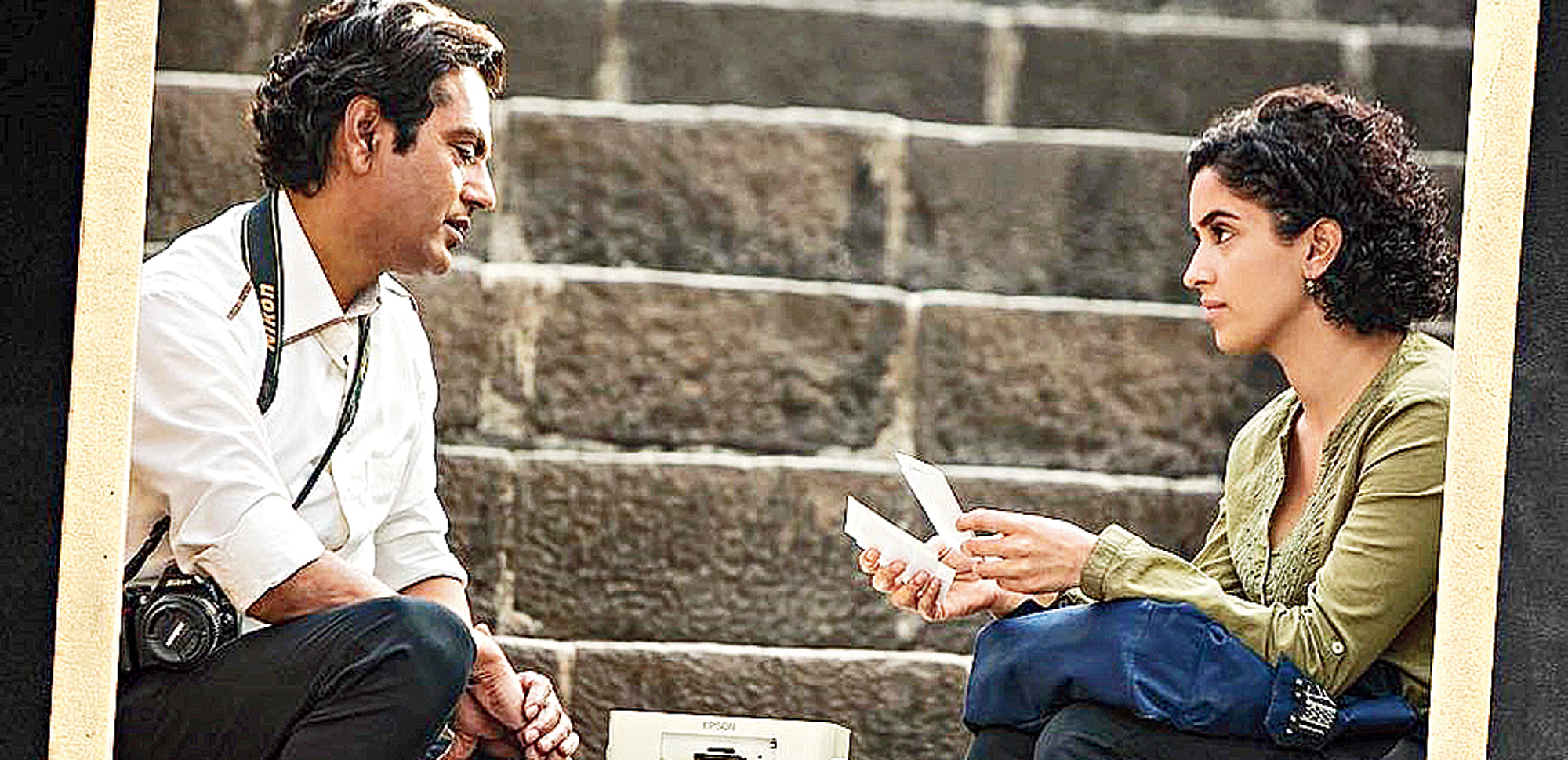 Nawazuddin Siddiqui and Sanya Malhotra in Photograph.
A still from the film.
---
Published 15.03.19, 06:32 PM
|
---
For me, photographs are not the glossed-up, filter-rendered clicks that I can access with the swipe of a finger on my phone. They are the ones hiding in the albums of my childhood, slightly worn out at the edges, separated by translucent sheets and pasted on thick card paper with self-adhesive corners. They are the ones where the colours can't be brightened, the blemishes can't be removed, the angles can't be tampered with. They are pure, untouched and evoke a sense of nostalgia like few other things can. They are more than just photographs; they are memories that have stood the test of time.
Photograph the film is just like that. An evocative piece of storytelling, this Ritesh Batra directorial is poetic and meditative in parts. It opens itself up to interpretation at every step and even when set in the blustering chaos of a metropolis, it lets its silences do the talking. It's an ode to a city — Mumbai, still Bombay for many — with a sense of wistfulness and an old-world charm seeping into every frame. It's the kind of cinema that doesn't aim to tick off any boxes, but just makes the viewer ride along. It goes nowhere; but then, it really doesn't want to go anywhere.
In tone and texture, Photograph is similar to The Lunchbox — Batra's first feature and an award winner from Cannes to California.
If The Lunchbox was about an unspoken romance told through handwritten letters in the age of email, then it's a Polaroid, in the era of Instagram, that carries forward the unlikely bond in Photograph.
The bond between Rafi and Miloni, two people separated by class, religion, outlook and education. Rafi (Nawazuddin Siddiqui) is a street photographer. "You will see the sun in your face, the wind in your hair and hear the thousands of voices here. It will remain with you," is Rafi's tried-and-tested spiel to persuade visitors to the Gateway of India to stop for a moment and allow him to click them.
A chance encounter with Miloni (Sanya Malhotra), a CA topper leading a sheltered life, leads to Rafi photographing her. She leaves without taking the photo, but he's compelled to seek her out. Reason? He's staved off his grandmother's constant badgering to get himself a bride by fishing out Miloni's photo on an impulse and claiming that she's his girlfriend. He's even given her a new name — Noorie. For that iconic song from the Yash Chopra-produced romance of the same name was playing in the background when Rafi wrote his letter of lies to his grandmother.
Old Hindi film music — like in The Lunchbox — is a character in Photograph. Tumne mujhe dekha from the 1966 classic Teesri Manzil often plays out, the songs in Photograph being used to mirror emotions that otherwise are not expressed in words.
Rafi and Miloni are two very different people, but soon they find that they have a lot in common. They are two withered souls bound together by empathy. Perhaps it's a sense of deep-seated melancholia that binds them; he smiles much more than she does, but his eyes never mirror his smile.
That Miloni decides to play along with his lie may take more than a leap of faith from the viewer, but at some level, you do understand her. Everything in Miloni's life — career choice to the colour of her salwar-kameez — is decided by her family. She's boxed in by circumstances, and perhaps for the first time in her life, she acts out of character. Unlike Rafi's backstory, Batra glosses over what makes Miloni the way she is. Does the fact that she harboured dreams of being an actress as a kid, a dismissive remark that dissolves in collective laughter at her family dining table, make her want to participate in this charade?
Batra tells his keenly observed portrait of life in Mumbai through various prisms. There is Rafi's cheek-by-jowl existence, Miloni's daily drudgery between home and tutorial class, the mundane routine Miloni's maid Rampyaari (an excellent Geetanjali Kulkarni) goes through with a smile…. The film is minimalist in approach and manages to conjure up an authentic milieu. The camerawork by Tim Gillis and Ben Kutchins is the star of the film, with the focus on feet — anklet-adorned to sand-swept — becoming a leitmotif that runs through the film.
Nostalgia imbues many a frame in Photograph. Dusty single-screen cinemas overrun with rats, tea stalls which are dilapidated and yet have an old-world charm, a lingering reference to Campa Cola, all of which will bring on a smile….
But Photograph is not a film for everyone. With the same mood board as Lost in Translation, Batra aims for restraint and a certain level of understatedness. It does test your patience — I must admit I looked down at my phone more than once — and feels way longer than its 111-minute running time. Also, there's so much left to interpretation that you may often struggle to keep up.
But the whole is greater than the sum of its parts in Photograph. And that's largely due to a superlative turn from Sanya, who impressed on debut in Dangal and then again in Badhaai Ho last year. Miloni has very few lines, but Sanya turns her into a character who's arresting from the get-go. The other show stealer is Farrukh Jaffar as Rafi's spunky grandmom. Nawaz is his usual dependable self, but struggles to rise above an underwritten character. Jim Sarbh and Vijay Raaz pop up in cameos which, honestly, make little impact.
Did Saajan and Ila in The Lunchbox finally go on that trip to Bhutan? Do Rafi and Miloni, that final shot of them walking out of a single-screen theatre as he tells her wryly that all love stories end up the same, continue to go on their daily taxi rides? We will never know. But sometimes, it's the journey that counts... much more than the destination. Like it does in Photograph. And like it does in life.