Film-maker Arindam Sil on his new film 'Mahananda'
'The film talks about the essence and principles of Mahasweta Devi'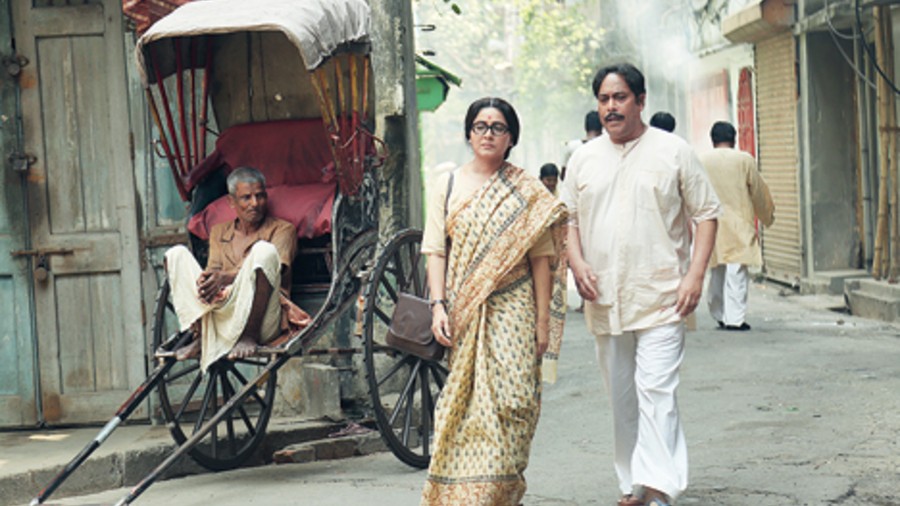 ---
Published 28.04.21, 04:28 AM
|
---
Film-maker Arindam Sil has started the shoot of his new film Mahananda, which is inspired by the life and works of Mahasweta Devi. The film, which stars Gargee Roychowdhury, Debshankar Haldar, Ishaa Saha and more, tells the story of an author called Mahananda, whose personality bears similarities with the life and persona of Mahasweta Devi. A chat with Arindam...
Mahananda is inspired by Mahasweta Devi. What are you trying to convey through this film?
It is about her works, her philosophy. We are trying to portray how the work evolved through her philosophy of life. And how that reflected on the personality she developed. There was her personal life, and political and social life. All of which are extremely important. And they have evolved from certain principles. It flows like the river. From one generation to another. Today we need to talk about her philosophy, her uncompromising ethics.
What does the film Mahananda talk about?
The film talks about the essence of Mahasweta Devi. And it is so very important. I feel it is  an extremely contemporary film. It is very important to make very clear-cut political statements. The film clearly goes ahead in talking about the life and principles of Mahasweta Devi.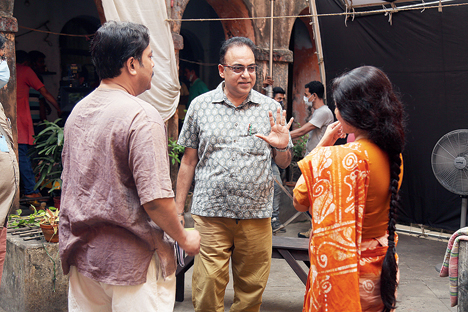 How did it feel to be back on the sets, and directing a new feature film?
It was definitely wonderful, it felt like homecoming. I directed a feature film after one-and-a-half years... I was so looking forward to this shoot. It is a very difficult shoot. The production design ranges from 1900 to 2011. We have taken a lot of care to design each and every set. We have some lovely locations.
How was Day One for you?
Every time I start work on a film, it seems like I am directing my first film. Day One starts with a lot of pep talk with the whole team getting together. I try and get everyone involved. I genuinely feel the contribution from everyone, from the make-up department, light department to trolley setting... it is very important to make them feel important. And to underscore the point that the film is theirs. Once you create this environment, they put in a lot of effort. Day One was very exciting and it went off very smoothly. Actors were all prepared.
You have shot for a few days. How has the experience been till now?
It has been very good. There's a lot of camaraderie on sets... the team spirit is really high. We have done huge homework on this film. But we have taken a break because of the Covid situation... we felt that we need to wait for some time. The elections were also going on.
The film Mahananda was announced almost a year ago. How did you work on the screenplay during that time? How did you plan things?
Yes, Mahananda was announced in March last year. And we finally started shooting in April, 2021. We took the time to really work hard on the screenplay. We took the time to dig deep and be more authentic. We did many narration-sessions, so that people could come up with ideas. It was a very difficult screenplay to make, in the sense that we were creating nuances from her writing, identifying Mahananda along with the fictional characters and how the whole principle of Mahananda evolved. That needed a lot of care and research. We even went into details like the pen she would use and how she sat at the table. She would write for 16-17 hours a day.
What were your instructions to the lead cast before you hit the floors?
I told them to be free, and not take the baggage of the characters they are playing. And I kept on saying, 'We are creating characters inspired by Mahasweta Devi, and others.' I spoke to each and every actor. We discussed and tried to come up with our own acting pattern. Music (Bickram Ghosh) and cinematography (Ayan Sil) are extremely important in the film.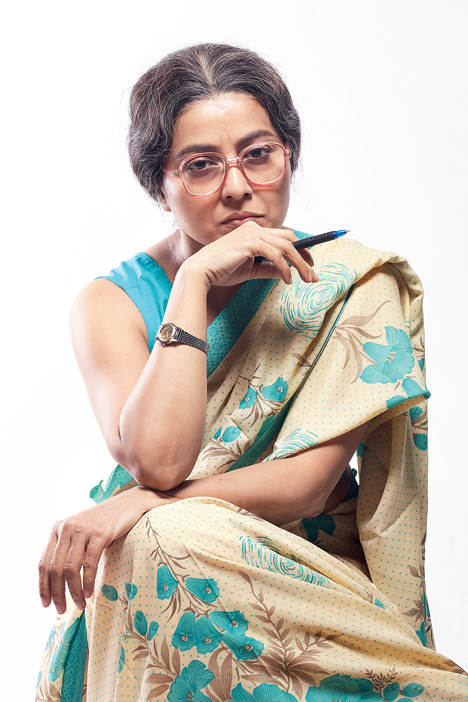 How has Gargee prepped for the character?
She has been there throughout the journey, she understands the vision I have for this film. We are trying to create the principles that make the human being.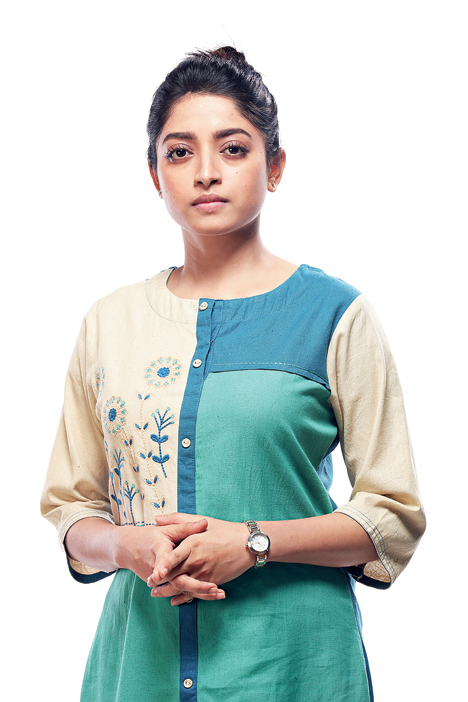 How are you looking at Ishaa to give shape to her character?
Ishaa hasn't given her first shot yet, I am looking forward to working with her, she is a very serious actor. We had a lot of discussions.
Did you do workshops with the actors?
Yes, and we discussed in detail how we are thinking of creating the characters. Debshankar Haldar is so good, down to earth and rooted.