'Elle' girl Priyanka
Magazine explores how 'unknown teenager' rewrote rules on being modern superstar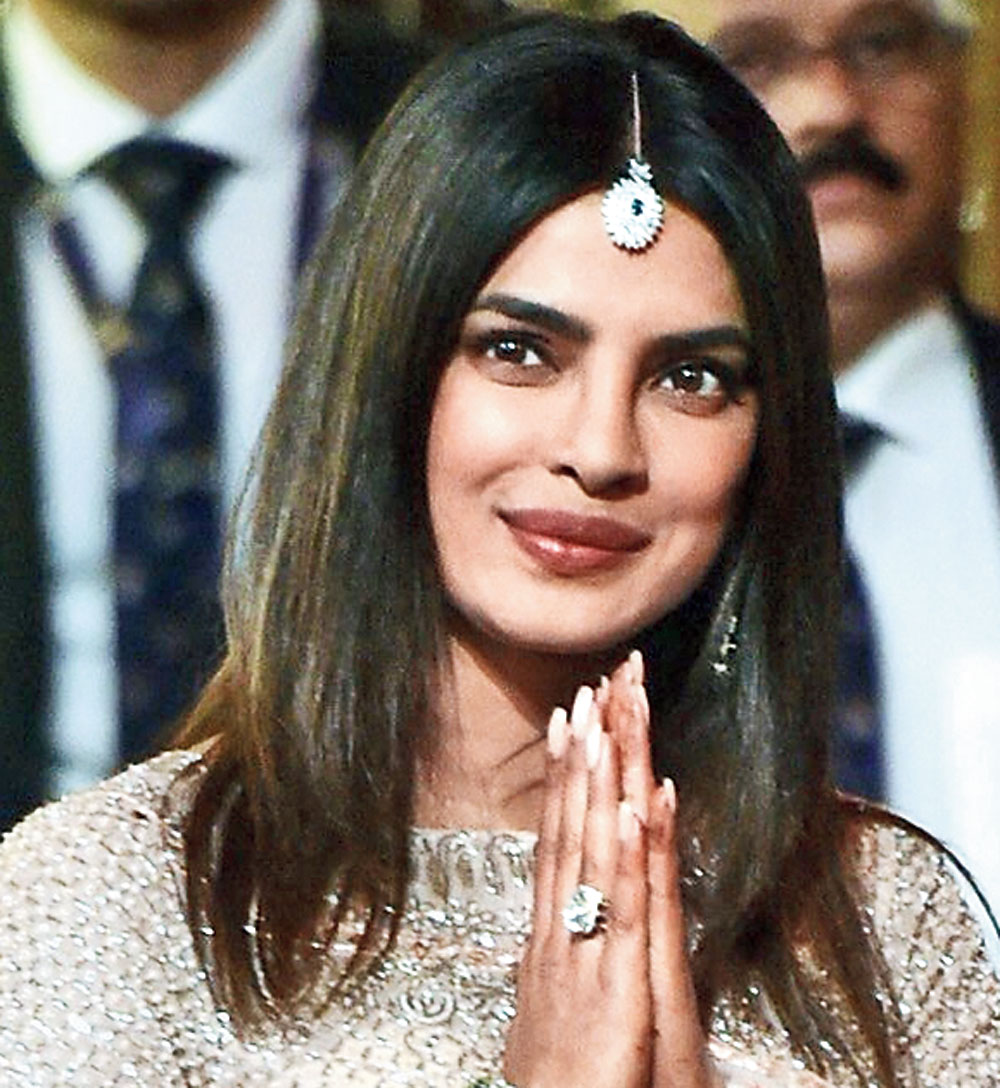 ---
---
'From Miss World to Hollywood" is how Priyanka Chopra is billed in the latest issue of Elle magazine in the UK.
She may not be making any movies these days but that does not matter, as following her marriage to singer-songwriter Nick Jonas, her charmed life continues.
The cover story is summed up for readers: "Priyanka Chopra Jonas on sisterhood, marriage and making it in Hollywood"
To be sure, in western eyes she is "exotic" and Elle talks her up as a phenomenon: "How does an unknown teenager from India rewrite the rulebook on what it means to be a modern superstar? Priyanka Chopra Jonas tells us how she navigates fame and a new marriage with 42 million followers watching her every move."
The interview has been conducted by Elle writer Lena De Casparis in New York, with some stunning photographs of the 2000 Miss World by Marcin Kempsi.
Possibly one of her main claims to fame in Anglo-American eyes is her supposed closeness to the Duchess of Sussex although she has not yet been granted access to Meghan and Harry's son, Archie.
Priyanka continues to emphasise her intimacy to the overnight created Duchess by referring to her by her shortened name: "Megs… she was always meant for big things."
Elle has to justify putting her on the cover so it says: "Priyanka is the first Indian-born actress in TV history to lead a US prime time network show (Quantico) and to have officially 'broken' Hollywood with Netflix blockbusters to her name and a Mindy Kaling collaboration currently in the making.
"Then there's her production company, Purple Pebble Pictures, which produces films across the globe — 'I'll have an idea at dinner and then the next day it's on TV. That's an exciting new phase!' — as well as being a UNICEF ambassador, for which she travels the world sprinkling her fairy dust."
The age difference with her husband, who is 26, is brought up: "Cynicism has surrounded the pair. She is 10 years older than him. Shock horror! The marriage happened quickly. What were they thinking? She's a philanthropic megastar with over 41 million followers, he's a boy bander who grew up in Wyckoff, New Jersey. So unlikely! And yet… The reality is pure Hollywood love story."
Priyanka's comment: "It's so different. I'd never realised having a husband and a boyfriend are such different things.….We are learning about each other every day."
Readers are told: "To learn about Priyanka Chopra, you must first understand where she came from. That she grew up in India, the only daughter of two doctors, and hoped one day to become an engineer, is well documented — her mum was a physician, her dad was a surgeon."
Then there was the Miss World contest she won in 2000 in the Millennium Dome in London. Quite a few Indians present that night were surprised when she won, especially as Yukta Mookhey had also taken the title for India the previous year at the same venue.
Elle writes: "And Priyanka's beauty is, of course, jaw-slackening. Let's not be modest about it. Her legs are long and lean, topped with soft, cantilevered curves. Then there's her thick, dark mane of hair. On celluloid, the effect is bewitching. In the flesh, it's dizzying.
"Today, Priyanka remains one of the only Indian actors to have successfully crossed the threshold to the US.
"How did she do it when others couldn't? She thinks making a conscious decision to play characters that are ethnically ambiguous plays a significant part.
"The representation of Asian actors is not something that Hollywood is historically good at."
Here, Priyanka does have some serious points to make: "I realised that South Asian actors get put into a box. As soon as you say you're a Bollywood actor, all I'm expected to be good at is dancing and big, theatrical acting. So I thought, the way to make a dent would be to not play Indian characters at all.
"My life's dream is to be able to make or produce a movie that has a predominately South Asian cast. I'm so glad that I've been put into the position where I have the ability to open those doors. I want to do it because no one was able to do it for it for me. That's my life now. To develop characters that normalise different cultures. Everyone's talking about diversity, but it's not a check in a box. I see so many amazing South Asians: Aziz (Ansari), Mindy (Kaling)… But there's still maybe 10 of us, max, that have actually 'made it'. That number needs to increase."