Drishyam 2: as engaging as the first
The twist at interval point sets the ball rolling, and before we know it, the film, propelled by Mohanlal's Georgekutty, metamorphoses into the familiar rollercoaster ride that we had earlier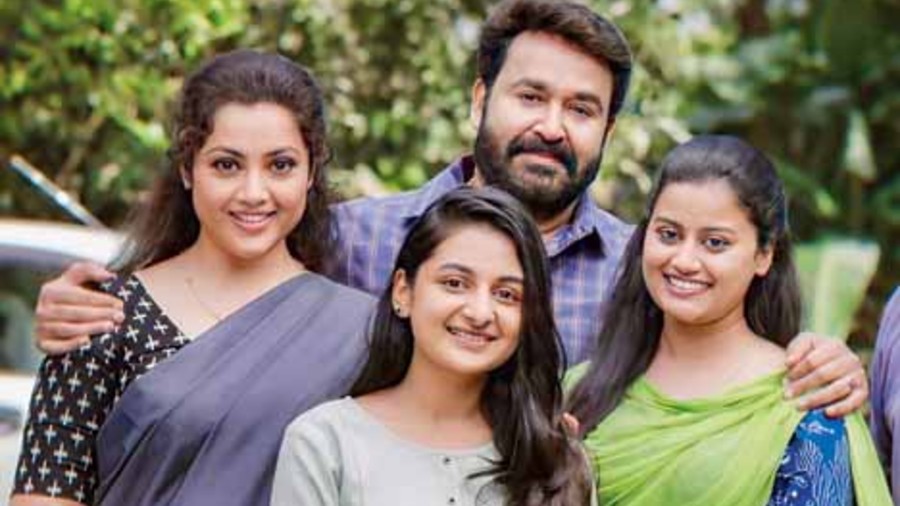 ---
---
I must admit that I watched the original Drishyam — the one in Malayalam — only a few months ago, after I heard that a sequel was in the works. I had, of course, been thrilled by its Hindi remake — with Ajay Devgn stepping into Mohanlal's large shoes — that managed to craft a slow-burn, edge-of-the-seat watch, surprising the viewer with a shocking, and deeply satisfying climax. The fact that the film has been remade in a large number of languages, including Chinese, is testament to the pull and popularity of Drishyam, and the thriller formula it has spawned. A formula that's tough, almost impossible, to replicate.
Which is why I went into Drishyam 2, that's opted to stream on Amazon Prime Video in the new normal, with some amount of trepidation. Wasn't Drishyam a complete film in itself? Did it really make sense to tinker with a thriller which had gratifyingly tied up all the loose ends? Did we really need a follow-up, given that most sequels tend to end up as poor successors, many even managing to mar the experience of the first film? The answer: Drishyam 2 is a film that is as good as the original, if not better, with the team of writer-director Jeethu Joseph and actor Mohanlal delivering a solid sequel, that not only builds on the world of the first film and takes forward its twist-a-minute template, but also packs in important lessons about crime and punishment, guilt and redemption.
'How to get away with murder' was the construct around which Drishyam was built. Drishyam 2, made eight years after the first film and taking place six years after the events that forever scarred two families, pretty much follows the arc of the original film (it's tellingly titled 'the resumption'), though the lives of Georgekutty (Mohanlal) and his family have changed, perhaps forever.
Georgekutty's rise in status — his love for the movies (which formed a pivotal part of much of his modus operandi and machinations in Drishyam) sees him graduate from his cable TV business to being the owner of a movie theatre. Business isn't great, Georgekutty is in debt, but this seemingly ordinary man's ability to pull himself out of extraordinary circumstances remains. Georgekutty is a cool customer, and even when his eyes quietly well up every time he faces the deeds of his past, his unflappable demeanour gives nothing away.
The first half of Drishyam 2, to be honest, is a bit of a slog. Georgekutty's wife and daughters are still living under the shadow of doubt and guilt, and much of the first hour is spent with them fearing that the law will eventually catch up with them. The slow-moving first half is, however, understandable, given that director Jeethu Joseph has to both hark back to the unexplained disappearance and murder of young Varun, for which Georgekutty and his family were inadvertently responsible, and to also set the stage for the next act.
Unable to digest the family's relatively rising fortunes, tongues start wagging among the townsfolk and Georgekutty is aware that he, and his ticking time-bomb of a mind, will have to swing into action soon. The twist at interval point sets the ball rolling, and before we know it, Drishyam 2, propelled by Georgekutty, metamorphoses into the familiar rollercoaster ride that we had experienced in the first film.
Cleverly written, though a tad convoluted in parts, Drishyam 2 ekes out a screenplay in which the plot of a work-in-progress film mirrors Georgekutty's next step in his imperturbable mission to protect his family and stay one step ahead of the cops. What we, as viewers, are treated to are plot twists that we rarely see coming. And even though some of it seems implausible, it's to the collective credit and confidence of the writing and acting that we buy into what Drishyam 2 wants us to believe.
Drishyam 2 may not work as effectively as a stand-alone film, considering it contains constant references to the original, but it's a deeply engaging watch, with Georgekutty shouldering the film once again. That mind — early on the film, we see him engaged in a game of snakes and ladders, only to realise it was chess he was playing all along — surely deserves a few more films. 'Drishyam 3', anyone?
The twist at interval point sets the ball rolling, and before we know it, Drishyam 2, propelled by Mohanlal's Georgekutty, metamorphoses into the familiar rollercoaster ride that we had experienced in the first film