Dolittle: A dreary, overextended yawn
This is the latest movie to feature Dr. John Dolittle, the doctor turned horse whisperer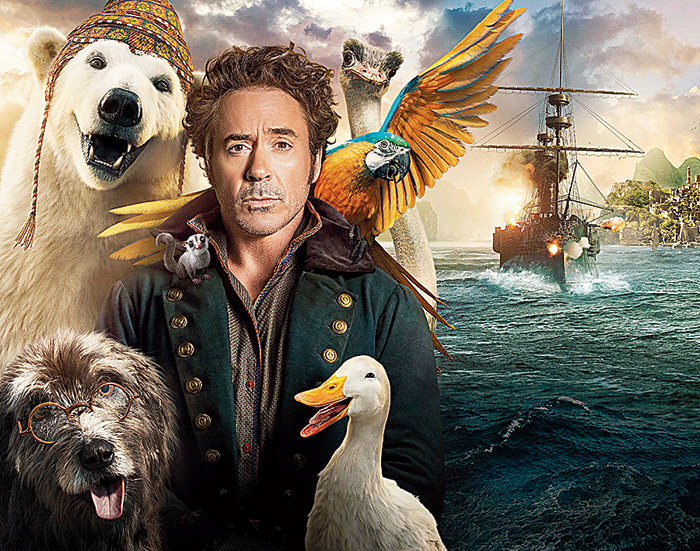 ---
---
At some point during its troubled gestation, the movie once known as 'The Voyage of Doctor Dolittle' was renamed Dolittle." Was "voyage" too fusty, "doctor" too fancy?
Whatever the case, it's too bad that the rest of this movie couldn't have been ditched as well, or at least dramatically shortened. A dreary, overextended yawn, this is the latest movie to feature John Dolittle, the doctor turned horse whisperer that Hugh Lofting, a British-born civil engineer, invented during World War I in letters to his children from the front. (He also drew the illustrations.)
Robert Downey Jr., working an indistinct accent (Welsh? Scottish?), stars as Dolittle, now a recluse, who in the wake of a tragedy has retreated to his manor in Victorian England. There, he lives with a computer-generated menagerie voiced by an army of actors who include Tom Holland (as a pacific dog), Octavia Spencer (an excitable duck) and Emma Thompson as Poly, a bright blue parrot with a battered beak. Poly spends a lot of time gently yet firmly bossing Dolittle around like a cliche of a wife, an interspecies dynamic that's lightly amusing (and weird) to think about when things slow down. Dolittle's wife died a while ago, as women often do in movies for children.
The only living woman around is the young Queen Victoria (Jessie Buckley), a Dolittle partisan who's been stricken by an enigmatic ailment. The dodgy courtier (Jim Broadbent) hovering nearby looks like he knows the answer, but because Dolittle needs something to do, he and his furred and feathered friends set sail for a cure. Cue the flat jokes, deep ocean dive and awfully long haul. Whales swim by, a dragon grouses, Dolittle's zoo scurries and cracks wise, and so does Downey. No one throws scat or has an accident on the rug, although the live-action Michael Sheen amusingly hogs all his scenes as a Dolittle rival, while Antonio Banderas peacocks through as a pirate king.
This is the fourth Dolittle movie and likely won't be the last. The first, Doctor Dolittle (1967), a musical with Rex Harrison, was a box-office disaster; three decades later, Eddie Murphy stepped into the role, starring in back-to-back hits. Downey's Iron Man muscle and the success of the Murphy films probably explains why Universal bid on an untitled Dolittle project to be written and directed by Stephen Gaghan, best known for unfunny political films like Syriana and Traffic. Gaghan apparently ran into issues while making Dolittle, leading the studio to bring in other filmmakers. Even so, the story remains thin, the performances wobbly, the laughs infrequent.
The CG animals are watchable if transparently artificial, a plus. No real giraffe (polar bear, etc.) needs to be abused to create another fantasy in which nonhuman creatures behave like cutesy, cartoonish versions of people. The charm of this fantasy has always been dubious and will presumably fade as the natural world continues to disappear and more and more species become extinct. Increased awareness of our contemporary environmental crisis may explain why, unlike the Murphy movies, this Dolittle is set in the past. Because if animals really could talk, they wouldn't be pleasantly cooing and chatting us up as the world burned. They'd be screaming.