Director Soukarya Ghosal talks about the emotionally charged thriller Rawkto Rawhoshyo
'I would like to make the audience feel like the golden-hearted Swarnaja from within. That is my answer to all the evils in the society'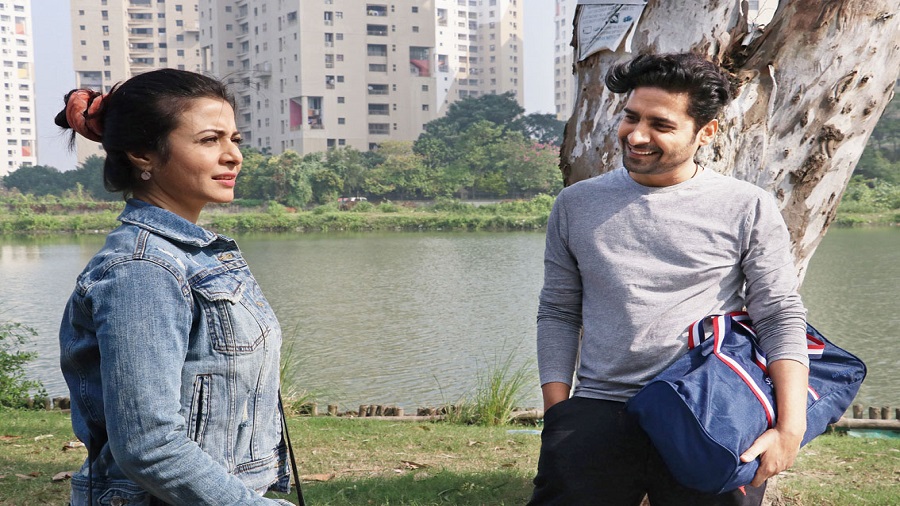 ---
---
Swarnaja is a person who can absorb all the jolts in life but never gives up the spirit of searching for the truth," says film-maker Soukarya Ghosal about the protagonist (played by Koel Mallick) of Rawkto Rawhoshyo, who tries to get to the bottom of a mystery and uncover the truth. "You see this is also a basic skeleton of all the classic thrillers where everything happens to hide the truth but the story's basic spirit goes on fighting the odds to search it out. Swarnaja does the same in Rawkto Rawhoshyo," he adds. A chat with Soukarya, the director of Rawkto Rawhoshyo...

A medical thriller is a rare thing in Bengali films. It is a complicated subject and involves technical details. What was your reference point? How confident were you about presenting a lucid story against a medical backdrop?
I have always been interested in international affairs. Mainly crimes. I believe every crime that happens locally has its cause deeply rooted in some international interest directly or indirectly. Before writing the script of Rawkto Rawhoshyo I had read a lot about medical scams. For the sake of keeping the thrill intact, I can't divulge much now but this I can tell you, especially in the current scenario of a pandemic, that 'medical thriller' would perhaps become one of the most popular genres in coming days.

How did you go about the casting?
When I visualised Swarnaja I couldn't see anyone else than Koel. If she wouldn't have agreed to do the role probably I wouldn't have done the film. Then the next important requirement was the kid. Pooja (Soukarya's wife and costume designer of the film) and I searched almost four to five schools to get Shreeansh. I badly needed that face. Those mesmerising eyes. The helpless innocence of Apur Sansar's Kajol was our reference point.

How did you write Swarnaja's character? What kind of details did you have in mind?
Swarnaja means one who is born out of gold. I tried to portray a character who has a golden heart in the truest sense. There is also a scientific analogy to the name which the audience could find out when they watch the film but as a character when Swarnaja starts her journey I'm quite sure every single person can relate to her. Either they had already seen her next door or would find her within themselves. So initially Swarnaja is among one of us but as the story progresses Swarnaja gradually turns into a larger-than-life character, which is nothing but a supreme hero we all carry within. Swarnaja is the projection of that aspiration of us which we love to protect within but fear to expose in the eyes of the crude world around.

Why make her an RJ?
This would be another spoiler if I reveal the reason for making Swarnaja an RJ but as you see in the trailer that the kid desperately wants to send a letter to God and is not comfortable to share it with anyone he sees around. He only hears Swarnaja's voice in his little transistor and starts believing the person. This happens with kids most of the time. They relate to the audio more than the visuals, which is why most of our fables are heard before it is read. I have always felt radio is a medium which connects directly to your inner voice more than getting hold of your superficial interest.
I think this has a very strong connect to some spiritual quest we all have within, which is why Tagore named All India Radio as "Akashvaani". The name says a lot about the intention of radio as a medium. For the kid in Rawkto Rawhoshyo, Swarnaja's voice is something like an unknown yet familiar voice of cosmos with whom he can share his earnest idea of sending a letter to God.

How was your experience directing Koel?
It was an absolute splendid experience working with her. Till now I have not worked with anyone else who comes on floor being so well-prepared. In the very first script-reading session she just got into the character and that was my first-hand experience where I felt her keenness for good script and acting.
She owned Swarnaja. The Swarnaja you see on screen is actually more intense than the Swarnaja we had on paper. At a point I got puzzled that whether Swarnaja consumed her or she consumed Swarnaja! From the day of our first script-reading till today she never ever let me feel that I am working with a superstar. This shows her love for the art and the artiste.
Tell us about the incident that occurred while shooting with Koel in a location outside Calcutta...
Oh my God!! Coming from a school of independent film-making, I generally like to shoot in real locations. In this film we have shot in almost 43 different locations out of which one is the studio. So when there was a scope of shooting in a village I literally had gone down to the interior of Canning to find out a virgin location. Seeing the location on recce I got very excited. Raneda (Nispal Singh) had warned me before that it would be hard to tackle the mob when a superstar like Koel Mallick would go there. At that point of time I was so brimming with energy that I said, "I'll manage". Still, for safety there was the presence of the local police force of 70. When we reached there I found a crowd of almost 1,200. Hawkers were selling things, villagers were standing there from the morning just to see Koel perhaps once in their lifetime. I still remember the house owner who came and told me that if the people can't see her for once the boundary wall would break down. As soon as Koel came out of the vanity van and waved her hand there was a roar of 1,200 people. We started our shoot four hours late that day just to manage the crowd.

How important was it to establish that bond of sister and brother between Koel and Rwitobroto, in the film?
This again is a very unusual brother-sister relationship one would get to see on screen perhaps for the first time in a Bengali film. Rwitobroto's character Babai is my narrator. We have taken a very interesting approach of narration for this film. Babai thinks that he knows Swarnaja better than anyone in the world. He can predict almost all the vulnerabilities of her character but never could imagine the immense strength she had within.

Did you stick to the screenplay written before shoot or did you make changes to it as you went along with the shoot?
There is a very interesting saying of Anurag Kashyap — when you write a script try to see as a director, when you direct it try to see as an editor, when you edit the film try to do that as a sound designer. I try to follow this rule. It works for me.

What would you like the audience to take away from the film?
I would like to make them feel like Swarnaja from within. That is my answer to all the evils in the society.