'Dabangg 3' review: Franchise has lost much of its 'swag'
There's nothing in 'Dabangg 3' that you haven't seen in a 'Dabangg' film before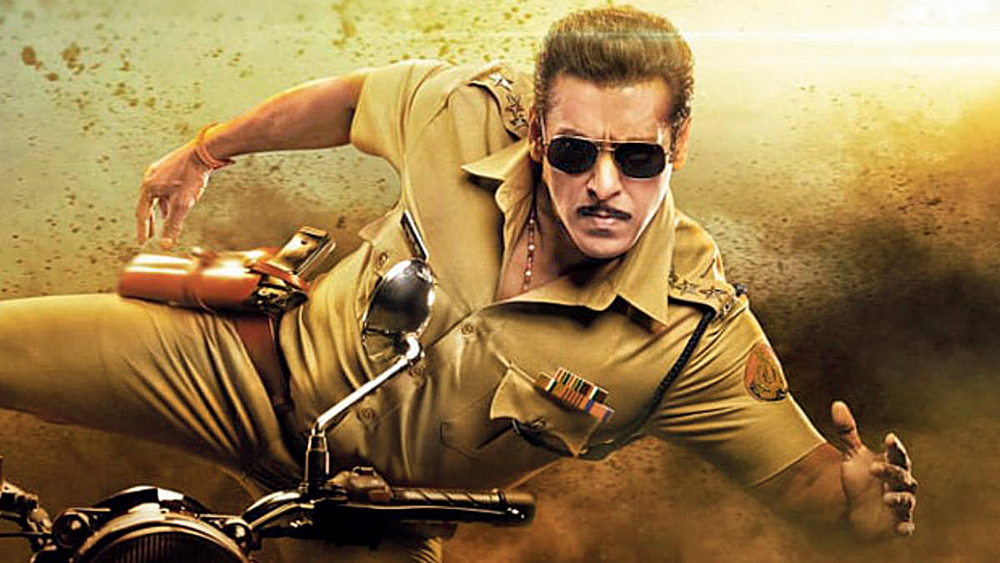 ---
Published 20.12.19, 01:19 PM
|
---
Let's talk about the songs in Dabangg 3. There's one called Yu karke that involves Sonakshi Sinha pretending to kiss Salman Khan — she sports a fish gape thoroughout — even as she changes into a sari in every colour of the rainbow in less than two minutes, while Salman breaks into steps that will give you an unsettling Katrina Kaif deja vu in Suraiyya (Prabhudeva, who also does director duties here, is the culprit in both cases). There's another number in which Salman and Sonakshi gulp down lassi varieties intriguingly named 'Baby' and 'Sexy' and immediately break into song and dance.
There are about half-a-dozen songs packed in, each more unremarkable and unnecessary than the other, until a reworked version of Munni badnaam hui — very creatively called Munna badnaam hua — romps in. It has lyrics like, "Innocent se pehle thhe kehti thi duniya/ Tu ne bigaad diya o meri muniya", and is symptomatic of what ails Dabangg 3.
The law of diminishing returns kicks in with the third film of the action-comedy franchise, in what is both a prequel and a sequel to the first two films. Salman as Chulbul Pandey — the corrupt cop with a conscience who circumvents the law to turn crusader for the common man — returns with the usual beats. So you have the slo-mo walk, the slick talk, PJs to match his punches and a new nemesis to pulp into pieces.
He continues to spoof himself, spouts his lines with the kind of irreverent coolth that first hooked us nine autumns ago, with the new film (somewhat) continuing with the mould of the desi spaghetti Western that distinguishes the franchise. It's a world that we are familiar with and once you walk into a Dabangg film, you know what you have signed up for.
But then formula can also have freshness. There's nothing in Dabangg 3 that you haven't seen in a Dabangg film before. The wafer-thin plot is written entirely in the service of its leading man, with the narrative following the same template — action scene, romantic moment, song… action scene, romantic moment, song — over a butt-numbing 163 minutes.
Dabangg 3 has Prabhudeva taking over the directorial reins (Abhinav Singh Kashyap directed the first film and Salman's brother Arbaaz — who returns as Chulbul's brother Makkhi here — helmed the second), with the film attempting to show its protagonist's journey from Dhaakad Chand Pandey to Chulbul Pandey. So you have a lost love (debutante Saiee Manjrekar, with a fixed pained expression and a permanent lisp) and an old enemy (Bali, played by south star Kichcha Sudeepa) who returns from the past to wreak havoc in Chulbul's present.
Bali — the usually reliable Sudeepa plays him with an unimpressive mix of manic menace and cold-blooded charm — has a strange modus operandi to dispose off his victims. He buries them alive, plants roses over their graves and waters them every day. No prizes for guessing what happens to him in the end.
Predictability is the pest that haunts Dabangg 3 throughout. Salman inhabits the character as effortlessly as he had in the first two films, and the trademark blistering entry — a Chaplin-meets-Buster Keaton set piece, with a dart gun taking over from the water hose in the first film — packs in enough to keep one invested in the first half. But the one-liners soon get stale, the dance moves get laboured and even Chulbul's cheekiness is not enough to save Dabangg 3 from turning into a blustering bore.
There was some fun to be had in Dabangg, a part of which carried over to the sequel, but the jokes in Dabangg 3 are of the lowest standard, being limited to mostly fart jokes and gags involving falling pants and loose underwear. Very early on, a thief searching his victim's pockets wants to know why the man has gulab jamun in it. "Meri jeb phati hui hai, beta," smiles the old man. You get the drift? And yes, eeeeeeewwww!
The Dabangg films are perhaps the last films you would expect to be loaded with messaging. But here there's everything from women empowerment to even an awkward reference to the government's 'Fit India Movement'. None of it works.
With Salman leading from the front, the other players continue to be incidental to the plot. Sonakshi has precious little to do except preen and pout, while Sudeepa gets far lesser screen time than earlier Dabangg villains, Sonu Sood and Prakash Raaj. Arbaaz is, as usual, the weakest link — Khan brother Sohail pops in with a cameo, but you don't even want to know about it, trust us (what's this… Galaxy Cinematic Universe?!) Dimple Kapadia hams it up in a scene or two, while Pramod Khanna — stepping in for his late brother Vinod Khanna who played Chulbul's dad in the earlier films — is a shade better than Saiee Manjrekar.
In the end, it's just Salman who stands tall in Dabangg 3. But this is clearly a franchise — if not a character — that's overstayed its "swagat"… and lost much of its "swag".