A gritty courtroom drama
Criminal Justice: Behind Closed Doors touches upon gaslighting and emotional abuse to deliver a whydunit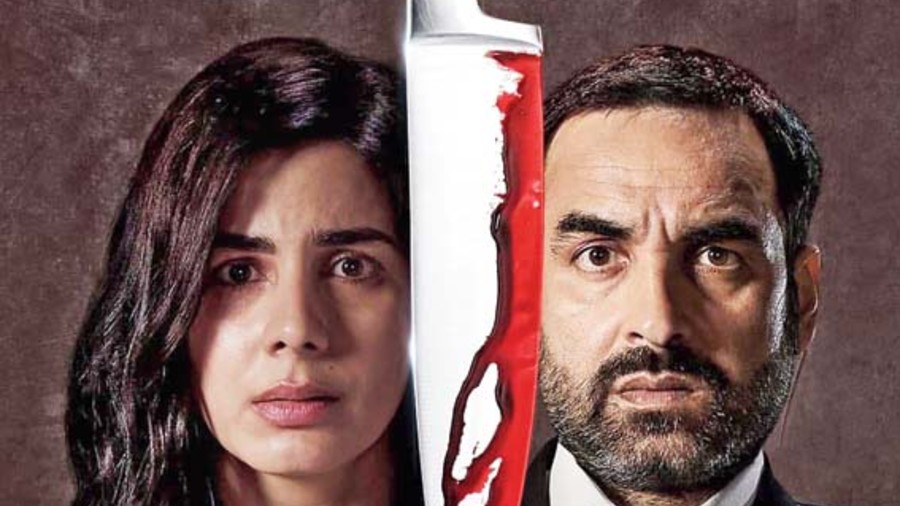 Criminal Justice: Behind Closed Doors touches upon gaslighting and emotional abuse to deliver a whydunit
Sourced by the correspondent
---
Published 27.12.20, 11:26 PM
|
---
The beats of Criminal Justice are familiar. Like the first season, Season 2 also operates as a gripping police/legal procedural, effectively chronicles life within the filthy confines of prison and culminates in a gritty courtroom drama. But the tagline of this season, 'Behind Closed Doors', is telling, ripping the veil off a murder spurred on by a motive that is most often shoved under the carpet, or at best, whispered behind closed doors.
c, whose prowess in cracking open clues was underestimated in Season 1, and worked in his favour. He walks in late, into what is dismissed as an 'open and shut case'. The accused is Anuradha Chandra (Kirti Kulhari), a mother of a pre-teen who has given herself up and confessed to stabbing her husband Bikram Chandra (Jisshu Sengupta, impactful in a short role) one night. Anu, undergoing psychiatric care, is quickly labelled as someone who acted with palpable motive and with no provocation, and Bikram, himself a hotshot lawyer with a squeaky clean family man image, at least on the surface, is painted as the victim of a wife he cared for deeply. The fact that their 12-year-old daughter Riya (Adrija Sinha) was witness to the crime, and that Anu herself has clammed up completely, somewhat seals the deal.
Both editions of Criminal Justice, streaming on Disney + Hotstar, have been adapted from the BBC series of the same name. While Season 1, with Vikrant Massey leading the cast, operated as a 'whodunit', Season 2 is built in the format of a 'whydunit'.
In a society so conditioned to take silence as acknowledgement, Anu is branded a criminal even before the case goes to trial. But Madhav Mishra — who parachutes himself into the case straight from his wedding night — realises that there's more than what meets the eye. He teams up with his old partner Nikhat Hussain (Anupriya Goenka) and the two get down to unravelling the case bit by bit, taking it apart layer by layer, before it explodes in a powerful climax.
Behind Closed Doors operates as a slow-burn watch by design. While that contributes to the intrigue (we gradually learn that Bikram isn't as straight as one had thought him to be), parts of it — the Indian version plays out over eight episodes, as opposed to the original's five — are frustrating.
Writer Apurva Asrani crafts a fairly engaging drama, but there's too much of what happens outside the courtroom and very little of what happens inside it. While that of course informs much of what the series leads into when the case goes to trial, too much time is spent in establishing Anu's life in jail, which though harrowing, could have been trimmed.
What works is the fact that the series brings the important issue of unseen violence against women into the open. Touching succinctly on gaslighting, emotional abuse in a relationship, a woman's shame in admitting what happens behind the closed doors of her seemingly perfect family life and the irresponsible branding of a victim based on superficial evidence and preconceived notions, Criminal Justice 2 packs in far more layers than Season 1. Though Tripathi's Madhav Mishra is the star of the show — and he delights with an equal mix of seriousness and straight-faced humour — Anu is the pivot around which this season operates, and Kirti, whose deafening silence mirrors the ear-shattering storm swirling behind her, does justice to her part.
But it's not just Anu who is a victim of prejudice. Behind Closed Doors, through most of its female characters, shows how women fight misogyny, sexism — casual and otherwise — and discrimination at every step. Whether it's the dutiful police officer Gauri (Kalyanee Mulay) whose husband Harsh (Ajeet Singh Palawat), himself a cop on the case, undermines his wife at every step, or Nikhat who has to contend with her mother desperately holding on to a husband who no longer wants her. Even Tripathi's Madhav Mishra, who is given a lesson on being 'woke' by his newly wedded wife Ratna (a delightful Khushboo Atre), is shown guilty of being mildly misogynistic, even if it's not by design. But if women are each other's allies, they can also, conditioned as we are by society, end up being their biggest enemies, case in point being Bikram's mother Vijji (played by Deepti Naval) who believes her son can do no wrong, aided by the hardened-as-nails lawyer Mandira (Mita Vashisht), who returns from Season 1.
Parts of Behind Closed Doors may end up being stretched and superficial, but in its exploration of what women face on a daily basis, sometimes even for years together, it's a pretty relatable and relevant watch. If not anything, it makes you think. Are you, knowingly or unknowingly, an Anuradha Chandra too?