Cool collab
Belvedere's Studio B is buzzing with this creative quartet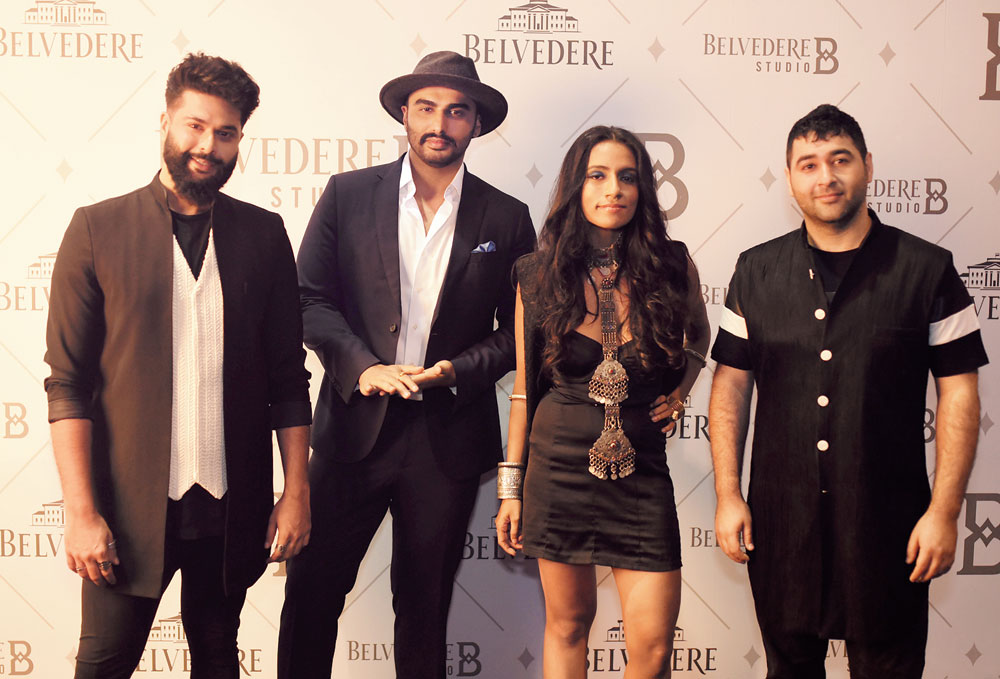 ---
---
The second edition of Studio B, an artistic collaboration with zinger put together by liquor brand Belvedere, has Arjun Kapoor leading a wolf pack of "like-minded" people comprising fashion designer Kunal Rawal, chef Prateek Sadhu and artist Shilo Shiv Suleman coming together for a project that the quartet will work on. We caught up with Arjun for a chat when they launched the collaboration last month.
What made you say yes to Belvedere Studio B?
When the collaboration came to me, it sounded like a like-minded brand that is cool, simple, real and rich in texture, in philosophy and that's something that I stand for and I believe in. The coming together of creative minds in a very strange sort of way is what spoke to me and I found it fascinating to know more as an ardent fan of talent fusion. I got very intrigued by the possibilities and I'm glad I chose to be a part of it because Belvedere is the best and to associate with the best always gives you a high as an artist.
What does creativity mean to you?
Creativity is the ability to express your opinion without being suppressed and sometimes, while doing it in the subconscious form when you tell stories, you might want to get a message across. A painting might need more than just what it's showing; a song might have more depth than is being suggested. So it's about what you want to find in it, what the artist portrays, what the eyes of the beholder find in it. So when they say beauty lies in the eyes of the beholder, I feel creativity also lies in how you are as a person as you consume creativity differently. So people who manufacture creativity are putting it out there with certain emotions, people consuming it, depending on their phase of life and frame of mind, consume it differently. So it's free for interpretation. I think, being in the creative profession is the most blessed and the fluid form of work.

Collaborations seem to be the buzzword everywhere nowadays, be it films, music or art. What are its pros and cons?
I think there are more pros. At the end of the day, it serves a good purpose for the consumer, the audience and for people who like collaborations. When you collaborate, a lot of different textures and flavours allow consumers to get something outstanding. So for me, a collaboration is like bhelpuri — the ingredients are alone till you put them all together and then there is a burst of flavour.
What is your dream film collaboration like? Who all would you want to work alongside?
I think I would love to do a film like the Oceans series and have a lot of people be a part of it. All of us who have made it to this profession, it would be nice of us to give back to the audience with one nice ensemble piece, almost without having any insecurities but just having fun.
What's keeping you busy now? What can your fans look forward to?
Panipat is keeping me busy right now and I started shooting in January and it will keep me busy till the middle of the year. The fans can look forward to India's Most Wanted, coming in May, which is very close to my heart. Directed by Raj Kumar Gupta, it's based on a true story. I am playing an intelligence bureau officer in that, and Sandeep Aur Pinky Faraar directed by Dibakar Banerjee, in which I am playing a cop are also coming up.