Clash of the heroes
It's well known that both Salman and John, who're popular for gym-built muscle and shirtless action don't really like each other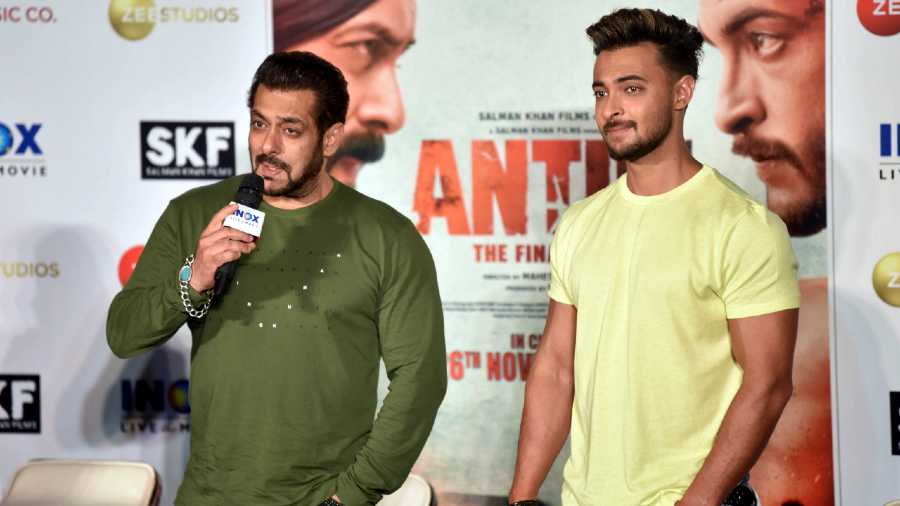 Actors Salman Khan and Aayush Sharma during a promotional event of their film Antim: The Final Truth in Pune
PTI
---
Published 29.11.21, 12:23 PM
|
---
Salman Khan and John Abraham have a history. It's well known that both men who're popular for gym-built muscle and shirtless action don't really like each other and that the late Ravi Chopra had to ensure their paths didn't meet when they worked in his film Babul. 
So it's interesting that they have a release each this weekend, with both hoping to replicate the Rs 200-plus crore collections that Sooryavanshi mopped up in the theatres. During the lockdown, Salman had pragmatically got Radhe out with an OTT release, and tided it out before putting Antim: The Final Truth in the theatres. But John held on to Satyameva Jayate 2 in the belief that he was a big screen hero who should not be reduced to a small screen watch.
Did John's stand succeed?
The truth is, both films are theatrical failures. So there are no rules. But coincidentally, Salman's Antim and John's SJ2 have more than box-office rejection in common.
One, both heroes wear khaki uniforms and they play cops who punch beyond the call of duty.
Two, although Antim is a remake of the 2018 Marathi hit Mulshi Pattern, the backbone of both films is the current headline-blazing community, the Indian farmer.
Three, refreshingly, despite the focus being on bone-crunching killings and action, neither use the Wasseypur language that Anurag Kashyap introduced to Hindi cinema.
There are differences too. John's unwatchable film signals victory for vigilantism. Salman's punishes parallel hero Aayush Sharma for choosing the path of crime. Antim is a classic sample of Salman again attempting to fulfil his familial responsibility of re-launching brother-in-law Aayush. SJ2 is like the re-launch of John in a claustrophobic triple role.
But since it's imperative to be gender sensitive in 2021, women's rights are a part of both films. However, it's John's tonsils-tearing hollering that comes off like Chinese plastic while Antim scores a sound point for the heroine's stand. In SJ2, it's tokenism about feminism. A karwa chauth adhering spouse inexplicably opposes her husband in the state Assembly but does little else. It also has a man demanding, "You think I wear bangles?" It's the antique thought at work: bangles = women = weak.
Antim puts the lid on the idea that a girl's choices end if she sleeps with a man or is raped. With ancient films like Kalicharan (1976), where the rape victim commits suicide, and Benaam Badsha (1991), where the educated Juhi Chawla portrayed a girl who follows her goonda-rapist to the slums insisting that he marry her because she's now "spoilt goods", Hindi cinema has often put a heavy burden on a woman's "purity".
So, you cheer when the parallel hero of Antim declares the self-respecting chaiwali he's in love with has no choice but to marry him as they have already slept together, and she stands up to him. After watching him beat up her father, she demands in the open marketplace, "What gives you proprietary rights over me? That I slept with you?" 
The message is that an indiscreet romp neither makes her his property nor stigmatises her for life. It's this gender-equal scene that makes Antim hover over an acceptable level. 
Perhaps it's watching the people around him that has done it to Salman. Watching a sister fall in love and break up before settling for a happy marriage to another. Watching his sister's ex-boyfriend fall in love with his former sister-in-law (read: Arjun, Malaika). Watching his own Antim director Mahesh Manjrekar marry a second time and give his surname to his new wife's daughter from another marriage.
Most of Salman's new film may be old fashioned. But whoever thought Salman, once infamous for pouring cola over Somy Ali's head, for old quotes like his wife shouldn't be a career woman, and for being the centre of stories on physical roughness with a girlfriend, would grow into a responsible man who endorses progressive gender balance through his productions? 
Bharathi S. Pradhan is a senior journalist and author