City rappers and team Tangra Blues stir a musical storm
Wordplay, freestyle, beatboxing and rants ruled the venue —Hard Rock Cafe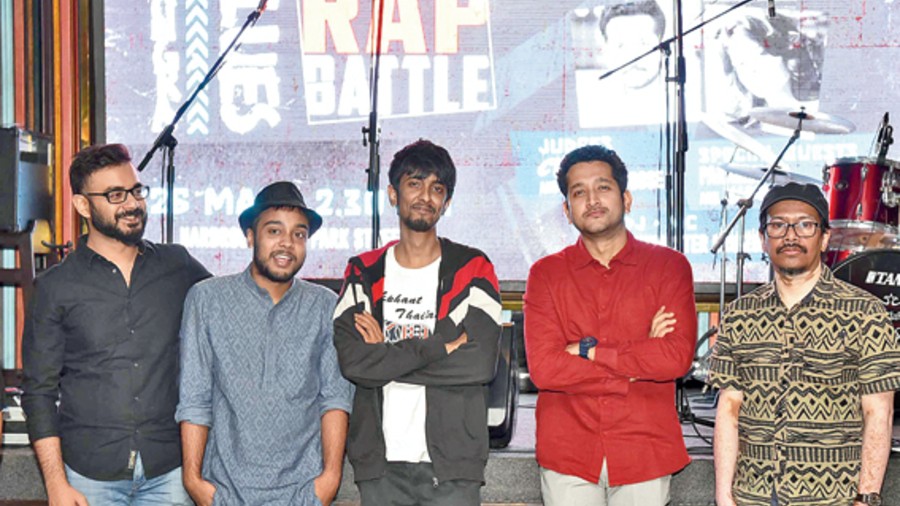 ---
Published 06.04.21, 04:44 AM
|
---
Over the last few years rap has been coming of age on the streets of Calcutta through hip-hop events and battles. And the film Tangra Blues — which releases on April 15 — tells the story of a young music-maker Joyee (played by Madhumita), who escapes the glitz of Mumbai to stay in a posh apartment adjacent to Tangra. She becomes fascinated by the performances of a music band, made solely out of the raw talents of young slum kids. With time she meets Sanjib Mondal (played by Parambrata), the leader of the band, who eventually changes the course of Joyee's life. The film depicts the turmoil in the lives of the characters, their jubilant musical journey against the backdrop of violent gang wars. On March 26, Team Tangra Blues and a posse of city rappers took centre stage at Hard Rock Cafe for a showdown of rap battles. Eight participants took part in the rap battle, which included three rounds of quarter finals, semi-finals and finals. Each of them either rapped a capella style or over a beat, and freestyled their way through the competition. A t2 chat with Param...
What similarities did you notice between the rap battle and Tangra Blues?
It's this aggression and idea of battling... in the film it comes out in a different tangent. It's the battle that they fight every day to survive. So more than the contestants battling it out, the film focuses on the battle that this particular motley crew fight in their own lives and the realities that they face.
What do you think of rap as an art form?
Those of us who were born in the '80s and grew up in the '90s, our definition of rap was very different. Because we grew up with the MC Hammers of the world. Then slowly we got to know about the desi rappers, the Apache Indians of the world or even Baba Sehgal (laughs). Then in the 2000s, courtesy Mainak Bhaumik, we got to know more. Hip-hop and rap together form a great combination but the rap we are listening to today is more impromptu and freestyle. I am not that familiar with freestyle rapping... I'm more used to it going over a beat like Black Eyed Peas. I am a little older now and I love listening to the Black Eyed Peas. Being a Bengali, I like listening to melodies and their melodies were beautiful.
What did you think about the rap battle?
The reason why Smeetstyle won was because he never got angry, he was very chill. He was concentrating his energy on thinking. Flame C was equally good, but the only difference was that he got angry. That's why he lost his chill and his articulation. It's a lesson for everybody, when you're making a point you need to be chill. Otherwise it gives the person you're arguing with the edge.
What are your thoughts on your character?
Ever since we started working on the film (directed by Supriyo Sen) five years back, I never thought that I was going to play his role. Because Sanjay (Mondal), on whom my character is based, comes from a different world. Of course we have taken different liberties in making the story, it's not exactly his life. But to create a person coming out from the underbelly of Calcutta... we had to come to terms with that world and I have been observing him and that world for a while now and all of that really helped.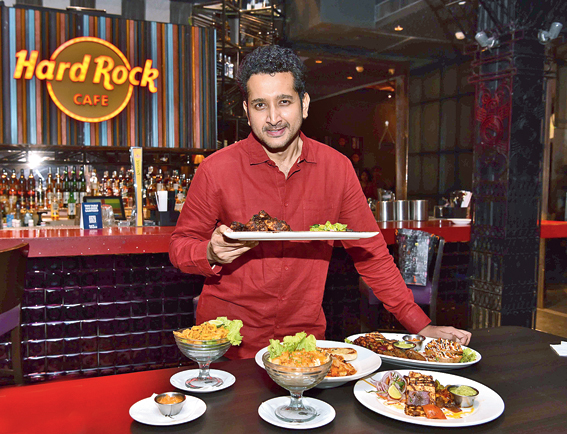 While the rap battles were on in full swing, a new menu was launched featuring dishes like Penne Arabiata, Orange Tequila Prawns, Kebab Platter and Spicy Chicken Drum Stick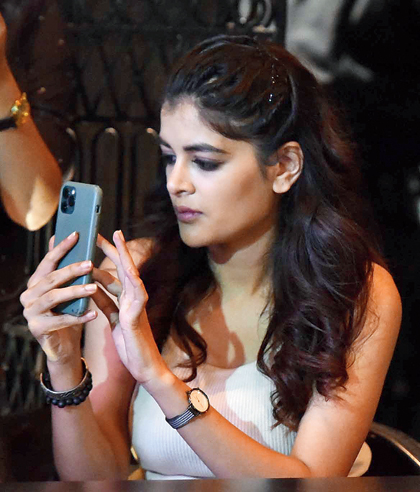 Madhumita Sarcar went click-click. "This film was absolutely new and challenging for me but I was really lucky to be a part of it. It's great that everyone had so much trust in me... hopefully people will like the film," said Madhumita.
Pictures: B. Halder