Chandreyee Ghosh on her powerhouse act in Break-up Story
The actor also talks about Rituparno Ghosh's Dosar and completing 20 years in the industry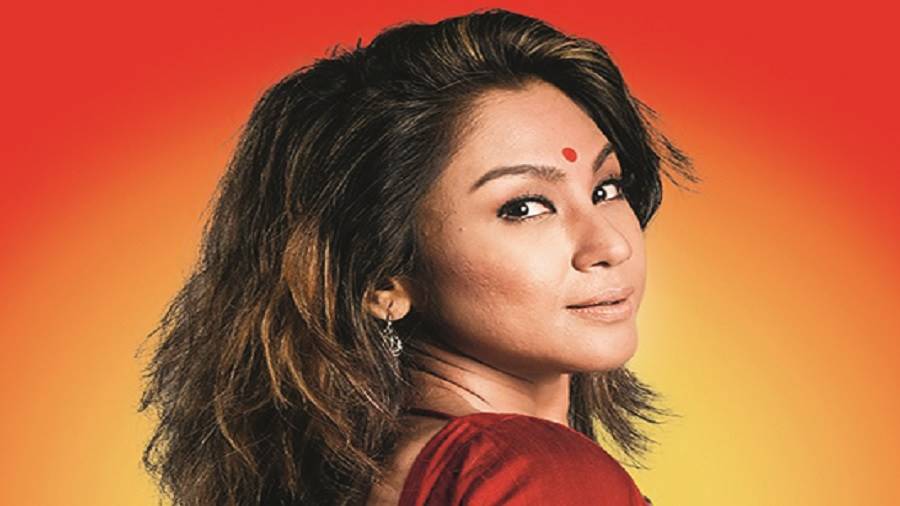 ---
Published 27.07.20, 07:58 PM
|
---
Mainak Bhaumik's Hoichoi web series Break-up Story is driven by inventive writing and strong performances. Actress Chandreyee Ghosh is one of the key figures, who has been flooded with congratulatory messages and phone calls since the web series — which is funny, thrilling and moving — started streaming. A chat with Chandreyee, who plays professor Aparna…

What's the similarity between your professor and the famous Professor from Money Heist?!
Ha ha ha! I am a big Money Heist fan! The similarity is that both are robbers and the difference is that Sergio robs banks and Aparna robs hearts!

What was your first reaction when you got the script?
The script was an actor's delight! The character definitely has the traits of a nutty professor but they are not so profound till we reach the end. There is a line from the film Mona Lisa Smile where Julia Roberts plays Katherine, a professor, which I feel resonates with Aparna. "Look beyond the paint. Let us try to open our minds to a new idea." Honestly, I was pretty stressed because Aparna had a self-proclaimed 'Astonishingly Aparna' as her username on Instagram, and I was expected to live up to it! But I'm glad that I could instill a wee bit of awe in people watching her, if not
astonishment!

How did you prepare?
Aparna has an undercurrent of spontaneity under her calm and sorted avatar. So I thought I would leave most of it to last-minute instincts before a scene was shot. I went through the script quite a few times before shoot... there was a lot of reading between the lines that had to be done. And also, we had a little chit chat over coffee the day before shoot where Aryann and I read through the scenes and Mainak helped us to sketch the characters better. So he was quite the professor for the evening!

Your character is in control, vulnerable, motherly, playful, tragic. What was the biggest challenge for you to portray Aparna?
Aparna is extremely diverse. And I have tried to bring a different hue in each scene. Costumes played an important role in helping me do so.
This was the first time that I was working with both Mainak and Aryann, who is a great co-actor and really sweet! Mainak can really inspire an actor to bring out the best in him or her and he can really boost your confidence. The best part was that he gave me a lot of liberty. And also, as we were shooting throughout the night, his consistent energy and humour made the experience all the more memorable. My biggest challenge to portray this character was definitely the subtlety amidst catastrophy, because only that would make Aparna more human and not just a character. I have a confession. I am still in awe of her and I miss Aparna.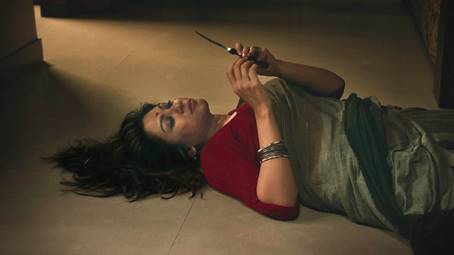 Could you relate to her on any level?
The unpredictability yes. Also, the reds and the greys look familiar!

Did this character take you back to Dosar?
It actually did. The poignance in both women, their affinity to detach amidst attachment... and the constant conflicts within. 'It's all messy: The hair. The bed. The heart. The life.' — William Leal.

What are your fondest memories from Dosar?
It is very nostalgic... revisiting this memory. Although the shoot was brief, I can still feel the excitement I felt that day, working with Rituda and
Bumbada (Prosenjit). When I was recording the song Aaj jemon kore gaichhe akash I was stressing to get the tune perfect. After a couple of takes, Rituda said 'Tui jodi eka gaitish, shur-er kotha na bhebe, mon theke... shebhabe ga. Ami gaan-ta-r moddhye ekta ogochhalo byapar chai'. So I just expressed what each word felt to me. During Dosar, Baba was still there... he gifted a Geetobitan to me and he wrote 'Rabindranath-er gaan tomar dosar hoye thakuk chirokal'.

It has been 20 years for you in the industry. How do you see this journey?
It has been quite a joy ride! The risk of getting derailed is always there, but that is what life is all about. Twenty years sometimes feel like a really long time, and sometimes it also feels like everything happened in a jiffy! I have given life to so many characters and have had to ruthlessly abandon them when a chapter was over. I have witnessed mechanisms, phases, seasons... change. After all, change is the only constant. And I am not resistant to it.

Any regrets about any career decision?
None. Any decision taken by me is conscious. It might not turn out to be the best, but I only do something if I believe in doing it.

We would have loved to see you in more films. Any reason why you were so selective?
Mm... you see, it's a see-saw kind of a situation. There was a time when I was offered a lot of films which I did not want to do and then, I wanted to do good films but they did not see me. I'm glad for the situations where the scales of fortune were mutual and I got to work with some great directors.

Would you like to write stories or direct in the future?
The future is always blur to me because I believe in living one day at a time. I am a dreamer, so stories come and go naturally to me, but actually sitting to write one would be something... an inspiring thought ! Let's see! I had once tried directing a film but could not complete it due to unforeseen circumstances. As of now no plans but 'never say never'.

Would you like to see certain things change in the way the industry functions?
It is a difficult time for our industry. Due to the pandemic, it is already having to go through major changes. The ways in which it is adapting to the new normal is really commendable.
Nothing is perfect. Neither are we, nor are relationships, nor our workplace. But at the end of the day if you know you have not compromised with your conscience, dignity, your self-respect, and you walk with your head held high, you have nothing to worry about. This industry has given me a lot. Most importantly I have been able to be 'me' . What more could I ask for!

What's a day in your life like now?
The days are slow but I have always loved staying home so it's actually not that bad. I love day dreaming so there are days I would hardly do anything apart from think! Otherwise I would watch series and films, play the ukulele, listen to music, try to write poems , yap on the phone, and to top it all, I would wait to taste the amazing food my mother cooks especially for her greedy, shameless, foodie daughter (laughs)!

What's on the bucket list for films or acting?
I have never really believed in one unless I was packing a suitcase or going to do groceries. So in this case I shall let serendipity have its way.

How do you see the web show scene here ?
The variety of content is endless. I have done three web series so far. The experience has been great! And now especially due to the pandemic when people are forced to stay home, I believe this boom is definitely a boon.