Tell us about your shooting experience for the new Byomkesh series on Hoichoi?
It was thoroughly exciting. Right from my childhood I have been a huge Byomkesh Bakshi fan. And getting an opportunity to work in a Byomkesh story was more than anything I could possibly ask for. Another thing is, I have always admired Anirban's (Bhattacharya) work, so working with him was indeed a great experience. He is so humble and grounded. He has helped and guided me while shooting. I have lip-synced to a lovely song sung by Poushali Banerjee. Being a trained classical singer myself, I felt at ease while shooting for the song. So overall, it was a fantastic experience for me.

From the world of TV serials, you are moving to the web. Is it a risk?
Not at all. The taste of our viewers has changed. They are more focused on the content and quality of work. In fact, it is after shooting for the web shows that I signed two mega serials, Khorkuto and Desher Mati on Star Jalsha. So you tell me... is it a risk or a blessing?!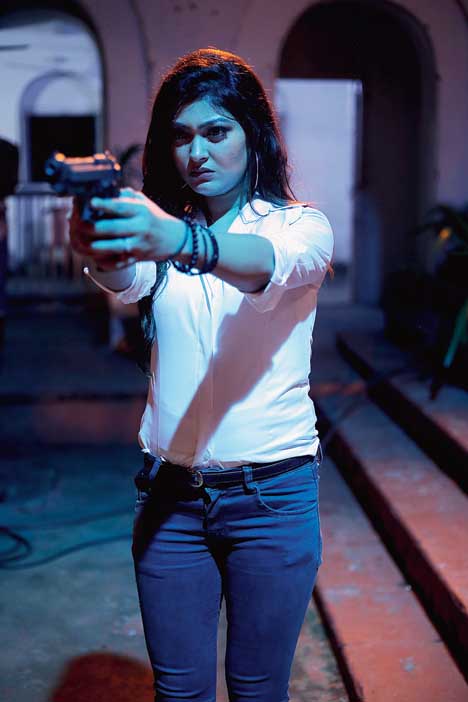 Rooqma in RRS 3 on Hoichoi. Sourced by The Telegraph
Why did you decide to move to the web?
During lockdown, like many others, I watched numerous web shows and was highly influenced by the pattern of shooting, which got me really intrigued. Which is why it got into my head that post-lockdown I should definitely try my hand at a few. So here I am down with RRS3 and Byomkesh.

Since you have played characters who can be very critical and can antagonise others, do people confuse the real you with the character?
Honestly, I am very grateful that I belong to a generation of actors that now caters to an intellectual audience. The mindset of the viewers has immensely changed in the last decade. In today's world what matters to a viewer is concept, character and story. There was a time when actors refused to play negative roles since they were too overwhelmed by their public image. Thankfully, the stereotype is fading away. And for a performer, a negative character opens up a much wider dimension as far as acting skill is concerned. So yes, people understand I am not what I am portraying in front of the camera. The more convincing I get, the better appreciation I receive.
Yet my near and dear ones often cannot relate the mature, diplomatic, notorious on-screen me to the fun-loving, humourous off-screen me. As a result they mimic the reel-me and real-me to draw a contrast just to pull my leg!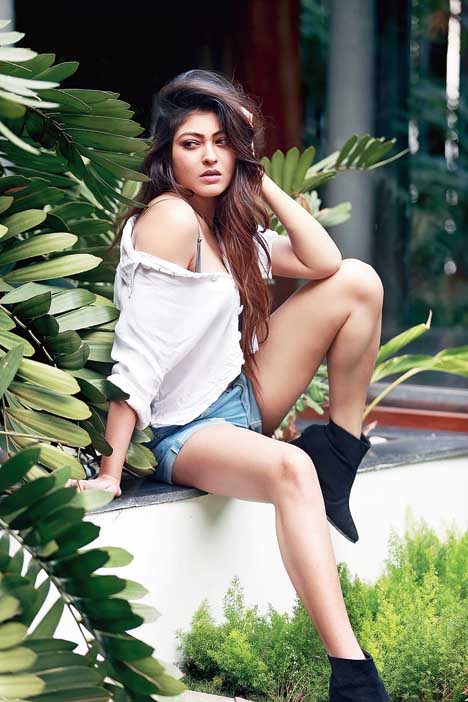 Rooqma Ray Tathagata Ghosh
We heard that you observe people closely and mimic them really well...
Ha, ha, ha, what you've heard is true and there is a little history behind it. My mom is a mimic artist. Shri Jogesh Dutta was her mentor. As a child I was deeply influenced by her. Some might say I have it in my blood. Being a child and being impressionable, I loved what my mother did, and there was a constant effort of copying her all the time. And now with age, it is not just limited to copying my mother! I copy my co-actors, and till date, some of them are not even aware of it. So yes, I observe a lot but it is not that I do it consciously. I just happen to do so automatically. In fact, I copy and sing like many renowned singers of our country.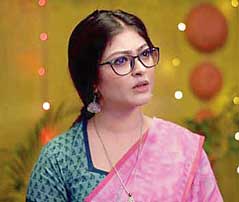 Rooqma in Khorkuto on Star Jalsha. Sourced by The Telegraph
What has been the best compliment that you have received so far for your performance in Khorkuto?
As I have mostly played leading positive roles, my decision to play negative roles initially came as a shock to my fans. My social media pages were flooded with questions as to why I am playing negative roles. But as they watched me play Ananya in Khorkuto, I observed a sudden shift of reactions. My fans have appreciated my work... and I have been summoned to 'leave the couple alone'. Yet a majority of my viewers have empathised with me. So far the best compliment I have received is from Ushasiedi (June Aunty in Sreemoyee). She said, "Ananya is the June Aunty of 2021." Me being a fan of Ushasiedi, it means a lot to me.
How did you prepare to play this complex character?
When the character of Ananya was first narrated to me, the first thing I did was to sit and jot down the names of a few movies which might have a character similar to the characteristic traits of Ananya. I had just one thing in mind... despite being a negative character, it must be appealing to the audience. In the process, I had narrowed down my list to three movies — Gone Girl, Gupt and Pyar Tu Ne Kya Kiya. I had meticulously observed the roles of Rosamund Pike, Kajol and Urmila. They gave me a much better understanding of the psyche of unrequited love.
Ananya is vulnerable and has a lot of pain and anger in her. She gets upset and acts out. The audience also empathise with her...
My mentor Leena Gangopadhyay has the most critical role to play here. Her dialogues for Ananya simplify my job immensely. Her dialogues are so natural, so effortless, just going through the script transports me and I slip into the skin of the character. Her choice of words and the emotions they carry are so profound, powerful and apt. The transformation becomes smooth.

In Desher Mati, you play someone who can be quite caustic and scathing...
Desher Mati narrows down to one theme — our roots. Here we have a set of characters who believe in serving their under-developed hometown while there is another set of characters who believe that successful career is achievable in well-developed cities or abroad. My character belongs to the second category. Mampi is highly qualified, extremely good in her studies and has high ambition. At the same time she is in love with Rahulda's character, who happens to be a very talented doctor, who despite getting many offers from abroad, chose to stay back and serve his hometown. There is a clash of ideology and ambition between the two.