Voice of the year
Even if Ranbir has erred with some of his past choices, the formula of good director plus interesting subject continues to mentor him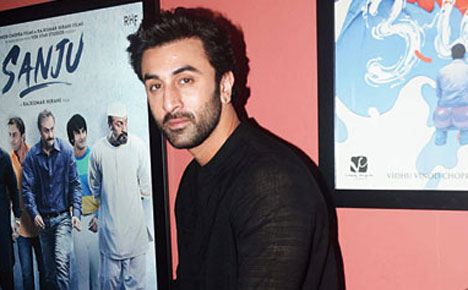 ---
Published 10.01.21, 04:12 AM
|
---
On Saturday, January 2, 2021, a tall, fully-sleeved man wearing a mask and glasses, strode into Dr Himanshu Mehta's clinic and without having to break a step, was whisked away to keep his appointment with the eye surgeon in starry Juhu. It was a matter of just a few seconds but it placed a smile of excitement on the patients waiting in the reception area. Just that height and the signature briskness in his walk were a dead giveaway. That's the staggering fame of Amitabh Bachchan, underscored once again at the dawn of the new year. The other patients didn't even have to hear the baritone to know who had come to visit the doctor, who had operated on him and helped him go glassless when he hosted Kaun Banega Crorepati years ago.
On January 1, it was another distinctive voice that opened 2021 for me when 88-year-old Ameen Sayani called up to say "Happy New Year". The golden voice, however enfeebled by age, continued to need no introduction.
A third voice signalled that all would be well this year.
Unlike those going orgasmic over Ranbir Kapoor's New Year's eve getaway to Ranthambore with his folks and Alia Bhatt, or his impending marriage, the real delight is that the best actor of this generation is back at work.
This year will belong to the 38-year-old and his well-preserved 62-year-old mother Neetu, and it won't be only about their personal lives. The focus will be on what Ranbir does best — come alive before the camera.
Watching the promo of Animal, a film he has not even begun to shoot for, accentuated how much one has been missing him on the screen. Although Ranbir had no part in the delay of Dharma Productions' Brahmastra or YRF's Shamshera, his last release Sanju was three years ago. Last week, only his voice in a monologue with his "Papa" in the Animal promo emphasised how effectively he conveys poignancy.
It is in the public domain that Ranbir began his career with a list of directors he aspired to work with and his choices have been guided solely by the storytelling adroitness of the person. Animal's director Sandeep Reddy Vanga may have been criticised for blatant misogyny in his last film, Kabir, but it also showcased his skills as a deft narrator. Given that Ranbir has his gender sensibilities right, the father-son subject, enhanced by Kapoor's personal loss of a parent, will be a slick product and the actor hasn't prejudiced his pick by focussing on the chauvinism of Kabir.
Armchair critics also raised a snooty eyebrow when he signed Luv Ranjan's film co-starring Ajay Devgn and Shraddha Kapoor. But Ranbir had his reasons — he had liked Pyaar Ka Punchnama 10 years ago and it was he who had picked up the phone to tell Ranjan that if he had a subject, he'd love to work with him. Spotting some spark of cinematic finesse, Ranbir had taken the first step and then waited for the director to come to him with a suitable script nearly a decade later. Once again, he didn't allow the skewered gender equations of Sonu Ke Titu Ki Sweety to colour the green-lighting of Ranjan's next film.
So, even if Ranbir has erred with some of his past choices, the formula of good director+ interesting subject continues to mentor him.
Though he has begun well and is back in the studios, a wistful reality however, is that this year, it won't be Ranbir and dad Rishi Kapoor who'll be shooting at different venues for different films but the actor and his plucky mother who are donning the greasepaint.
This time last year, a suitably recovered Rishi had been well enough to go to Delhi when his sister Ritu Nanda passed on, little knowing that it would be his last trip. This time last year, Neetu wouldn't have dreamt she'd be entering the fifth phase of her life so soon. More on that next week.
Meanwhile, this time last year, nobody could've foreseen what was in store for the world at large.
Bharathi S. Pradhan is a senior journalist and author