The woman rises
Kangana made even her severest critics sit up and note the toil and talent she had put into making her performance in Thalaivii one of the best in recent times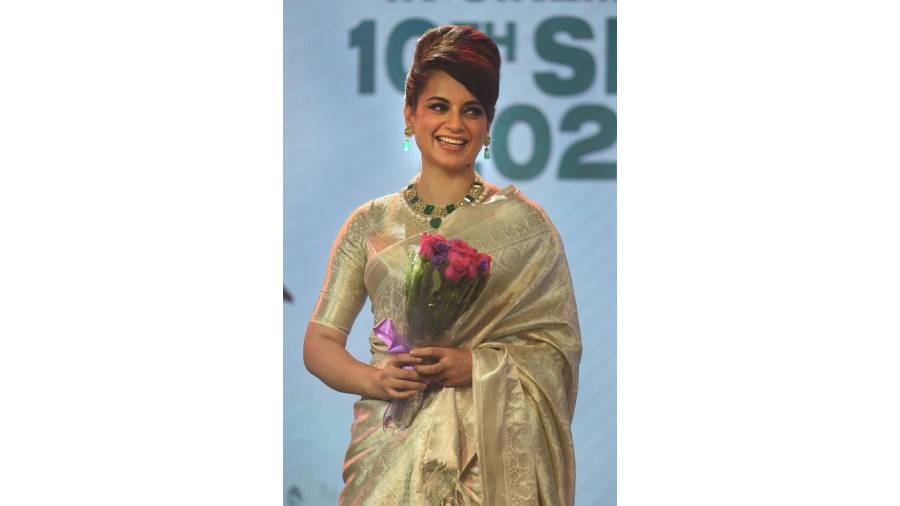 ---
Published 12.09.21, 12:45 AM
|
---
She took on the bigwigs of her industry, collided with those who ruled Maharashtra, duelled on behalf of Modi, and got on the nerves of those who couldn't stomach her political opinions. It led to a general dismissal of Kangana Ranaut as a woman who couldn't be taken seriously.
Much like Jayalalithaa, who was pooh-poohed by the powerful.
And, similar to Jayalalithaa's rise to the most coveted chair in her state, Kangana made even her severest critics sit up and note the toil and talent she had put into making her performance in Thalaivii one of the best in recent times.
Where did she find the time — and the energy — to do that when she seemed so distracted by a myriad other pursuits? 
With the foretaste of triumph as reviews came in, she was chuffed she'd sprung a surprise on those who thought of her as inconsequential. Acknowledging that what she'd been through had indeed been very distracting, she pointed out, "While doing Thalaivii, I was involved in so many controversies. It wasn't restricted to just writing something and then not bothering about it. It spiralled into more serious stuff like FIRs, summons, going to the police station, telling your lawyer when and what you've said, where's the tweet, what's the date."
There were inevitable moments when she asked herself, "Why did I get into something like that?"
After a spot of self-examination, she explained, "I don't know if it's just me but I get so much into my roles that a mental or an emotional part of me gets stimulated and I start to get more curious about that field. When I was playing Jaya Amma, I became very curious about politics. And that got the better of me. In such a way that some things began to translate into the same things that Jaya Amma faced in her life. I began to wonder, why do the reel and the real have to get blurred like this? Am I too much into my characters?
"You must have seen," she added, "that I was more bothered about political happenings because those days my research, study and curiosity were around that area. In a way, this helped me because the focus was only on that (performance). But," she accepted, "I can do without it."
It didn't end with playing Jaya, who hacked her way through a jungle of men. Kangana also stood by her producers and took on the mighty multiplexes who refused to screen Thalaivii (because the Hindi version would get only a two-week window before streaming on Netflix).
She said to me, "The theatre people are behaving like brats. I held multiple meetings with them and their attitude was, 'It's my way or the highway. And if it's a choice between something (we don't want) or nothing, we'd rather choose nothing. Because we are these big bullies.'"
Her stand provoked some in the film trade to remark that she had no business to do the talking, she was only the heroine of the film. A comment that's never heard when a male star gets involved with the business of his film.
In Mumbai Diaries, a new Web series on Amazon, a female tells a male, "Be a woman and do what it takes," neatly turning the age-old 'Be a man' on its head. But it's going to take a while for that kind of thought to sink in.
Meanwhile, the bugle has been sounded and whether you agree with her or not, Kangana is in the thick of it.
Becoming Jaya has thus been exhausting. When we spoke, she was on her way to Delhi and nursing a cold. Apart from the obvious strain of undergoing several emotional, physical and mental transformations, and getting into the mind space of a woman who spoke a different language, it was like working in two films simultaneously when she'd shoot a scene in Hindi and repeat it in Tamil.
So, did Kangana get paid twice her fee?
"I made sure about that," she laughed delightedly. "Trust me, that's why I'm the most hated woman in the industry."
Bharathi S. Pradhan is a senior journalist and author