Adieu Pulu Kaku
I loved the way he recited poetry. He wrote and spoke beautifully in Bengali and English. He was very polished - Moushumi Chatterjee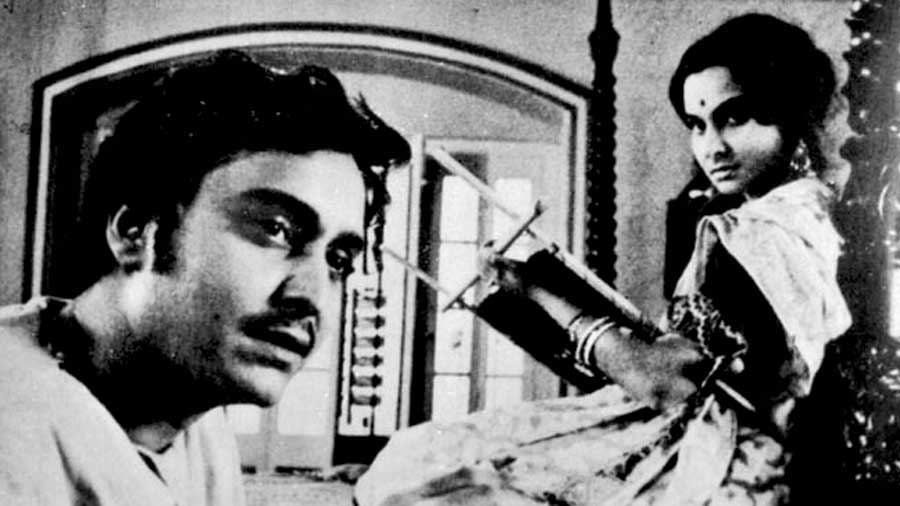 ---
---
Many moons ago, in an informal chat on legends, Moushumi Chatterjee had talked of the inevitable comparisons that tended to be made between Uttam Kumar (who had passed away in 1980) and Soumitra Chatterjee (not related to her, they only shared a surname). She had completed Bhalobasar Onek Naam a while ago with Ray's Feluda but didn't know it'd be her last with the actor she knew as Pulu Kaku.
"It's an uneven comparison," Moushumi had observed at that time. "Uttamda was ahead of everybody else, a very versatile actor; he made a good fit in any kind of role while Soumitra Chatterjee shines in a particular kind of role. The best example I can give you to illustrate the difference is to quote what Bhanu Banerjee, an outstanding comedian, had said when Uttamda had passed away. Soumitra had remarked that it was a sad day, a chariot with two horses had been in full speed but tragically one of the horses was no more. To this Banerjee had reparteed that it was indeed a tragedy but there was a difference in the horses. One was an army horse while the other a pony."
During the same conversation, Moushumi had also said, "I have the privilege of getting away with whatever I want to say to Pulu Kaku. He's very fond of gossip and once, when he wanted to know something personal about somebody, I turned around and asked him, 'What about your own life? Why aren't you living with Deepa Kaki any more?' I think I must be the rare one who can ask him a question like that. His reply was to fondle my hair and say, 'Pagli, chup kor,' and change the topic. He treats me like a child. But I'm very fond of Deepa Kaki and their situation disturbed me."
Last Sunday, on November 15, while accepting that the above conversation had indeed happened between us, Moushumi respected the poignancy of the news from Belle Vue Clinic. She lingered, instead, on the distinguished place Soumitra Chatterjee had occupied as Satyajit Ray's discovery and as his most repeated hero.
"I was barely 14 when we did Parineeta (1969) and he was already a father," she remarked. "But Saratchandra's story was about a younger girl and a mature man. My second assignment after my debut blockbuster, Balika Badhu (1967), was the only film in which he and I were opposite each other. In Bhalobasar Onek Naam (2006), he had a meaty character role while I was opposite Tapas Pal."
Incidentally, Tarun Majumdar who directed Moushumi in Balika Badhu, helmed her daughter Megha's debut too in Bhalobasar Onek Naam. "It was Uttam Kumar's grandson Gaurav opposite Hemant Kumar's granddaughter," Moushumi recalled.
She went on, "Soumitra Chatterjee "was more than just an actor. He had a personality of his own and a brand of humour too. I loved the way he recited poetry. He wrote and spoke beautifully in Bengali and English. He was very polished.
"I liked him when he played a simple, educated man, as a writer or a government servant, the kind of role he always aced. He was an erudite, articulate man who was at home with poetry and literature.
"Yes, it is true that he loved gossip, he wanted to know what was happening everywhere," she added.
Tipping her hat to him, Moushumi explained, "When I say he liked masti and gossip, it is to negate the impression that he was always serious and starchy. I say this with deep admiration for him because he knew himself well. When someone had asked him why he didn't write his autobiography, he had said that life stories are never honest. They tend to be whitewashed and sanitised, which he didn't believe in. He believed nobody is completely black or white, there's grey in everyone. He was a very clever man."
To the legend who acknowledged the existence of human colours other than stark black and white, Om Shanti from Moushumi Chatterjee.
Bharathi S. Pradhan is a senior journalist and author