Calcutta girl Ranita Banerjee is runner-up in Zee TV's Sa Re Ga Ma Pa Li'l Champs
She shares with us her nine months' experience in Mumbai, singing and shooting amid the pandemic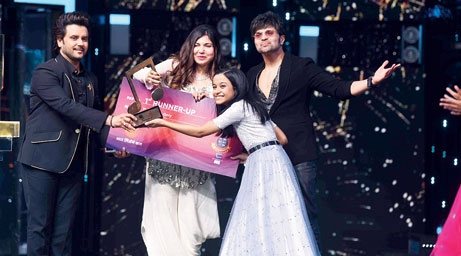 ---
---
Dum Dum girl Ranita Banerjee stopped just one step away from the crown of Zee TV's Sa Re Ga Ma Pa Li'l Champs. The 2013 Zee Bangla champion of the regional version of the singing reality show shares with us her nine months' experience in Mumbai, singing and shooting amid the pandemic.
Congratulations! What was your reaction when the result was being announced?
Thanks. Actually, the final was shot a month back when the result had not been decided. So all possible results were canned and we had to react accordingly. The results were decided after audience votes were polled. So along with the rest of the country, seated at home, I too came to know that I was the runner-up.

Who had you regarded as your closest competitor?
Both Aryananda (Babu, the eventual winner from Kerala) and Zaid Ali (a finalist). Since most of my duets were with Aryananda, I had to fight in every song. Towards the end, I hardly got solo songs. In the final, too, I had no songs of my own. So there was less scope later for me to demonstrate my singing.
How long were you in Mumbai?
Our auditions in Calcutta were in January. I left for Mumbai on February 7.
There was a change in judges after the lockdown with Kumar Sanu and Udit Narayan stepping down to make way for Himesh Reshammiya and Jaaved Ali who joined Alka Yagnik. Were you happy with the change?
Sanu uncle had seen me in the Zee Bangla show and used to support me a lot. So I did feel bad when he left. Alka ma'am used to come on and off and knew me too.
How was the schedule?
Very hectic. We had to pick up eight songs in two days. Then we had rehearsals with the band one evening, the technicals (where the shooting details would be worked out) the next day and the actual shoot on the third day.
Tell us about your best performances.
After the lockdown, the show resumed with my recital of Ghar morey pardesiya. Alkaji got tearful listening to my Megha re. Padma Wadkar (wife of Suresh Wadkar, who had sung the Pyaasa Sawan song in duet with Lata Mangeshkar) came up to praise me. Govinda sir gave me a standing ovation for Chaturnar badi hoshiyar. I sang O humsafar in presence of Neha and Tony Kakkar. She said I had sung the song better than her. What compliment can be bigger than that! In the episode where Randhir Kapoor came, I sang Ram teri Ganga maili. He said he could see a future Lataji (Mangeshkar) in me. After Aryananda and I sang Radha kaise na jwale, Himeshji offered us a song on the spot in a Rajkumar Santoshi film he is scoring for. But that part got edited out in the telecast.
How much did things change after the lockdown?
A lot. Temperature check, mask, make-up men in PPE kit…. We used to eat and get groomed together. All that stopped. Even for our adda in the corridor, we had to stand at a distance. After some weeks, of course, Ananya (Sharma), Zaid, Tanishka (Sarkar, another finalist from Calcutta) used to come to my room in masks in the bungalow to chat. Even Gurkirat (Singh) loved coming as there was a steady supply of chips and chocolate in my room as also Ludo and a ball to play with. I entertained everyone.
Any regrets, other than not winning?
Not getting to meet Shah Rukh Khan. I had seen Salman Khan and Sonakshi Sinha when I went to Indian Idol Junior in 2015 (reaching top six).
How many more reality shows have you been on?
(Smiles) My first show was Singing Star on Rupasi Bangla channel. I was then five years old. I took a break after Indian Idol Junior as my father wanted me to prepare well before the next show. He is a voice trainer on Zee Bangla Sa Re Ga Ma Pa. He joined there the year after I became champion.
In normal circumstances, this Puja would have been very busy for you with concert bookings.
Yes. People are recognising me even with mask on when we go shopping. Every year, I am away in Delhi or Mumbai for shows. This year, I would have got even greater reception. In fact, we could have been going for a concert tour abroad. But that is unlikely to happen. So we are leaving for Darjeeling on Ashtami.