Brazilian filmmaker Fernando Meirelles on directing Anthony Hopkins
He also talks about not being interested in the MCU and why climate change scares him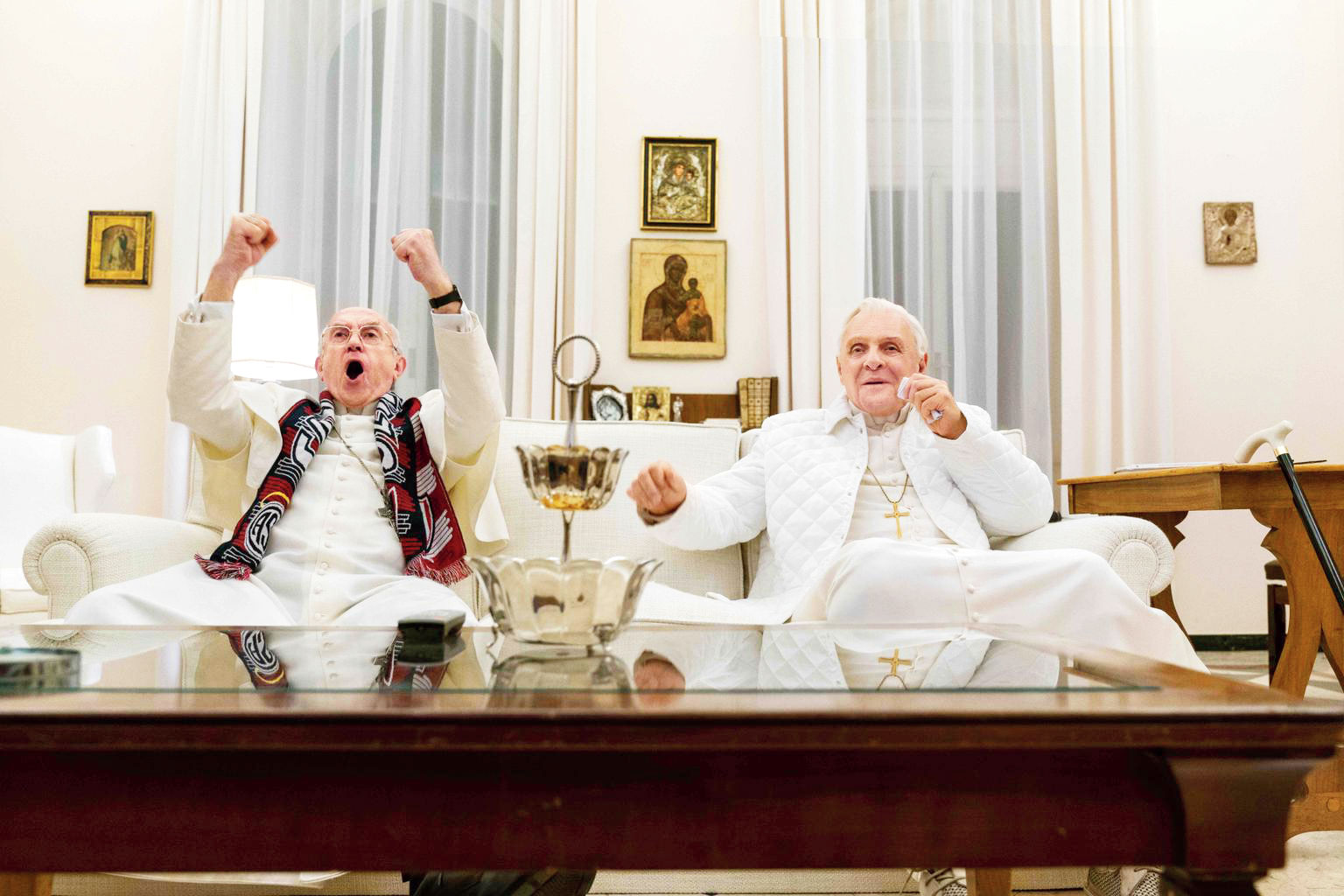 ---
---
Brazilian filmmaker Fernando Meirelles — the man behind City of God, Blindness and now The Two Popes — was in Mumbai recently to receive the Excellence in Cinema award at the Jio MAMI 21st Mumbai Film Festival with STAR 2019. After a screening of The Two Popes — that traces the true story of papacy politics and stars Anthony Hopkins and Jonathan Pryce — the 63-year-old Brazilian filmmaker sat down for a masterclass with festival director Anupama Chopra. t2 was in the house.
Anupama Chopra: At some point in The Two Popes, a character says, 'The truth is vital, but without love, it's unbearable'. I feel that's true for your films. Your films show us such harsh truths, but with a lot of compassion, empathy and hope. Is that by design?
Fernando Meirelles: I try to put some hope in my films. That's because most of them deal with very delicate issues. To be honest, nowadays I am not very hopeful about our future. Climate crisis is something that really worries me. Sorry to say, I am very pessimistic about the future of the world.
Anupama: Your next film is about climate change…
Fernando: Yes, I am obsessed with climate change now. The best way to not get scared is not knowing about it, but I think I have read too much already (smiles wistfully). This will be a Netflix project. I need to make a film that engages people and doesn't annoy them because people don't like to hear about things that will cut their mortality into half, you know (laughs).
Anupama: When The Two Popes came to you, you apparently said that you are a 'bad Catholic' and are not interested in Catholicism. And when the book on which City of God is based was offered, you said you didn't know anything about gangster films. How do these stories find their way into you when your first instinct is 'no'?
Fernando: The Two Popes became interesting for me because I wanted to know Pope Francis (played by Jonathan Pryce) better. I was not interested in the religion aspect, but I really wanted to know what kind of politics he stood for. He fights this idea of nationalism, which is kind of the new wave in the world. I may be attracted towards stories that speak of a certain region, but they should be global in thought and reach.
Anupama: You've said that Anthony Hopkins, who plays Pope Benedict, was like a classical musician and Jonathan Pryce, as Pope Francis, was a jazz musician. Can you explain that?
Fernando: It was very interesting to work with these two actors. Their process to get into a character is really different. We sent the script to Tony Hopkins in September 2017 and in October, he said, 'Okay, I will start preparing for the role'. We were only going to begin shoot in February 2018. He asked me in October to not change a single word in the script! (Laughs) That was very difficult because one tends to change a script even on the day of shoot. I was like, "Are you serious?!' He's very profound and knows quite a bit of philosophy. He took four months of prep, and for each line, he knew well in advance how he would play it.
In the film, there is a scene where Pope Benedict swats away a fly sitting on his eyebrow. He thought about this fly in December, a good two months before shooting! (Laughs) And yet, in the moment, he made it look so organic and natural. In another scene, he asked me to put a gardener in a shot just so that he could break a line of dialogue and wave at him. I cut the line anyway! (Laughs) But the point is that he prepares like no other. He is like a classical musician who knows the part like the back of his hand and prepares it to the T.
Jonathan is the opposite. He watched a lot of footage on the Pope and tried to get the mood and feel of the character. He was always doing things in the moment. Honestly, I wasn't sure how the two of them would work together, given their different processes. But on the second day itself, they became best friends! They would go out for dinner every night and in the film, you can see the connection that they share.
Anupama: Both you and Cesar Charlone, the director of photography, were nominated for Oscars for City of God. There's a haunting scene in that film in which a teenager is asked to choose which one he wants to shoot out of two younger children. It's horrifying on so many levels. How do you decide how much to hold and how much to show?
Fernando: It's a film about violence, but nothing is very graphic. In that scene, you see a gun being pointed at the camera, then a gunshot and then the feet drenched with blood. We got the boy to show a kind of no-holds-barred emotion in that scene and that made it seem more violent and potent. Our acting coach told him to think of the worst thing that could happen to him. So every time, before the shot, he thought of how he would feel if his mother died and he would start crying uncontrollably. But once the shot was done, he would go back to playing football! That's how he had learnt to process that emotion.
Anupama: You've been directing for decades. Do you feel that your instincts as a filmmaker have changed or do you respond to the same kind of things?
Fernando: I trust my intuition more than I used to. If I feel something will not work, I just don't go there; and if I have a crazy idea that I feel will fly, I go with it. Like the pizza scene in The Two Popes (where Pope Francis orders in pizza for Pope Benedict and they have a pizza party of sorts) wasn't in the script even two days before we shot it. I felt it would work, and it did. I feel all of us trust our rational side too much… we should let go and trust our irrational side too. I am learning to be a lot more loose now.
Anupama: You trained to be an architect…
Fernando: Yes, I am an architect but I never used that degree. I built my house, though (laughs).
Anupama: How has that training informed the way you shoot locations, especially cities?
Fernando: I am very sensitive to spaces. And it helps me to shoot, to move actors around.
Anupama: What did working in advertising teach you about storytelling?
Fernando: It's the best school I could have. They pay you well (laughs). I did it for 10 years and worked with practically everyone in the Brazilian talent pool. Everyone who worked on City of God — except Cesar — hadn't worked on a feature film before, but I had worked with them in commercials for years. The film worked because of the good relationship I had with them. Directing, I feel, has a lot to do with people management and relationship building.
Anupama: What's a good quality for a director to have?
Fernando: You have to like the story you are telling. If I am making something I don't like too much, I disconnect easily. In advertising, I wasn't really interested in selling cars or a brand of soap and so I would invent something in that brand that would keep me invested in my work. My career in advertising went well — I won a few awards at Cannes — because I was constantly thinking out of the box and that's what I try and do as a director as well.
Anupama: You were being wooed by Hollywood at one point, but you chose to go back to Brazil and keep making your kind of films…
Fernando: I had to choose — whether I wanted to become an international director or whether I wanted a life… my option was to get a life! (Laughs) I was offered some really big films, but that meant I would have to leave Brazil. My roots in Brazil are very deep and I decided to stay. I also want to work in Portuguese. I speak English, but it's not the same, you know. I don't feel emotions in English like I feel like in Portuguese. When you say 'mango tree', I think just mango tree in English; but in Portuguese, it means my childhood, my mother's house, the fragrance of fresh mangoes… it's a more tangible emotion.
Anupama: You have said that you don't think of yourself as Brazilian, but someone 'who belongs to the earth'. Can you teach us to think like that?
Fernando: I probably said that because I travel too much! (Laughs)
I am interested in mankind as a whole. But I belong to the earth, quite literally. I am passionate about farming… I plant coffee, avocado, sugarcane…. I like the country and the soil.
Anupama: The masters of the craft like Martin Scorsese and Francis Ford Coppola have weighed in on the Marvel Cinematic Universe, saying that they aren't films but are the equivalent of amusement parks. What do you feel?
Fernando: I can't disagree with Scorsese because I don't watch them… so I don't even know if they are boring! (Laughs) I did watch Spider-Man eight years ago, and that was it. I am not interested, but that doesn't mean it's bad. I loved the first Deadpool film, but I watched 30 minutes of Deadpool 2 and gave up. It was quite bad!