Blast from the past
Ramanand Sagar and BR Chopra went on to become two of the most successful filmmakers of the last century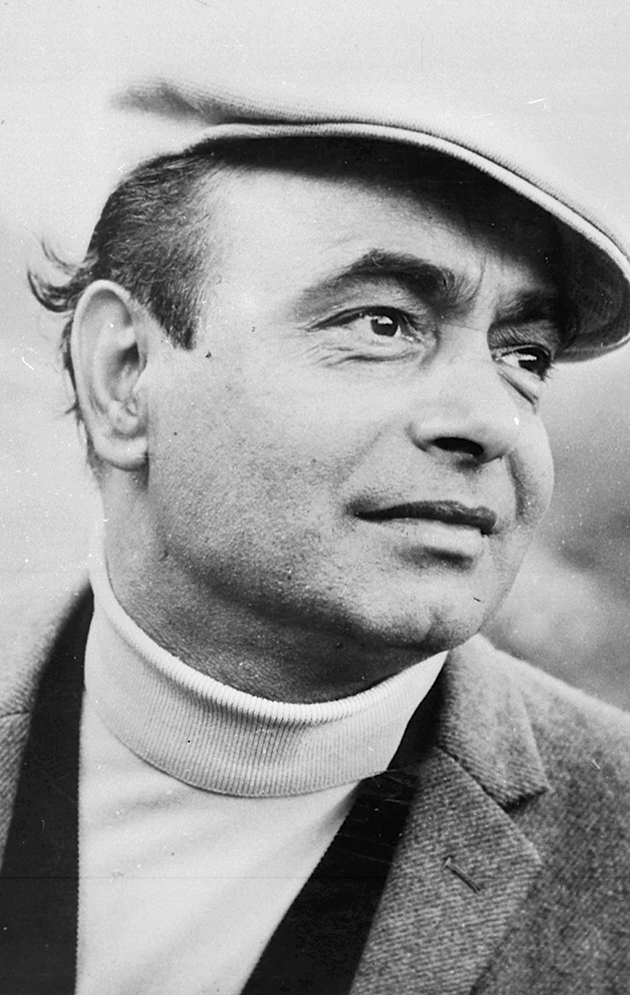 Ramanand Sagar
File photo
---
Published 25.04.20, 06:41 PM
---
Did you know that Biju Patnaik, two-time chief minister of Odisha and father of Naveen, the incumbent, was a daring fighter pilot? If yes, then you'd probably know that he was a pilot with the Royal Indian Air Force during World War II; he delivered what was perceived as subversive literature to Indian troops, flew clandestine missions ferrying Congress leaders to and from safe houses, and was the adventurous friend Jawaharlal Nehru sent to fetch Indonesian resistance fighters from under the nose of their Dutch colonisers for a secret meeting with the Indian Prime Minister in Delhi.

But what I bet you didn't know was that it's his derring-do in Srinagar on Diwali night in 1947 that saved a man you and I know as Ramanand Sagar. It was dramatic. Even as the Dakota DC-3 hovered above the ground waiting to take off with the refugees while the howling of bloodthirsty tribals of Waziristan could be heard coming closer, there was a face-off between Patnaik and Sagar over a trunk that the latter refused to offload before emplaning.
When the furious pilot threw open the trunk, out flew not currency notes or jewellery but pages of Sagar's unpublished novel Aur Insaan Mar Gaya, said to be the most poignant story on the bloody Partition. To his astonishment, he realised this was Ramanand Sagar, the celebrity writer of Maut Ke Bistar Se or Diary Of A TB Patient. Sagar used to pen this for the Lahore-based Urdu daily, Adab-e-Mashriq, from a sanatorium in Kashmir as he awaited death from TB. After a miraculous recovery, he worked as a journalist with the dailies Daily Milap and Daily Pratap in Lahore.
Today, in the Covid-19 era, when Sagar's Ramayan and B.R. Chopra's Mahabharat have staged a comeback on Indian TV, it seems more than a coincidence that the two filmmakers had much in common.
When B.R. Chopra landed with torn pockets in Bombay, he was also a refugee from Lahore with a large number of dependents and a book that was his dearest possession till his death — a compilation of short stories titled The Truths,which he had written in 1940.
BR was the editor of a film journal and also launched his own magazine, Cine Herald, in Lahore. It was here that the Latin saying, Ars Longa, Vita Brevis (Art Lives Long, Life Is Short), blazed across the cover page of his magazine — it remains a part of the BR Films' emblem to this day.
Sagar and BR set up flourishing film production houses in Bombay and went on to become two of the most successful filmmakers of the last century.
Interestingly, Sagar built the palatial 10,000 square-foot Sagar Villa in Juhu while the sprawling BR House is a landmark in the same suburb.
In the 80s, it was believed that it was Rajiv Gandhi who wanted Sagar to make Ramayan, Shyam Benegal to film Discovery Of India and BR to helm Mahabharat.
However, I&B minister V.N. Gadgil had been dead against the telecast of "Hindu" mythologicals and put Sagar through hell. It was only after Gadgil was replaced by the cinema-friendly Ajit Panja that there was a flicker of hope. Panja, incidentally, had played the role of Ramakrishna Paramahamsa in a Bengali film.
BR went through similar hell for insisting on "Muslim" Dr Rahi Masoom Reza writing Mahabharat and had to go through two years of court cases before his episodes could be telecast.
But he couldn't sigh with relief even after telecast began. With Raj Babbar pronouncing, "Janam se koyi raja nahin ban sakta, karam se banta hai", Rajiv Gandhi took it as a personal affront, a dig at dynastic rule. BR Films was forced to cut out Raj Babbar's sequence when it was first telecast. Son Ravi re-instated it in the re-telecasts of Mahabharat.
PS: All information sourced from the well-documented An Epic Life: Ramanand Sagar, by his son Prem, and an unpublished book on BR written by yours truly.
Bharathi S. Pradhan is a senior journalist and author