Ramanand Sagar's golden journey across the silver screen
Ramanand Sagar's son, Prem, himself a cinematographer and film-maker, chronicles his father's life spanning eight decades through his struggles, toil, tears and triumphs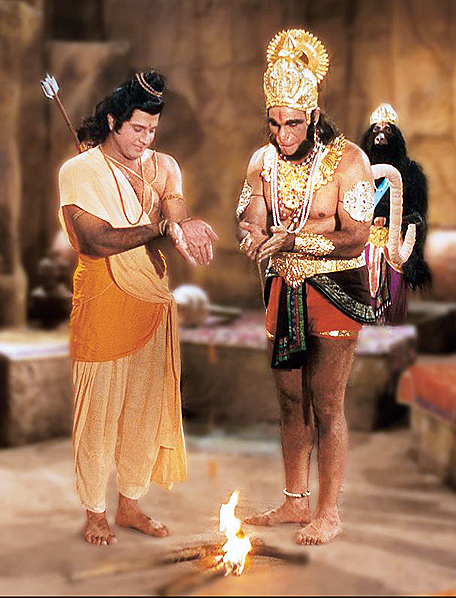 A still from Ramayan
(YouTube grab)
---
Published 14.02.20, 08:02 AM
|
---
"In villages across south Asia, hundreds of people would gather around a single set to watch the gods and demons play out their destinies. In the noisiest and most bustling cities, trains, buses and cars came to a sudden halt, and a strange hush fell over the bazaars. In Delhi, government meetings had to be rescheduled after the entire cabinet failed to turn up for an urgent briefing," the well-known author, William Dalrymple, would write on Ramayan, the 78-part series on the Indian epic that became one of the world's most viewed television shows in the late 1980s.
The man who created this phenomenon was one of Bombay film industry's more successful film-makers, Ramanand Sagar.
Born on December 29, 1917, in a nondescript town called Asal Guruke, some 40 kilometres from Lahore, Ramanand's early life was one of turmoil. Soon after his birth, his teenaged mother had to give him up to her childless stepmother-in-law because of a promise made by her adamant husband — a decision that had a profound impact on the young boy and also led to the untimely demise of the young mother. Ramanand's father would marry a second time; Ramanand's half-brother, Vidhu Vinod Chopra, 35 years his younger and a successful film-maker in his own right, was born from this marriage.
The second emotional strain came some 30 years later when Ramanand had to flee his home state of Kashmir in October 1947 with a young family and an expecting wife, escaping in a plane piloted by Biju Patnaik, who would later become the chief minister of Odisha.
Ramanand's son, Prem Sagar, himself a cinematographer and film-maker, chronicles his father's life spanning eight decades through his struggles, toil, tears and triumphs.
The author traces Ramanand's journey from Lahore, where he grew up, to Srinagar, where he went for higher studies, then back to Lahore, where his love affair with cinema began with two movies that he saw, Debaki Bose's Seeta and Nitin Bose's Chandidas, and realized the power of the medium. It was then that he decided to join films for a career, and became a clapper boy at the age of 19 for a silent film called Raiders of the Rail Road.
Prem Sagar juxtaposes Ramanand's career with that of his father's personal life, offering the reader a sneak peek into the India of the 1930s and '40s. Like most youngsters of that era wishing to make it big in cinema, Ramanand landed up in Bombay and, after a brief stint in Pune, working as a publicity manager for Shalimar Studios, he began writing plays for Prithviraj Kapoor. It was Prithviraj who suggested to his son, Raj Kapoor, after his directorial debut, Aag, flopped that he meet Ramanand and tap his writing skills.
The rest, as they say, is history. Barsaat, written by Ramanand and directed by Raj, became a huge blockbuster. In 1950, Ramanand started his own production company, Sagar Art Corporation. But his first two productions, in collaboration with the composer, Anil Biswas, and his wife, Asha Biswas, bombed, forcing the family to tighten its purse-strings. Prem Sagar recounts how his father continued to take up writing assignments and had a chance meeting with S.S. Vasan, the movie mogul from Madras who owned Gemini Studios. Vasan asked Ramanand to write a script based on a Tamil movie and thus was born Insaniyat, the only film to feature Dilip Kumar and Dev Anand. Insaniyat was a big success and Ramanand never looked back after this.
Prem Sagar traces the genesis of his father's hits during this period — Paigham, Zindagi, Ghunghat, Arzoo, Ankhen, Geet, Lalkar, Charas...
He also provides nuggets of trivia: how Ramanand took the pen name, "Sagar", while seeing the vastness of the sea standing on Bombay's Chowpatty beach; how the lettering of Ankhen was inspired by that of Dunhill cigarettes; the air scare for Rajendra Kumar during the making of Geet; that Charas was Amjad Khan's first signed film and so on.
It was during the filming of Charas in Switzerland, the author says, that Ramanand decided to make the switch to television when he saw a French film in colour on the telly while cooling off at a roadside café after a gruelling shoot. Always a spiritual man, Ramanand announced to his sons that he would bring the story of Shri Ram to television, which he believed had a wider reach and wasn't given to the vagaries of the box office. For a mainstream producer to make a foray into television was unheard of in the mid-1970s.
The author details Ramanand's determination to battle the odds to push his dream project through and the subsequent serials that he conceptualized.
Prem Sagar's narrative is simple and plain, shorn of descriptions or imagery. He goes back and forth in time to tell the story of his father. Yet, the book is much more than just a biography. It is also a story of India's film history, from the 1930s and '40s till the 1980s, when Ramayan would revolutionize television and change the fortunes of Doordarshan.
One shortcoming is that the book doesn't have an index — of names or of the movies and serials Ramanand Sagar and his production house made, making it a tad difficult to cross-reference. This should have been included in a book of this nature — not only is it a life story of one of the film industry's more successful mainstream directors but also a chronicle of India's turbulent history that shaped the destinies of so many.
An Epic Life: Ramanand Sagar — From Barsaat to Ramayan By Prem Sagar, Westland, Rs 699