Bikram: Yogi, Guru, Predator is an interesting insight into the mind of a predator
The Netflix documentary is crisp for the most part, hinged skilfully on an assemblage of archive footage, court depositions and first-person testimony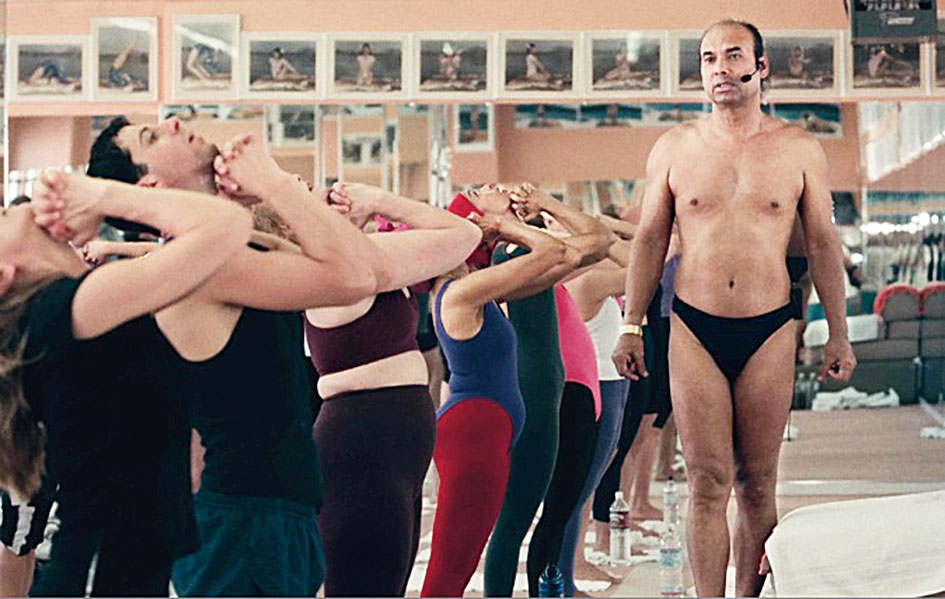 ---
---
Picture a pony-tailed man — clad in nothing but a pair of tight black Speedos that leave little to the imagination — holding fort in a sea of impossibly contorted bodies of both young women and men in a sweltering studio in the heart of Beverly Hills in California. He often barks insults — referring to a woman unable to perfect a certain yoga posture as "bitch" and telling a man with a paunch, "Suck that f***ing fat stomach in, I don't like to see the jiggle jiggle" — and physically works with the bodies of his female students in a way that screams more predator than teacher.
He sometimes clowns around the studio, referring to himself in the third person and stopping by more than once to ask a female student, dripping sweat, to give him a massage. Most acquiesce, eliciting a deeply satisfied smile from the man. The massage — and all that comes with it — often continues till late in the night, either in the 50-plus man's sprawling home or in a plush hotel suite.
Calcutta boy Bikram Choudhury spun the West's obsession with yoga into a multi-million-dollar business and patented "Hot Yoga" — a 90-minute routine of 26 postures performed in a room heated to 120-degrees — to become a cult figure of sorts, citing names like Elvis Presley, Shirley MacLaine, George Harrison and Raquel Welch among his burgeoning client list and even claiming that his green card was a "gift" from Richard Nixon after curing the US president of Phlebitis. Thousands of followers, luxurious homes and a fleet of Bentleys and Rolls Royces were a part of Bikram's decades-long "American Dream".
But as it turns out, this was an empire brokered by psychological manipulation and professional bullying and carried out in a carefully constructed environment of lopsided power dynamics. An environment that enabled the self-styled 'yogi' to serially harass women and sexually exploit them. But it was his strategic peddling of yoga as the path to happiness, health and spiritual sublimity — not to mention as a means of a steady-paying career — that compelled many to remain quiet for years. Until some of them decided to speak out.
That's the subject of Bikram: Yogi, Guru, Predator, a new Netflix documentary currently playing on the streaming platform and an able if not as effective follow-up to Wild Wild Country, that traces the rise and rise of a charismatic man and a cult following built primarily on lies and intimidation.
The 86-minute documentary, directed by Oscar winner Eva Orner, is not only a well-researched expose of the man and his 'movement', but also shows the kind of damning influence Bikram had on his followers. Orner employs an interesting narrative technique of kicking off with Bikram's early days in Calcutta, dominated by footage of him training under his guru Bishnu Charan Ghosh, subsequently claiming to be a three-time national yoga champion and then making his way to the US.
Early TV interviews of the man — shot between the '70s till the mid-2000s — set him up as both megalomaniac and narcissist. He often declares, "I am the most pure soul on this earth", interspersed with moments where he nonchalantly says that his primary dislikes include, 'cold weather, cold food, cold hearts and cold p***y'. In one instance, a follower says, "He sees himself as a cross between Mother Teresa and Howard Stern". A lot of what Bikram says is chilling. But none more chilling than the footage of the almost-naked man in his studio, pressing himself onto scantily-clad bodies and standing on top of women in supine yoga poses.
Aided by accounts from some women — primarily former student Sarah Baughn who was one of the first to slap a lawsuit on Bikram, but describes him as "charismatic and charming" in the documentary — Orner's skilful peeling off of Bikram's predatory world is intriguing.
Some of it does become repetitive — especially the moments in the studio that are kind of played out on a loop — but Bikram is an interesting insight into the mind and machinations of a man who manipulated thousands to believe in him even as he continued to exploit them. The documentary is crisp for the most part, hinged skilfully on an assemblage of archive footage, court depositions and first-person testimony.
An important watch in a post-#MeToo world, Bikram is a compelling look at the consequences of unbridled power, especially in the final few minutes where we see the yoga guru — now marked fugitive by the US courts — hiding out in Mexico, but still presiding over sessions of yoga peopled by thousands. Like many — before and after — this one too got away.