Actor Mosharraf Karim on working for Bratya Basu's Dictionary
'Everyone is very disciplined and warm towards me'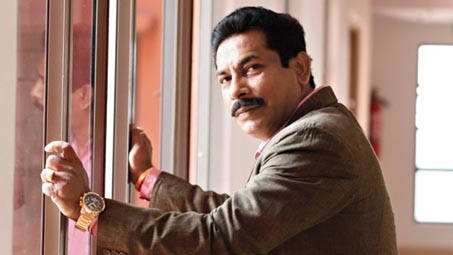 Mosharraf Karim.
Sourced by The Telegraph
---
Published 04.12.20, 09:45 PM
|
---
Bangladeshi actor Mosharraf Karim was in Calcutta to dub for director Bratya Basu's film Dictionary. We caught  up with the actor for a chat...
How was your dubbing session?
It was quite good. But for me dubbing is not an enjoyable activity. Shooting is more exciting. I wait for the process to get over. But the only fun part in dubbing is that we get to see the film for the first time after shooting. For two days we dubbed and got over with the process. It was quite nice, my director is also happy. They are all happy, so I am also happy.
How are you dealing with the pandemic and what is your experience of working in this new normal?
After a certain point, we don't have anything in our hands. That is the truth and Covid taught me this. In Dhaka also we are working now. So, there also we are following all kinds of protocols. But acting can't be done wearing masks. We are having to work with certain risks but hoping that the pandemic ends soon.
Why did you say yes to Dictionary?
I loved my character in the film. I play the role of a father. I haven't done too many such roles. I did characters that are aged but not characters of such age. The father and son relationship that the film explores and the father's empathy towards the son at the end, his feelings... I loved the film because of all these and the character has many shades, that makes it so great. That is the reason I am doing it.
How was your experience of shooting for the film?
It was great. It is my first work with director Bratya Basu. I was working in a new ambience with a new set of people, so initially I was wondering how everything would turn out to be and how everyone will be. But all of that got sorted in the first day itself. While working with him I understood that our thought process is also quite similar. So, in this case I am really lucky. I really liked it. We completed the work at one go and I had a feeling that we did something important after completing the shoot. And not only Bratyada, working with the entire team was a great experience. Everyone is very disciplined and warm towards me. Everyone is putting in their best effort to make it a good piece of work. And that I really loved.
How does it feel to be back in Calcutta?
Calcutta is a favourite city and I often feel like coming here and I do come also. Whenever I feel like, I do come here for a trip. I love visiting Nandan.  
What are your favourite Bengali dishes?
I love eating fish, Hilsa of course. And whenever I come to Calcutta, momo is a must for me. We get it in Bangladesh nowadays. But I like it here and I love the food from Bhojohori Manna.
And fave Bengali films?
There are too many. But still if I have to choose Aranyer Din Ratri, Nayak...
What are your forthcoming projects?
I am doing a film in Bangladesh by director Fazlul Kabir Tuhin, and another film called Mukhosh by Ivtekhar Shubha. And television acting is of course there.