Badhaai Ho is real and rooted
A slice-of-life comedy that takes on some stereotypes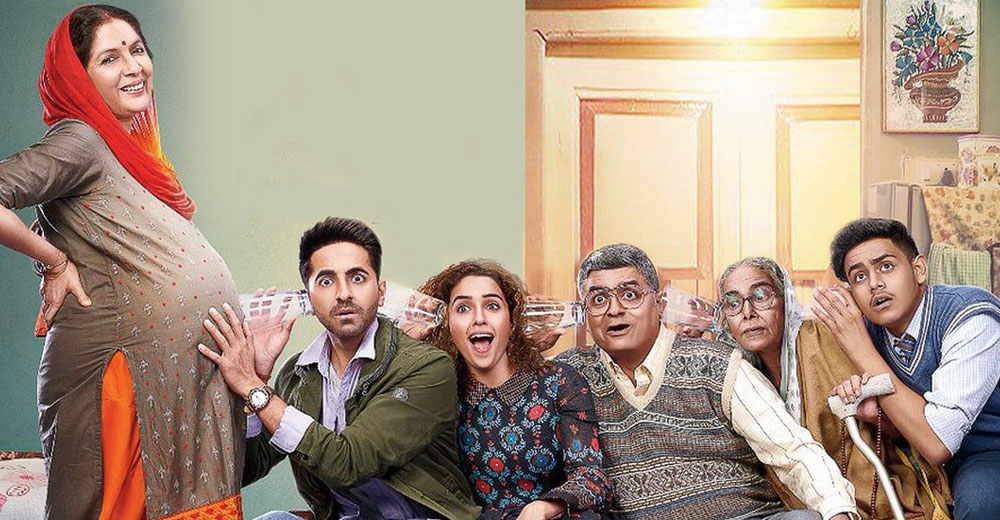 A scene from Badhaai Ho
A still from the film
---
Published 21.10.18, 03:47 PM
|
---
The fear of "log kya kahenge?" has crushed many a dream, nipped many a relationship in the bud and killed many an unconventional idea. Especially in a society like ours that is quick to judge and eager to stick its nose in everyone's business.
It is this fear that the Kaushiks find themselves facing in Badhaai Ho, a thoroughly enjoyable family entertainer that casts a critical eye on society and its double standards while tickling the funny bone.
A middle-class family living in a cheek-by-jowl government flat in Delhi's Lodhi Colony, the Kaushiks are a happy if dysfunctional family of five (a character in the film describes them as "A circus I wouldn't want to buy tickets to"). Dad Jitender (Gajraj Rao) is a train ticket checker due to retire in a few years, mom Priyamvada (Neena Gupta) is devoted to her family but bossed around by her mother-in-law (Surekha Sikri), a matriarch with a razor-sharp tongue; the younger son Gullar (Shardul Rana) is in the throes of adolescence; and the older Nakul (Ayushmann Khurrana) works in an advertising agency and is in a relationship with his colleague Renee (Sanya Malhotra).
Their equations change overnight when the senior Kaushiks, red-faced and apologetic, tell the family they are about to become parents again. The grandmother lashes out, the sons stop talking to the parents and
congratulatory messages from friends and neighbours come laced with sarcasm. In short, what would have been deemed "good news" reduces them to a laughing stock, because of their age.
Badhaai Ho scores by treating all of this with a lightness of touch. The family's predicament is mined for laughs in the first half, but the best thing is that you laugh with them, not at them.
From Nakul's reaction to the pregnancy — he goes from disbelief to embarrassment to anger within the space of a few seconds — to the cantankerous grandmom losing it and going hammer and tongs at her son, director Amit Ravindernath Sharma crafts some really funny sequences in the first hour.
What sets Badhaai Ho refreshingly apart is that it's the story of the middle-aged parents, not of the younger couple in the film. It, therefore, helps that both Gajraj Rao and Neena Gupta are in top form. Rao, especially, is very good, with that scene of him polishing his shoe with single-minded devotion and not being able to look up and see his son in the eye, being pure gold.
Comedy gives way to emotion in the second half, but it's to the credit of writers Shantanu Srivastava, Akshat Ghildial and Jyoti Kapoor that none of the drama that unfolds feels misplaced or overdone. The writing also benefits from the milieu in which it is placed, with most of the conflicts arising from the characters' middle-class setup. So if Father of the Bride Part II — with a similar premise — ended up primarily as a comedy, Badhaai Ho becomes much more because of its strong socio-cultural context.
The film also calls out the double standards we are all familiar with — the woman is shamed for not having "control" over herself and getting pregnant, while the man is hailed as the epitome of virility in his peer group.
The lived-in feel of Badhaai Ho — the ladies of the locality arguing over a game of Tambola between sips of Roohafza — lends tone and texture to its narrative, much like the similarly placed Do Dooni Chaar. Like the milieu, the characters too feel like a part of that world. Ayushmann Khurrana, in yet another Everyman role, turns in an extraordinary act, making the film his own even though it doesn't revolve around him. Sanya Malhotra has relatively little screen time but anchors the scenes she's in, while Sheeba Chaddha shines as the upper-class socialite with a heart. Some of the biggest laughs are courtesy Surekha Sikri who is the grandmom we've all had — critical at every step, but one who always has her family's back. With or without a moustache.