Athiya Shetty on playing and loving football
The young actress has travelled to Germany to watch Bayern Munich vs Borussia Dortmund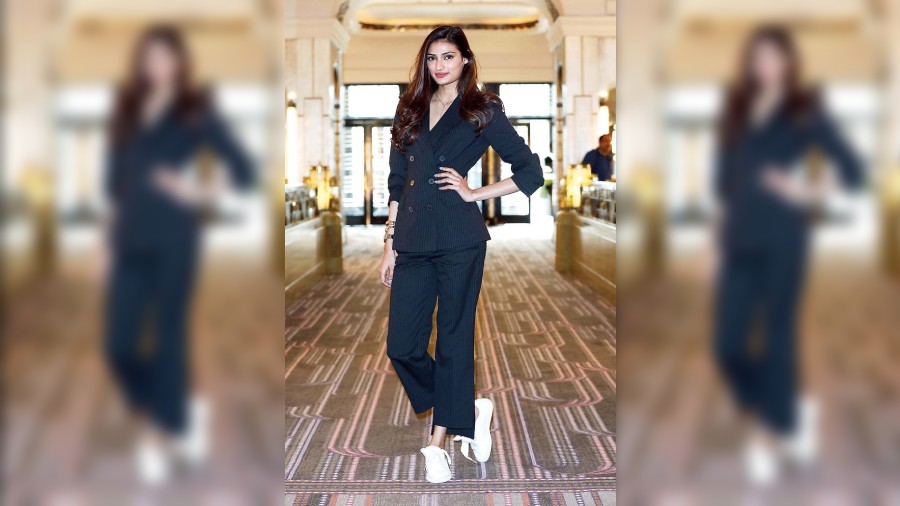 ---
Published 23.04.22, 04:52 AM
|
---
Athiya Shetty's Insta stories are full of postcards from Germany at the moment. The young actress is there to watch Bayern Munich vs Borussia Dortmund, with her brother Ahan Shetty. "I'll be in a Dortmund jersey," Athiya told t2 before she left for Germany. Ahan will be in Bayern Munich colours. The Telegraph chats with Athiya, who finds David Beckham to be 'ideal'. Just like so many of us!
Do you love football?
I used to play football growing up, obviously very amateur football. I was part of the school team for a couple of years. My brother (Ahan Shetty) is a football fanatic. So, I have grown up watching football because of him. I am a football watcher because of him. All my friends also watch football.
You played in which position?
I was centre-forward. They just made me run a lot because of my long legs!
Did you enjoy it?
I loved it! It was something I looked forward to after school. I used to go to the American School of Bombay. All the different American Schools in India had this competition called SAISA. We had different sports. I used to swim, played football, volleyball and did track and field. So we used to participate in these mini tournaments. That was something I really looked forward to. We would have practices in the morning and evening and we had a really fun time. 
Do you miss playing it now or sometimes do you play with your brother?
He is amazing at the sport because he plays every Sunday. I haven't got the chance to play that much, unless I go crash a boy's plan! (Laughs) And, they are way better than me now, so, I can't even keep up, but it's still fun. We still play when we are in Khandala... at mini tournaments, with my cousins.
How excited are you about attending Bayern Munich vs Borussia Dortmund?
I am super excited! So many people have spoken to me about it. Even now when they saw the promos, they were like, 'Wow, you are going for this game!' I am really excited to be at the stadium and witness these two teams fight it out. I have never been to Germany and I have heard lots about it. So, I am excited to experience everything for the first time.
Do you follow Bundesliga?
I have seen it on and off because of Ahan, because he is somebody who is into the league. I have to brush up my skills because of this association and now I am super into it. I am ready and I'll understand what's happening. So, I'll enjoy it even more.
Which is your team? And, who is your player?
Dortmund! Erling Haaland.
What else is on your itinerary for Germany?
I have heard a lot about how they have quaint cafes and the city centre is beautiful. I know we have a day planned for sightseeing and amazing restaurants to go to. I am looking forward to enjoying the entire time, experience and culture. I am excited to go with the flow.
When it comes to the football World Cup, which is your team and who are your players?
I have always been a Cristiano Ronaldo fan. So, it's always been Portugal. Now maybe Germany has come into the picture after this league. Anyone from the film fraternity, from your peer group, who plays football really well?
My brother plays really well. My dad is not a football player. He watches it with Ahan though. Somebody I know who plays really good football, since we went to the same school, is Tiger Shroff.
Any Indian football players you like?
I haven't got a chance to follow the Indian football leagues that much but I feel there are so many players on the map right now. I feel so proud because maybe 10-15 years ago, we didn't have the resources. Now seeing so many people come together for the league, it's definitely going to put us on the map and who knows we might have many Indian footballers play in an EPL or there are so many different leagues. If you could pick a footballer for a date, who would it be and why?
I don't think I'd like to go on a date with him because he looks like a happy, sorted family man and I feel so proud seeing that, but I definitely want to go on a practice session with Cristiano Ronlado and see how he does what he does.
Watch the LIVE coverage of Bundesliga Der Klassiker —Bayern Munich vs Borussia Dortmund on SONY TEN 2 & SONY TEN 2 HD channels on April 23 at 10pm (IST)