Anurag Kashyap and Sobhita Dhulipala talk about horror highs and their friendship
Ghost Stories drops on Netflix on the midnight of December 31-January 1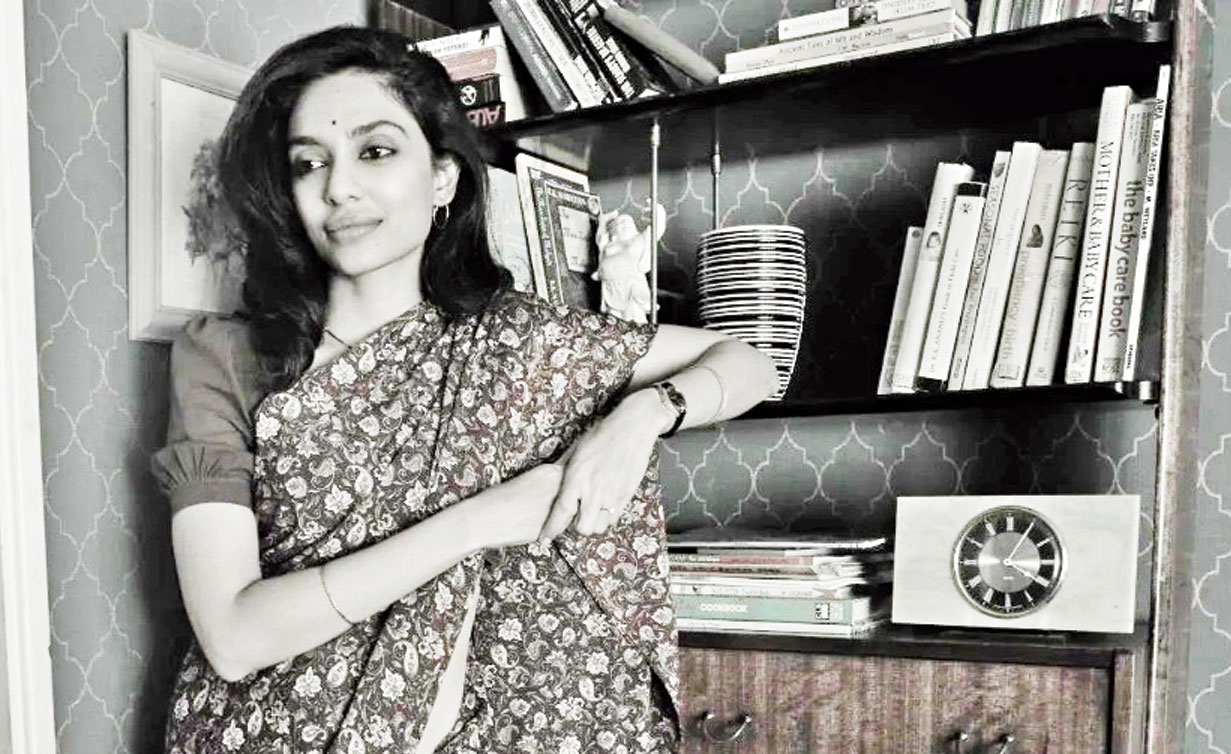 ---
---
Anurag Kashyap directs Sobhita Dhulipala, who has hit the big league with web watches like Made in Heaven and Bard of Blood, in one of the films in the four-in-one format Ghost Stories that drops on Netflix on the midnight of December 31-January 1. t2 chatted with the two at Taj Lands End in Mumbai recently about the film, horror as a genre and what works for their friendship...
Anurag, you've said that Ghost Stories has been your most satisfying experience as a filmmaker. It's surprising that the man who's made many a landmark film would say that…
Anurag Kashyap: That's because I have always been scared of doing anything in the horror genre. The way I see it, it's very hard to sell it in this country. It's tough to go out into the market and say, 'I want to make a horror film that's different'. In our cinema, horror has very fixed templates… ya toh aise banta hai ya waise, there is no other zone.
With Ghost Stories, I got to make it the way I wanted to make it. This experience made me deal with so many things for the first time… whether it's prosthetics, visual effects or the surreal zone I got to get into.... The project, as a whole, came together very well… it was very satisfying (smiles).
Sobhita, has it also been your most satisfying experience so far?
Sobhita Dhulipala: Leaving aside the horror bit of it, I just felt comforted by the fact that I could bring to screen what is a reality (miscarriage) for so many women. It made me feel that a lot of women who have faced this will feel less alone when they watch this film. My sense of satisfaction came from there.
Why do you think that horror as a genre has still not hit the high notes in Hindi cinema?
Anurag: Horror has a big audience in India but not enough films are made and very little experimentation happens in that genre here. In our cinema, horror is often associated with sin and hence, you have those erotica-based horror films which do make a lot of money but aren't essentially good films. It's mostly the B-movie zone that we have relegated horror to. But I think dheere dheere evolve ho raha hai. The horror films that are coming in from outside are doing so much business. Which shows that the audience is already there… as filmmakers, we need to explore more. Making Ghost Stories has given me the confidence, the keeda that I want to do more.
Did the fact that you were collaborating on this with Dibakar Banerjee, Zoya Akhtar and Karan Johar — who you made Bombay Talkies and then Lust Stories with — bring in the confidence and comfort needed to experiment with a new genre?
Anurag: The success of Bombay Talkies and Lust Stories definitely did. Like Ghost Stories, Lust Stories took me into a zone I hadn't been in before and the fact that it worked gave me confidence. The script of Ghost Stories gave me a lot of confidence. I didn't write it… it came from the youngest member in my team, Isha Luthra, who quietly slipped me the script one day…
Sobhita: She was just 22 when she wrote it....
As an audience, what scares you more — jump-scares or psychological horror or…?
Anurag: Simply put, the kind that doesn't let me sleep! The kind that doesn't let go of you and then it impacts you so much that you start believing in it…
Sobhita: Neeraj Ghaywan (filmmaker) once told me that in Indian cinema, we limit entertainment to song and dance and conventional tropes. But what if you leave the theatre with a thought or you are provoked in some way… isn't that also entertainment in a way? Entertainment doesn't need to be reduced to just being laughter or titillation… isn't it also fodder for the mind, which horror is, in a way? That made me think. Honestly, I felt very empowered working with him (gestures towards Anurag) and on a story which is both intimate and generic at once.
Anurag, it's surprising that it took you so long to venture into horror considering your early years were spent with Ram Gopal Varma who made seminal horror films like Raat and Bhoot…
Anurag: Ya I know! Those were actually some of the best horror films made in this country. Ramu ji is technically a very sound director. I don't think that even till some years ago, I was very technically sound. Even now, I am still trying to figure it out. I have been wanting to do horror for a very long time… I just didn't have the confidence.
You've branched out in the last few years, even attempting romance with Manmarziyaan…
Anurag: Ab main khud ke saath experiment kar raha hoon. Mazaa aa raha hai. Kitna aur gangster-gangster-gangster, yaar! I got tired! (Laughs) I am now doing love stories, trying to look at relationships, now there is horror… I want to do some political stuff, drama….
Raman Raghav 2.0 to Ghost Stories, what is it that works for the Anurag-Sobhita collab?
Anurag: Dost hai na, so we also talk about a lot of things on set besides work. She shares poetry, I don't of course…
We would be very surprised if you shared poetry!
Anurag: (Laughs out loud) I talk about books and movies…
Sobhita: Food!
Anurag: Yes, food forms a big part of our conversations…. We have been friends over the last five years and we are very close. Bahut zyada trust hai hum dono mein. In fact, there is so much trust that I can do a lot of experiments with her… aisa dhakka bhi maaru toh maarne degi. What works for me with a Radhika (Apte) or a Nawaz (Nawazuddin Siddiqui) is the same factor which works with her. She gives me huge trust and I explore it to the hilt! (Laughs)
Sobhita: When you trust someone enough to know what they want and more importantly, you trust that they will speak their mind when they don't like or don't want something — as defines my equation with Anurag — then you are in a good space. With him, there is no discomfort and that enables me to go out of my comfort zone and do different things in front of the camera. With him, I am free to try, free to just be… and that's a great kind of freedom. Freedom to be wrong, freedom to be even stupid without being judged for it.
Did you discover new things about each other while working on Ghost Stories?
Anurag: I know her, inside out. And if she has anything new, she will come up herself and tell me. Two days ago, I got a call from her and I was busy fighting the world on Twitter! (Laughs) I didn't take her call and the next message I get is, 'You are being a f***-all friend! (Both laugh) And she hasn't spoken to me since. So courtesy you, she's actually spoken to me now! Gaali padh jaati hai mujhko isse (laughs as Sobhita mock-sulks).
When Made in Heaven came out, I wasn't around, but I watched it later. Zoya (Akhtar, who co-directed the series) is my older friend, so my first call went to her, then it went to Reema (Kagti) and Nitya (Mehra, who also co-directed the series), and then to Sobhita. She really surprised me in Made in Heaven…
Sobhita: Even Moothon…
Anurag: Ya, Moothon also. I called her. We talk seven times a week, I think (smiles). We don't see each other as often as we used to earlier. Ab toh busy ho gayi hai. Pehle khali thi, itna kaam nahi tha iske paas! (Laughs)
Sobhita: After we finished filming Ghost Stories, I disappeared on him… in fact, I disappeared on everyone because I just didn't know how to behave. I felt very exposed playing this character.
Anurag: On the last day of shoot, she cried like crazy… she wanted to be left alone. After sometime, I was told she wanted to see me. I went up to her room. The first thing she did was simply howl and then she hit me. 'Why did you put me through this?' she kept howling. Aur uske do din pehle woh fake belly leke ghum rahi thi. Her zone keeps fluctuating. And then she totally disappeared on me.
Sobhita: I just feel that when two people are such close friends like Anurag and I are, you perhaps tend to lose perspective…
Anurag: I was excited by the fact that I was doing something new, doing horror. Hers was an internal, emotional reaction. And she felt that I wasn't seeing her perspective on this and what she was going through. That I was so caught up in my craft that I couldn't gauge her trauma.
Sobhita: Also, I feel that he is so familiar with me that when he said he was impressed by a shot, I had self-doubt like, 'Why is he impressed by so little? Did he think that I couldn't actually do it?!' (Laughs)
Sobhita, you had told us earlier how getting traumatised by a role gets the best out of you…
Anurag: Haan, yeh hamesha traumatised rehti hai… for every role! (Laughs)
Sobhita: Ya, I make sure of it. And when he doesn't answer my calls, he makes sure I get even more traumatised! (Laughs)
If you had to pick a horror film you keep going back to, which would that be?
Anurag: So many! Nosferatu (1922), for sure. There was The Exorcist in the '70s. For me, the definitive Hindi horror film was Mahal (1949). There was Black Swan (2010), Let The Right One In (2008). In recent times, A Quiet Place (2018). Ringu (1998) I absolutely loved.
Sobhita: I don't watch! I get very scared!
Anurag: By the way, my current favourite horror story is CAB! (Citizenship Amendment Bill).