Anubhav Sinha on his brand of films
'I have been reactive all my life, but through Mulk I learnt to use it in my art'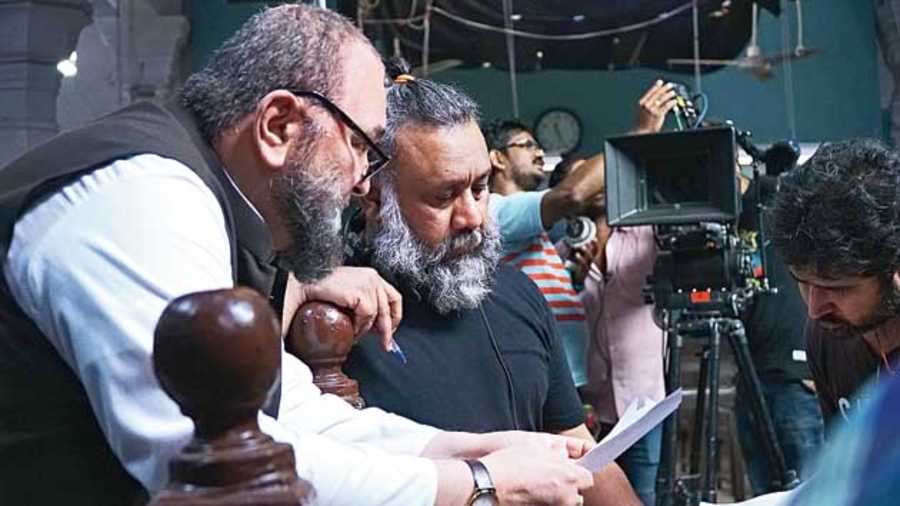 Anubhav Sinha (right) with Rishi Kapoor in Mulk
Sourced by the correspondent
---
Published 03.08.21, 05:08 AM
|
---
I am speaking to you sitting on the chair where I sat down and wrote Mulk," Anubhav Sinha tells me when I dial him on Sunday morning. Mulk — a hard-hitting story on Islamophobia and religion-based stereotyping that was not only hailed as brave, relevant and thought provoking, but also marked Sinha's bold and woke second innings as a film-maker — turns three today.
Reason enough to catch up with the 56-year-old film-maker — who has since made the equally conversation-worthy Article 15 and Thappad — on why Mulk (frontlined by Rishi Kapoor and also starring Taapsee Pannu) remains relevant, now more than ever.
As you look back, what are your first thoughts about Mulk?
It's been three years. After that film, I sort of became someone else, as everyone says (laughs). It's been life-changing....
By now, are you tired of people asking you what changed in you as a film-maker with Mulk?
(Laughs) No, not really. It was such a dramatic shift in me as a film-maker, that it's a very obvious question. Someone who was making Cash and Dus now makes Mulk, Thappad and Article 15. I have tried to answer that question, even to myself, in more ways than one. I have managed to articulate some reasons, but largely, I would attribute it to my socio-political reaction to the goings-on.... I have been reactive all my life, but through Mulk I learnt to use it in my art. It paid off dividends — and not just in terms of money and success, but also in terms of happiness and the satisfaction of being able to invest your life philosophy in your work.
You said that Mulk was a reaction to the socio-political climate of the time. Was there a specific instance that triggered the story?
There was too much going on then. Suddenly, various fibres of society were drifting apart. There was a tectonic shift in our societal fabric. It was happening, and it was important for some people to stand up and speak against it. But there was not one particular event that triggered Mulk... it was a series of incidents. The day I started feeling that the very basis of this diverse society is changing, I felt I had to make this film.
Right after the film released and sparked off conversations, you had said that the success of Mulk reinforced the fact that Indian society was both secular and mature. Three years on, with so much changing, do you still believe that?
Yes I do. It's just that the divisive forces stand more united at this point of time. The liberal forces have, for too long, let things be. They allow other points of view to breathe, and that's what makes them liberal... and one can contest whether that's right or not.
India is such a diverse society that we can't keep everyone in a sack together. But I feel at the end of it — and I don't know when that will happen — they will realise that we are better together than being away from each other.
You are still hopeful?
Ya, ya! I still have faith in this country.
Are you a more fearless person and film-maker today than when you made Mulk?
Honestly, besides some agitations that take place before the release of all my films, I haven't had reason to fear anything. I have made my films, I have been to the certification board and who have, over one meeting or two, cleared my films and my films have released the way I wanted them to be released. Nobody has ever called me to say, 'What are you doing?! You can't do this'.
Coming back to Mulk and since you just mentioned the certification board, I believe the late Rishi Kapoor was pretty certain that Mulk would be banned. Is that true?
(Laughs out loud) I remember I was doing that shot in the film where his character (Murad Ali Mohammed) comes out on his birthday dressed in new clothes and Taapsee (who plays Aarti) goes and applies rangoli on his forehead. He laughed and told me, 'Aap sab humko marwayenge. Aap yahan maulana ko tilak lagwa rahein hain. Yeh picture toh definitely banned hogi!' (Laughs) It was a shot I hadn't thought of, it felt right in the moment and I did it.
When the CBFC was watching the film, he was on a hotline with me asking, 'Kya hua?! Kya hua?!' He was absolutely convinced ki yeh film banned ho jayegi. It took a fair bit of time talking to the examining committee... it took 90 minutes, which is very long compared to how much it takes normally. The fact that it took so long is illustrative of the fact that the examining committee was trying to help me, even while they had their issues and reservations. They were negotiating with me, fighting with me....
They cleared the film eventually and Chintuji (Rishi Kapoor) was calling me incessantly through the meeting. Once the film was passed, I came out and sat in my car and called him and said, 'Sir, picture toh banned nahin hui!' He was shocked... he was like an anxious parent.
Looking back, is there anything in Mulk you would like to do differently?
I look back at every film of mine six months after release, and I want to do it all over again! (Laughs) And not just technically. I am talking about rewriting the whole film, and perhaps even making a bad film out of it! (Laughs) But actually, I feel that in the time and the money that I had, at the age and maturity level I had, I did well... I am quite proud of Mulk.
As a film-maker, has it been your most satisfying experience till now?
I am most satisfied with Thappad. Thappad didn't have the cinematic crutches, which both Mulk and Article 15 gave me. Thappad could have easily been a television show in terms of its subject...
It didn't have a story so to speak...
Ya, ya! The biggest challenge was that I was making a film out of nothing. Most people would possibly, and unfortunately, tell me, 'A man hits his wife. So? You want to make a movie out of it?! Smoking is bad, we all know that... but how do you make a movie about smoking? At best, it's a PSA before a film...
Ya! (Laughs) That's right. So in that way, making Thappad gave me a lot of satisfaction.
But there was something about Mulk.... I am a Hindu who was brought up in Benaras and studied at Aligarh Muslim University and I was trying to make a movie about Hindus and Muslims and their relationship. When I started writing it, I was scared I would have a bias, and sometimes, one has biases one isn't aware of. I tried to make sure it wasn't tilted. As it turned out, the best compliment about Mulk — which by the way, no one gave me but one which I truly felt — was that it was a film without bias. It's a commentary which is very objective and criticises both Hindus and Muslims. Neither Mulk nor Article 15 blames any government, they blame us.
Will there be a follow-up to Mulk?
I don't know. I haven't thought about it but I won't be averse to making another one on similar lines if I feel compelled enough. It has to have a right trigger for me. But I do get offered a lot of films, especially by writers, on communal harmony...
I thought only actors get typecast...
(Laughs) I get offered stuff like, 'Sir, aapke type ki picture hain!' (Laughs) I don't even know myself what my type is. I don't think there is anything similar between Mulk, Article 15 and Thappad.... And I also wonder why Dus and Ra.One can't be mere 'type' ki picture.. or even Tum Bin....
You have been shooting even during the pandemic. You wrapped up Anek in Assam with Ayushmann Khurrana. How important has it been for you to keep the film-making ball rolling?
It was so liberating! I took the plunge to make a movie in the middle of so much uncertainty. Anek is quite a spread-out film. Large unit, lot of actors, huge action and what not.... We shot in the jungles and in the villages. We shot around Kaziranga and near Shillong.
What's the status of the project you, Hansal Mehta, Ketan Mehta and Sudhir Mishra had joined hands for?
We are monsters, we will do it! Everyone has finished writing, I haven't. I am the laziest one. Yesterday, we started casting.... We will shoot around October, I think.