Amitabh Bachchan at 80: Back to the beginning of the icon's career with films and rare exhibits
A celebration of the phenomenon called Amitabh Bachchan is on across 25 big screens in 19 cities, from October 8 to 11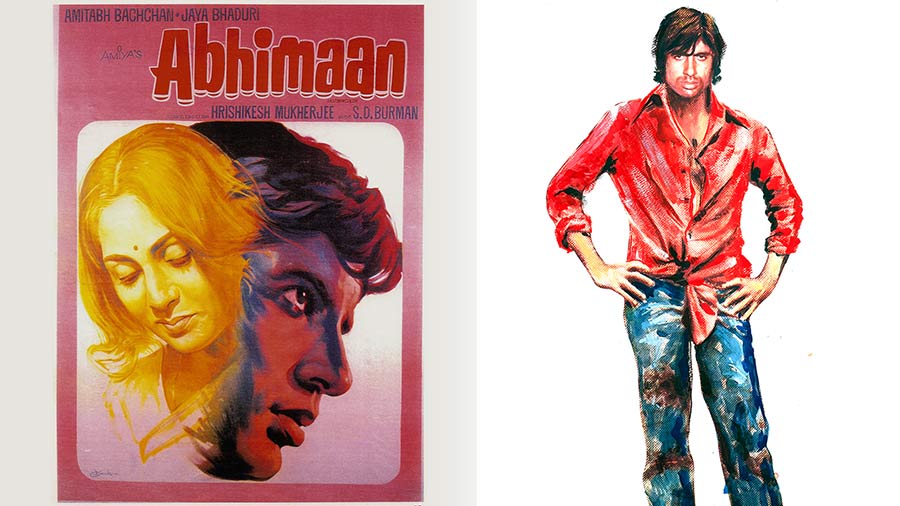 (L-R) Poster of Abhimaan; A 7ft cutout of Amitabh Bachchan created by the legendary poster designer Shrikant Dhongade, which is a highlight of this show.
S.M.M. Ausaja
---
Calcutta
|
Published 08.10.22, 11:20 AM
|
---
Bachchan: Back to the Beginning.
By all reckoning the big-bang equivalent of Bollywood birthday bashes. But with a difference. Instead of being a private, closed affair, this lavish spread spans 25 screens across 19 cites and is open to everyone. The wine makes way for a heady retrospective of 11 films that defined Amitabh Bachchan when he strode the hallways of Indian cinema like a colossus. In place of the cake, we have an exhibition of jaw-dropping Bachchan memorabilia. All from October 8 to 11.
Almost 30 years ago, the memorable line, 'Yeh ladka, chingari, kal bada hokar…' thrilled viewers in Agneepath. Sixteen years before that, a character in Deewaar had prophesied about the character essayed by Bachchan, 'Yeh lambi race ka ghoda hai.' Six years prior to that, the man had taken his first tentative step as one of seven Indians in Saat Hindustani. As he celebrates his 80th birthday (on October 11), the 'chingari' of Agneepath has blazed a trail like none other, the 'lambi race ka ghoda' of Deewaar has outstripped every other contender, while Anwar Ali of Saat Hindustani stands tall (literally and figuratively) as the biggest icon of Indian cinema.
And what better way to mark the momentous occasion than what Film Heritage Foundation (FHF) in association with PVR Cinemas and film historian, author and archivist S.M.M. Ausaja have conjured. Eleven classic Bachchan films, released in the theatres between 1973 and 1982, going all the way back to Abhimaan. The other films included in the retrospective, arranged chronologically by the year of release are Mili, Deewaar, Chupke Chupke, Kabhi Kabhie, Amar Akbar Anthony, Don, Kaala Patthar, Kaalia, Satte Pe Satta and Namak Halaal — a snapshot of Indian cinema's most remarkable golden run at the box office. All curated by Shivendra Singh Dungarpur — filmmaker, producer, film archivist and restorer, and founder of FHF. Classic Big B on the Big Screen 
It's a remarkable initiative, introducing a whole new generation, which has grown up on these films on YouTube and television, to the experience of watching them in the theatres, like they were originally meant to be. No wonder then, all shows across all cities where the films are being screened have been sold out. And yet Shivendra's phone has not stopped ringing, asking for passes and tickets to the shows, any show.
For Shivendra, bringing these films back on screen, using the original camera negatives, has been a labour of love. "He (Bachchan) had kept many of his film prints in air-conditioned rooms at his house and he donated those to the Film Heritage Foundation when he became its brand ambassador in 2014. We checked all those prints and they were in pristine condition. We were crazy Bachchan fans in our youth, so the joy of bringing these back on screen, to a contemporary audience, is amazing. A lot of his contemporaries and many young actors and stars have been reaching out to me for tickets. Many people of this generation have not seen his films in the theatre."
The response, of course, has been apt. "I've not seen this overwhelming response to anything before. Not a single seat is available. PVR has been forced to add more theatres, more shows. The response from America, the UK, Belgium, the Netherlands, France, Canada, Australia has been tremendous. People from all over the world have been sending me videos, asking me to bring the festival to their countries," said Shivendra. "But what Mr Bachchan told me is equally important: 'I'm very happy that this is happening but let's not forget that this is just not me, it is many of my co-artistes, directors, technicians and many people who contributed to the films' success. Let's also remember them.' That's the true spirit of this retrospective."
As for ticket prices, spurred on by Shivendra, PVR took out a pass of Rs 400 for the 11 films! The Exhibition: Rise and rise of the 1970s and '80s
Along with the retrospective, there's also a one-of-its-kind exhibition curated by Ausaja, senior VP with Vistas Media Capital's Fantico, an NFT platform. Ausaja, something of a Boswell to Bachchan's Johnson, has arguably the biggest collection of Big B memorabilia. But he is more than just a collector. He is an encyclopedia on Bachchan, "a Bachchan scholar" as Shivendra calls him.
Now putting the final touches to his magnum opus, The Bachchans — a visual treat of a coffee-table book (to be published by Om Books International) on the family from Harivansh Rai and Teji Bachchan to the present generation — Ausaja is no stranger to curating exhibitions on Amitabh Bachchan. 
"The first time I was part of one such milestone was on his 60th birthday when he called me for a party. On his 70th birthday, I was approached by Jaya-ji (Jaya Bachchan) who had planned a display of works of 70 great artists, an art show called 'B Seventy'. It was held in the Nehru Centre, Mumbai. There were three halls. Two were given to the artists and the third to me. I displayed rare original posters of old films of Mr Bachchan," said Ausaja. 
And now comes the extravaganza at 80. "As an archivist, I have been in touch with Shivendra because of FHF. He said, let's do something big. He was planning a festival of Mr Bachchan's films and wanted to open it with the exhibition. We decided to do it at PVR. The exhibition showcases Amitabh Bachchan's rise to fame over the years. We are focusing on the 1970s and '80s. Post the '90s, everything is online and people have access to a lot of those. The current generation doesn't have an idea of what made him the legend he is. They know him as the host of KBC. I want to take the new generation through the journey of how he became what he became. The exhibition will hopefully introduce them to such an important chapter of cinema in India," Ausaja added. Six Reasons Why You Should Visit the Exhibition
— The original costume with the iron arm that the star donned in Shahenshah. When the film was released 35 years ago, the costume, weighing approximately 14kg, was the talk of the town. Hindi cinema had seen nothing like it. And when he raised that metallic arm and hissed, 'Rishtey mein toh hum tumhare baap hotey hain…', the theatres exploded with thunderous applause and whistles. Watching it 'live' is a thrilling experience.
—  A frame of silhouettes of the seven Indians in Saat Hindustani. You have to figure out where Amitabh is in those silhouettes. Normally you see the actors on the posters but this one with silhouettes is unique.
— A gigantic 7-foot cut-out of Bachchan in the iconic knotted shirt in Deewaar, by Shrikant Dhongade. This showstopper is bound to be a sensation with the selfie-generation.
— Award-winning artist Shailesh Acharekar's 3D artwork on Bachchan's films and artwork on Deewaar by Mithul Biswas.
— Rare LP record jackets, lobby cards and working stills, none of which can be found on the internet.
— A frame announcing that an actor called Amitabh Bachchan has arrived in the industry, and has been signed by a few directors – perhaps the first image of the star that came out in the press.
Only the big screen was capable of capturing his larger-than-life persona
For someone like me, one of the few people who has actually watched each of these films in a theatre, many of them when they first released, this is a journey steeped in nostalgia. Each memory is imprinted on my mind even today. Amar Akbar Anthony in Eros, Dimapur, Nagaland, in 1977. Kaala Patthar in Paras, New Delhi, 1979. Kaalia in Alankar, New Delhi, 1982. Satte Pe Satta in Sapna, New Delhi, 1982. Namak Halaal in 1982 in Dreamland, Shillong. The rest in theatres when Bachchan took a sabbatical between 1984 and 1987 and theatres re-released his old films: Deewaar in Paras, Don in a ramshackle rundown theatre called Chandralok, Mili, Abhimaan and Chupke Chupke at morning shows in Savitri. If I can't wait to relive the experience, I can only imagine what it will be like for the thousands who have never had the opportunity to watch these in the theatres.
Shivendra Singh Dungarpur, too, belongs to that breed of fans who bunked school and risked punishment to watch these and other Bachchan films in cinema halls. "Chandrachur Singh, the actor, and I were in boarding school together. I used to bunk classes to watch a Bachchan film…. I have never watched his films on YouTube or on any digital platforms. Only the big screen was capable of capturing his larger-than-life persona, his iconic dialogues. And of course for his lesser-known films like Bansi Birju and Bandhe Haath, there were the VHS-es. Chandrachur and I used to find these films in various video parlours. This is our effort to pass on that excitement to a new generation."
Between these never-before-seen memorabilia and these classics of Hindi and Indian cinema, this is a tribute like none other to an icon like no other. 
(The writer would like to thank Soujannya Das for her help on this)
Shantanu Ray Chaudhuri is a film and music buff, editor, publisher, film critic and writer.