Ambiance de Amyt
Amyt Datta has kept all his woodshedding in Calcutta and a generation of serious Indian guitar players can only say 'thank god!' — Shantanu Datta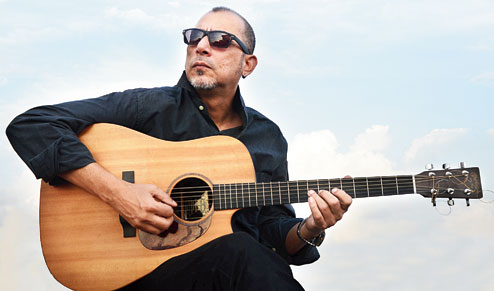 ---
Published 28.05.17, 12:00 AM
|
---
It's nice and breezy at Swabhumi, an east Calcutta culture hub of tasteful architecture. The Amyt Datta Quartet, the fourth musical act of the evening, is playing Dance Acoustica, a sparkling guitar track that is kind of bouncy in a measured way. The bass holds it together, the percussions infuse minimalist frills while a second guitar embellishes the chords. The underlying theme pretty apparent from the early notes, Acoustica is a fantastic opening track, the kind that makes it easy for you to choose your poison for the night. Tequila with Blue Curacao, perhaps?
I have visions of a quaint open-sky cafe in, say, Valencia, where patrons sip vino (wine), listen to the music and talk in hushed tones only in between tracks.
Amyt Datta is a master of such atmospheric wonders. The kind that sets you on imagined journeys to places where only jazz can take you. Pulse, the fourth track he plays, is by contrast busy and intricate, more demanding. Electric Insenity is bloody intense, layered as the other tunes, but aggressive. It is based on a five-note scale devised by John Coltrane, he informs the disciplined audience by then deep into the music. Camellia is meant to soothe the nerves. It's a slow, soulful and mysterious piece about "secrets", very Al Di Meola with shades of Cielo e Terra.
"Yes, my music is very Mediterranean-ish," Amyt tells me exactly two weeks later at his apartment in south Calcutta. "But, it also has this undercurrent of certain Indian-isms. Mind you, not Indian music per se, as I know nothing of Indian music. I just use the smell of it."
RIYAZ AND THE WOODSHEDDING
To Amyt, the Indian and Mediterranean mix, however tenuous it may seem to some, is as natural as, say, the samba-jazz fusion of bossa nova. "A lot depends on how you are wired. Indian doesn't have to be in the notes. It could be in the breathing, the feel. You play a flurry of notes and you slow down. There's contrast. And I get that from watching life very closely."
If creativity revolves around life, then Amyt is wise enough at a sprightly 56 to know that nothing comes without dedication and perseverance. "You will have to do the riyaz and the woodshedding," he insists.
Amyt laughs while pointing out that he has been without the guitar only for the first 12 years of his life. From then on, practising has been a part of his days and nights, his mother often chiding him for not devoting enough time to the instrument.
"My mother is from the family of R.C. Boral (considered to be the father of Hindi film music). For her, music is too dear, too sacred not to pursue just because it comes with inherent risks. I said: 'I will try….' One can only try. But I am very honest. If I am awake, I am with the guitar. I practise."
Those who know him well say his reaction to anything and everything is the guitar. Amyt doesn't disagree. "If I am angry, I storm into my room and pick up the guitar. If I am happy, the joy pulls me to the guitar."
When he is not? "I listen to the everyday sounds the city offers." And Miles Davis, Charlie "Bird" Parker and other legends of jazz.
SHOULD I HAVE GONE TO NEW YORK?
Sometime in the late '80s, Amyt, then sporting shoulder-length rock star mane, and his brother Monojit, an accomplished percussionist with a penchant for Latin rhythms, joined Air Wave, a band fronted by the late Gyan Singh with his wife Jayashree on vocals. One of Air Wave's most memorable gigs was at Dalhousie Institute, featuring Louiz Banks on the keys. Later, hanging around with them backstage, I remember Amyt telling us how Louiz had called the band members "masters of memory", complimenting their musicianship even though they weren't proficient in reading notations.
"True. At the time, Mr Louiz Banks came over to Calcutta for three days, stayed at Jayashree's house. We used to practise from 10am through the day. It was thrilling to have 'Him' in the house. That's how we got close."
These days, Amyt of short-cropped hair and thin-rimmed dark glasses, is able to instantly write down tunes that come to his head, something he admits happens most often when he is on "The Throne". He usually grabs a mobile and hums the bare-bones tune, "even though I am embarrassingly bad at it". His approach to music is philosophical. With emotions at its core, the tunes are almost always about the "various shades of grey in between black and white". Once ready, he loves to hold up the sheet of music and marvel at the notes, represented calligraphically by crotchets, minims and quavers, a delightful visual of the ideas that led him to the tune.
"But learning the craft of writing a tune is quite a heavy task. It's just the notes of course. But then, I realise, it's not the notes that we recognise as a song. Travelling from one note to the other is the key, both in terms of intervals and time and space," he explains.
Growing up in '70s Calcutta of divided loyalties, between the Bengali film industry and those pursuing so-called Western music, Amyt's "haatey khori (initiation)" happened courtesy Khokon Mukherjee, who used to then play with Hemanta Mukhopadhyay. Lessons from the late Carlton Kitto helped open up a window to the world of jazz and improvisation.
Today, Amyt is still in Calcutta even though his music could have taken him anywhere he chose to go.
"Luckily, for me, I don't think too far ahead. But yes, questions do arise. Should I have gone to New York? These days, when I go there, although not as frequently as before, I realise it's no longer what we used to think, that every American musician was better than us. Some of us have managed to go over to the other side."
SURGICAL INQUISITION OF THE GUITAR
Here's how. His first three albums, Ambiance de Danse, Pietra Dura and Amino Acid, were composed between 2008 and 2011. Now he's working on Amygdala, which Googles to "an almond shaped part of the temporal lobe of the brain involved in emotions of fear and aggression". Amyt describes Amygdala as a "surgical inquisition of the guitar", for which he'll be resorting to OTX, or octave tuning experiment. That means, he will be altering the order of the guitar strings from the conventional E, B, G, D, A, E. "There are about 20 ways one can do this, I have zeroed in on one."
Essentially, his mission has been to make guitar playing a dignified way of life in Calcutta. "Maybe I am mad… I realise that. In fact, chief minister Mamata Banerjee gave me an award recognising me as a guitar player. I am grateful that such things have started to happen."
AMYTDA IS STILL GOD
It warms the cockles of his heart to say that a generation of serious Indian guitar players, from Tripura to Bengal to the South, were his students at some point of time in the three decades he has been mentoring. "I didn't realise this till recently, but most of those playing publicly are my students."
"Amytda is still friend, philosopher and God," says a hack who calls himself an "ungrateful student" for having given up playing professionally.
"He taught us to break things down to the last note… to learn the rules well enough to know when to break them," adds Bodhisattwa Ghosh of The Bodhisattwa Trio that performed before Amyt at Swabhumi.
Today's students are as loving and reverential. One sheepishly gives Amyt a bar of chocolate as he sets up his gear, including a new BOSS guitar effects processor. Another has just arrived from Dhaka. Handing over a copy of Bob Dylan's Chronicles, he settles down to record on his iPhone the music lesson that follows.
"This interest and energy must find an outlet," says Amyt pointing to the Sunday morning gathering that is already spilling over to the corridor of his apartment.
The day's exposition is on triads, the three notes that make up a chord. Amyt wants them to work on A and G chords. Using the "Cadbury boy's" Fender, he plays the A triad and puts it on loop on his processor. He then plays A and G triads over that to illustrate improvisation limited to a set of notes."If you can sound decent using only these six notes, imagine what you can do when there are no curbs," he explains and asks them to try one by one. Most do, but make mistakes. Yet, Amyt is reassuring. "You played well, but that's not what I was asking you to do," he says, answering in excruciating detail the questions about scales and harmonies that invariably follow.
They end the day with the 12-bar blues. Amyt puts the typical three-chord progression on loop and plays. His fingers pluck, pinch and tease out notes at a leisurely pace, his solo gentle and joyous, the pauses apt. Amyt's guitar is on song.
No, this isn't Friday night at Buddy Guy's Legends in downtown Chicago. It's Sunday afternoon at 71C, Hazra Road, Calcutta.
GENTLEMAN BY DAY, ROCKER BY NIGHT
If you can sound decent using only these six notes, imagine what you can do when there are no curbs
BERTIE DA SILVA
Way back when Calcutta was Calcutta. A little musical history tour. Harrington Street: a Gujarati gentleman who played eye-popping classical guitar. Jodhpur Park: a not-so-gentle gentleman, fresh returned from the mean streets of New York, who showed me some slinky bossa nova runs. Elliot Road: a gentle Anglo-Indian sax player who could make your synapses sniffle with soulfulness.
And then Charlie Byrd in full canter at the Kala Mandir. Magna Carta at the folksy Indian Museum. And of a strange Sunday morning forever sealed in suspiciously scented smoke, McLaughlin oddly venued on the Maidan. A long strange trip it's been in those sepia-coloured years.
Striding through from sepia into Kodachrome, a young man full of long hair and some little swag: Amit Datta. Who played the sweetest guitar I'd heard in town till then. He still does. Nobody can yet play dulcet languor with such easy feel.
But he's Amyt now. Gentleman by day. Impeccable and quiet-spoken and discreet. Rocker by night. Insidious, dapper, electric, cool, funky. That's Amyt up on stage killing it with his axe. His playing is all of these things. And witty too. In the way he references the masters and, when you least expect it, he'll quote you jejune phrases from a tacky popular song. Very camp. He loves grandstanding.
But it's when he plays the blues that you know he's in the perfect groove. The tones, the bite, the edginess. There is an expressiveness in Amyt's playing that goes beyond virtuosity. So expressive that I can hear in it the sad dance hall music. And I can see in it the painted faces waiting for the footlights to be dimmed. And I can feel in it the delta darkness where the blues are forged. Yes, nobody can play the blues the way he plays it.
And that's why he has a faithful tribe in tow.
But there are some who have been disillusioned by the cause, unable to follow the labyrinthine paths that Amyt has been taking.
If his music once had form and structure woven around familiar centres, the blues and rock and roll, it is understandable that as a musician of intelligent talent Amyt had to move on. Rocker turned post-structuralist.
Breaking down notes, taking structures out of familiar contexts, shaping, tracing, eroding the margins, erasing boundaries. Rupturing harmony. D is rupting sequence. A little difficult to follow. Where's the music, you want to ask.
Listen.
Amyt up on stage, breaking through the Kodachrome, walled off by Winzip gadgetry as the cellophane comes off.
Amyt tenses, wraps his fingers round thick chunky chording. Curls his speculating fingers over jagged phrases. I can see them sniffing notes, testing their shapes and textures, discarding sevenths for diminished triads, bending quavers, sweeping glissandos, thrusting rapier verticals across inexplicable palm mute vibratos.
The technique is the wizardry of champions. The vision is postmodern. In this small backwater that we call Kolkata we are lucky to have one such as him to call our own.
"Bertie" is a professor of English and a reclusive musician
THE TECHNIQUE IS THE WIZARDRY OF CHAMPIONS. THE VISION IS POSTMODERN. IN THIS SMALL BACKWATER THAT WE CALL KOLKATA WE ARE LUCKY TO HAVE ONE SUCH AS HIM TO CALL OUR OWN