Amazon Prime Video's new biopic captures Savitri's life
In our regional recco this week, we pick Mahanati, a visually sumptuous, tonally consistent melodrama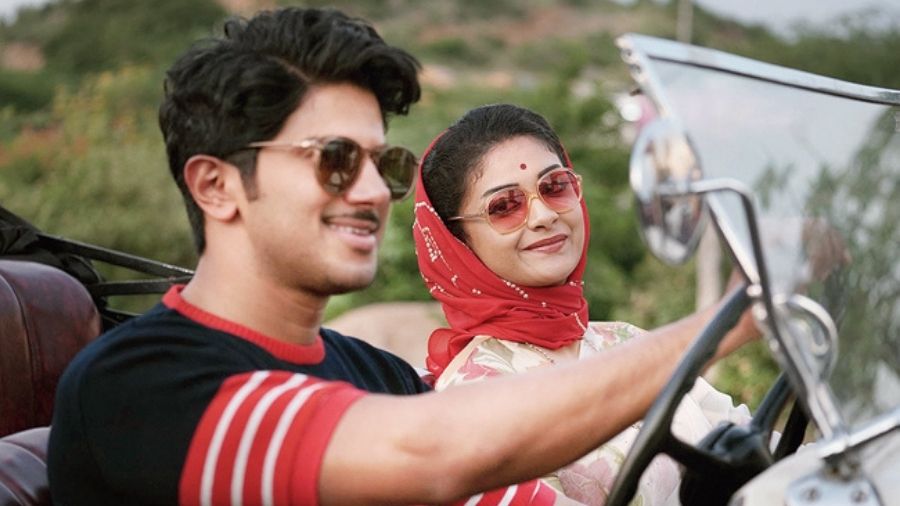 Dulquer Salmaan as Gemini Ganesan and Keerthy Suresh as Savitri in Mahanati
---
Published 24.08.21, 09:24 PM
|
---
Biopic is an indomitable genre in itself, never quite categorisable. Is there a singular way of creating a biopic? To hold up the spectrum of an entire lifetime within the narrative framework of cinema is no mean feat. Consider Nag Ashwin's Mahanati here, based on yesteryear actress Savitri, a public figure who still holds public imagination. She was at the top of her game as an actress in the '50s and '60s.
Yet, she belonged to a separate generation altogether, in an era that is so often remembered as anecdotes. Creating a biopic on Savitri is to hold up a mirror to that era in itself, which involves a huge risk. What if the character — here, a screen icon as well — gets lost amidst the factual accuracy of an entire generation? What if the anecdotes are not enough to capture the several intricacies that were present in her life?
Mahanati, streaming on Amazon Prime Video, tackles these questions with aplomb. Ashwin unpacks the timelime through the lens of the present, as a pair of journalist and photographer (Samantha Akkineni and Vijay Deverakonda) team up to research the story of the actress who came from nowhere, rose to prominence and then faded away. As Savitri, Keerthy Suresh is instantly believable, although she overplays the early years of her life to an extent. As the story progresses from her initial days of theatre dance performances to getting a breakthrough in cinema and meeting Gemini Ganesan (Dulquer Salmaan), Suresh grows from strength to strength. Particularly during the replication of Savitri's performances in Mayabazar, Suresh brings in a haunting accuracy that is hard to shake off.
Although this framework introduces the legacy of Savitri thoughtfully, the design becomes available only through a distance. The culmination of the relationship that affirms most of the later events, between Savitri and Gemini Ganesan, lensed beautifully by Dani Sanchez-Lopez in lush colours, into an arduous journey filled with ego clashes and misunderstandings, feels emotionally scant. Consider the scene where Savitri finds out about his affair and rages, storming into her room and finally settling on consuming alcohol. The chain of events occur without any significance as if unfolding like a Wikipedia entry.
Nevertheless, this deliberate lack of subtlety works for most parts of the film's premise, since Mahanati does not zoom in only one phase of Savitri's life, but the whole. It also accounts for how vastly different the early years are treated in contrast to the later years in dealing with alcoholism.
Given there is so much to unpack within such a short span of time, Ashwin uses a plethora of images as narrative devices to make Mahanati a visually sumptuous, tonally consistent melodrama of sorts. Names, places and artifices of the era are dropped to constantly emphasise on the facts and figures. Extended cameo appearances from Mohan Babu, Naga Chaitanya and Prakash Raj provide a sense of establishment to the narrative that paces ahead. This ensures that the audience of this generation, who might have just heard of Savitri, actually see and hear some more to match those anecdotes into a sense of cinematic reality. That alone works wonders for Mahanati as a snapshot of an actress firmly secure in her era yet perennial in her legacy.
Mahanati is an important film not because it is perfect in all regards — it is far from it — but because it beautifully replenishes the memories of an entire generation. As a biopic, it is more of a celebration of a self-made actress and an essential survivalist, with a beating heart. In more ways than one, in between all the overarching intentions of establishing figures and above all, the rounding off of the various chapters, Mahanati captures a life in its tragic sophistication.