Amazon Prime's new show The Family Man is both an espionage thriller and a comedy-drama
In this layered web series, a middle-class man leads a double life as an espionage agent. But the show has its own double life too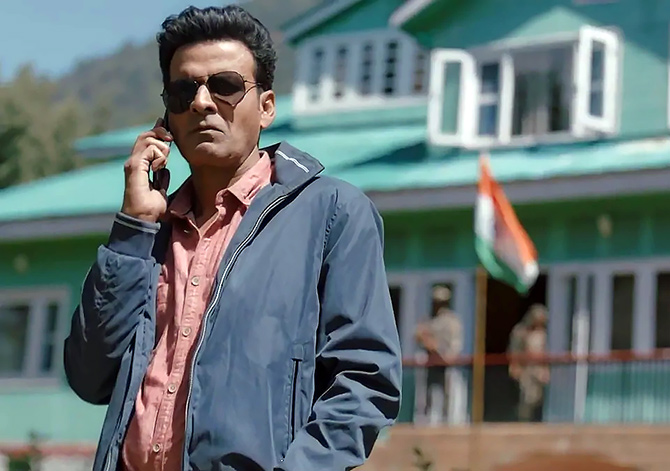 ---
---
There is also the constant misdirection, which fuels this twisting narrative. If Srikant is misleading his family about his work, the show also repeatedly leads the viewer down first one garden path and then another before revealing the true nature of the terrorist threat and its chief participants. One early scene involves a conversation between two people where we know that one of them is spinning a yarn – and we chuckle along – but the underlying tension comes from the possibility that the other person, the apparent foil, might also have something to hide.
Despite dealing with big issues such as the current narratives around what it means to be a patriot or an "anti-national", a beef-eater or a cow-protector – or how Indians seem to love the idea of Kashmir while being blithely unconcerned about the people living there – this show weaves these themes into its narrative with very little fuss. It is only with hindsight that you reflect on the way in which a subject that was touched on in an early scene – perhaps in a casual way – finds a deeper echo later in the narrative: how, for example, a humorous little scene depicting the cultural conflict between Srikant's north Indian mother and Tamil father-in-law (each making a case for their language being superior) ties in with the larger conversation about the diversity of this country and how that diversity is under threat today.
The obvious reference in the title is to Srikant, but there are other family men here, or men with families that they care for and which became prime motivators for their actions: the main antagonist, for instance, about whom I won't reveal anything here. Or someone like the tough commando Pasha (played by Kishore Kumar G) who tells the story of how he was shaped by his family in another way: when told by his father not to join a profession that might mean hunting down fellow Muslims, he coolly told his dad to go and f@#! himself.
The Family Man is a show that quickly grows on you, even if you find it a bit diffused and tonally confusing to begin with. But a warning to the sane viewer: please make sure you have the original soundtrack enabled, not the all-English one that Prime Video has also for some reason made available. It makes an enormous difference: in the original, the characters convincingly switch between Hindi and English (and occasionally Tamil and Malayalam) and it works perfectly with a portrayal of a complex, rude, multi-lingual world; in the all-English audio, you'll find the dialogues grating and stilted, and even Bajpayee's performance will feel as confined and joyless as the caged bird that Kashmir is likened to in one scene.
Some of the early scenes are built around what looks like facile humour: for instance, one sequence cuts between Srikant having to field a conversation with his daughter's school principal while also monitoring an urgent situation that requires his presence. However, such scenes are necessary to establish something important about this man: he is required to be a storyteller, afabulist, and this quality spans both the lives he leads. And the flippant moments eventually help deepen the story's emotional stakes. If Srikant has a double life, this is mirrored in the very nature of this series too: The Family Man is full of dualities at the level of both content and form, gradually revealing layers beneath a surface that at first looks predictable, even banal.
For instance, it is a story about the difference between the small, intimate environment – which all of us would like to stay safely ensconced in – and a larger, more challenging one. About the home and the world, family and nation, about being a self-absorbed individual versus thinking about one's relationship with the society one is part of. It is about how weary, inconspicuous men engaging in casual chat at a vada-pav stall might be agents trained to deal with tense situations, switching on and off as required; about the big gap between our glamorous image of the espionage world and its mundane realities. And so, it makes sense for a story like this to constantly switch tones: from the seriousness one expects when national security is at stake, to the goofy humour that one associates with writer-directors Raj Nidimoru and Krishna D.K. whose earlier work includes the films Shor in the City, Go Goa Gone and the recent Stree.
The duality is also reflected in the show's technique. For much of its duration, the shot-taking and pacing is straightforward, even routine, but it dramatically raises its game and allows itself to get showy when it comes to some of the important action scenes. Without giving much away, episode four and episode six each has a marvellously done long-take sequence: the latter (which, as far as I can tell, lasts 10 minutes) involves an attack on a hospital and takes us breathlessly from the inside of the car carrying the assailants through the corridors of the building, following first one group of people, then another. It's wonderfully orchestrated.
Srikant Tiwari, the protagonist of the fine new web series The Family Man, leads a double life – one that was neatly outlined in the pre-release music video "Dega Jaan", which depicted him as simultaneously a "middle-class guy" and a "world-class spy". As the show itself unfolds, we see Srikant bantering with his precocious kids and trying to maintain peace with his wife Suchi, who has a busy work schedule of her own and is exasperated that he doesn't share the household responsibilities. What they know about his job is that it is dull, low-paying, and that he spends all his time handling "files and paperwork" – he hasn't let on that potentially dangerous fieldwork is a big part of his work as security analyst for the intelligence agency TASC.
That the initial, establishing episodes rest largely on Manoj Bajpayee's shoulders shouldn't come as much of a surprise. Bajpayee has had an extraordinary run in the past few years: in terms of range alone, it was scarcely believable that the weary, defeated Professor Siras in Aligarh and the ruggedly boisterous Sardar Khan in Gangs of Wasseypur were the same person; but the actor has also had tour de force parts in such under-seen films as Gali Guleiyan, Bhonsle, Sonchiriya, and Love Sonia. As Srikant in The Family Man, he moves easily between the wry and profane humour of the regular-fellow scenes and the genuinely felt despondency when something goes wrong in his very-high-stakes job. And he is well supported by a cast that includes Neeraj Madhav (as a droopy-eyed former ISIS recruit yearning to see his mother one last time), Priyamani (as Suchi, who is just as much of a wise-cracker, with her own sense of adventure), and Sharib Hashmi as Srikant's colleague Talpade.