All the right moves
Normalising physical assault can never be okay, it sparks off similar incidents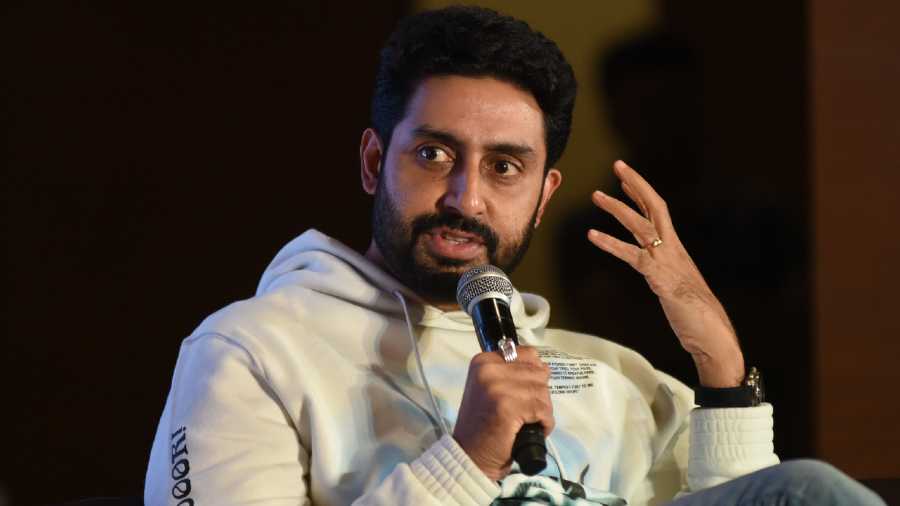 Abhishek Bachchan
File Picture by Arnab Mondal
---
Published 03.04.22, 01:09 AM
|
---
What next, Will? A medieval duel at dawn for the damsel? Whether scripted or spontaneous, what Will Smith did to swing attention from Oscar winners to the slap he gave comedian Chris Rock was not 21st century gallantry. Nor should feminists be celebrating.
Alopecia, wife Jada Pinkett's ailment, makes you lose hair, not turn into a wilting weakling who needs a man to speak up for her. Besides, a thwack for a tasteless joke sets a dangerous precedent. It's like supporting physical violence for perceived verbal blasphemy.
In 2008, an Iraqi journalist had thrown his shoes at George Bush at a press conference. You may have wanted to hurl many a thing at Bush at that time but it was disturbing when the shoeing got unprecedented international support. The Iraqi was even feted by inveterate anti-America filmmaker Mahesh Bhatt, who hosted a play on the incident and introduced the shoe thrower like a hero to the audience.
But normalising physical assault can never be okay, it sparks off similar incidents. After Shoegate in Iraq, footwear was hurled at Rahul Gandhi at a rally in Lucknow for his stance on the Uri attack. A student aimed a shoe at Manmohan Singh in Ahmedabad, P. Chidambaram received one for letting off perpetrators of the 1984 Sikh killings, a wooden slipper was thrown at L.K. Advani, and Omar Abdullah and Arvind Kejriwal too received their share of angry shoes.
Slipper, spit and slap are considered ultimate weapons of insult. But in principle, a physical reply to an unacceptable verbal comment should not be supported. Like Saif Ali Khan punching a diner who asked him to tone down the revelry at his table.
On the other hand, true chivalry is refreshing. Last week, when talking to Vivek Agnihotri and Pallavi Joshi about how they've become the most chased couple in town, the filmmaker gallantly said, "She's always been chased. For me it's new." He also spoke of Pallavi's work as a producer and said her work ethic should be emulated by other women. That was chivalry.
A seasoned gent is Abhishek Bachchan, unabashed in standing by Aishwarya in her red carpet moments. One has talked about the time Aishwarya was conferred the Knight of the Order of Arts and Letters by the French government and one-year-old Aaradhya had wailed seeing her mother on stage. Abhishek, who sat in the front row, had promptly whisked her off with no nannies and nurses fussing around. 
Another time, he was filling in one-line answers on a page of a magazine. When it came to "If my spouse were to cheat on me...", he simply wrote, "She won't."
Chivalry and confidence.
More recently, Abhishek had stepped off a flight from Bangkok after a short trip during Aaradhya's spring break and had come directly to Jio Mall to watch the trailer of his new film Dasvi. If you've watched it, you'll know he plays a crude Jat politician in it. 
When talking about the Haryanvi dialect for which a coach had been hired, AB casually mentioned he did some of his learning online. "I was in the South, where Aishwarya was shooting for Mani Ratnam." In the celebrity world, wives dropping in on husbands at work is de rigueur but not the other way around. AB couldn't care less — Aishwarya was at work and Aaradhya and he wanted to be with her.
Expanding on the experience of learning a new language or a dialect "which is far more difficult", he added, "Aishwarya speaks more languages than I do." The ability to be proud of your wife without coming off as a wimp is chivalry.
Footnote: Asked AB about nephew Agastya Nanda, daughter of Shweta Bachchan, who's making his debut as actor in Zoya Akhtar's new film.
"I've been told, 'Mamu, don't utter a word about me,'" was his reply, putting a finger on his lip like SRK in a learning app.
Bharathi S. Pradhan is a senior journalist and author