Ali Fazal gets candid about his Hollywood film Death on the Nile
The movie is based on the Agatha Christie whodunit of the same name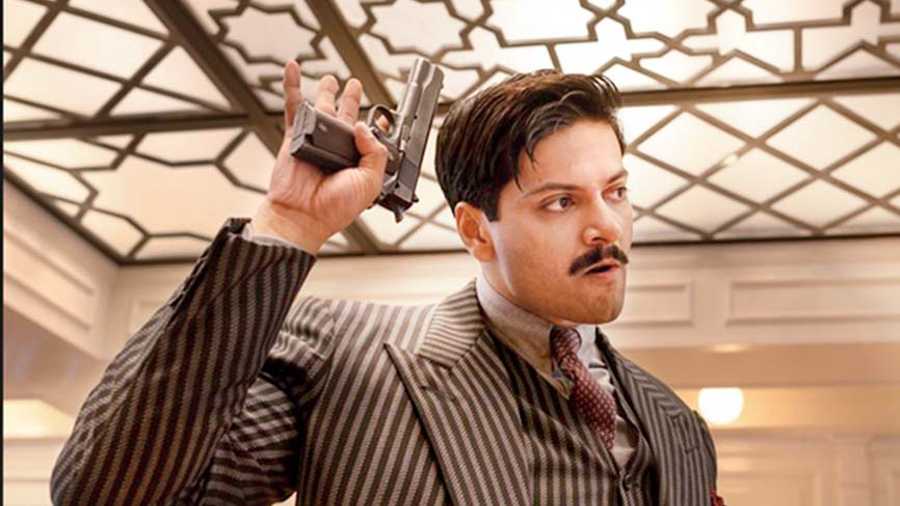 Ali Fazal in Death on the Nile
---
Published 15.02.22, 04:58 AM
|
---
I am just smuggling some alcohol into my friends' wedding," Ali Fazal chuckled when we dialled him recently. That was on the eve of the release of Death on the Nile. That's always been Ali, as grounded as he first started out, even when he features in one of the biggest Hollywood releases in recent times.
Death on the Nile — based on the Agatha Christie whodunit of the same name and the second in the series after 2017's Murder on the Orient Express — has Kenneth Branagh returning, both as director and in the role of detective Hercule Poirot, alongside names like Gal Gadot, Tom Bateman, Annette Bening, Russell Brand and Letitia Wright, among others.
Ali — whose title turn in Victoria & Abdul a few years ago, with Judi Dench for company, drew attention and helped him notch some prestigious international projects — stars as Andrew Katchadourian, one of the principal players in The Death on the Nile that's now playing in movie theatres across the world. We chatted about the film, his career here and there and his need to champion others.
An Agatha Christie thriller with a starry cast and huge on scale and story! Death on the Nile is a big one for you....
Yeah, this one is a big one. I am excited about this one. Even if people don't like the story, they will like how we look! (Laughs)
I got to wear some good, fancy suits, I won't complain....
But yes, I am very high on emotions for this one. Just day before yesterday night, Richa (Chadha, actor and Ali's partner) were sitting and chatting and having dinner with Kenneth Branagh at The British Museum (in London). We were talking about art, culture, movies and writing... both Richa and I are writing stuff and so we wanted to pick his brains. And then suddenly, the next day, he had six (Oscar) nominations (for Belfast), and I am so happy for him. He leads by example, with or without nominations. Belfast is such a personal film for him and he deserves all these nominations. And our film, too, is such a special film.
Death on the Nile has been looking for a release date for a while now. The wait must have been killing....
It was. We waited for a while, and when it didn't happen, we all got busy with our other projects. I switched off and went off to shoot other things, and thankfully, I had work (smiles). Vishal ji's (Bhardwaj) film (Khufiya) started, and so did my international project Kandahar (co-starring Gerard Butler) and I have been shooting for them.
The release of Death on the Nile in theatres has been a pleasant surprise. Even till last month, we had no idea if it was going to release in theatres. I was quite upset ki yaar theatres mein nahin aayegi. So I am quite pumped about the theatrical release, and the fact that it's releasing in shitloads of theatres worldwide. It's probably my biggest release globally. It's got some 3,300 theatres in America alone, some 10,000 screens in China... Europe, New Zealand, Australia... it's releasing everywhere. I haven't seen any film do that in a while, apart from, of course, the superhero films.
It's big Holly, big Bolly, indie projects and digital outings here and there.... How would you describe Ali Fazal's career at this point? Or do you want it to be a journey that defies definition?
I am very critical of myself. I think I am coming into my own somewhat, and desperately in need of a good director who can mould me further into something spectacular. I think that's a good pitch! (Laughs)
Where I find myself in my career now, it's not too shabby, is it? I can't complain (laughs). I am definitely not complaining! I do fall into a dilemma once in a while because time gets divided... sometimes, I have to lose out on projects that I would have loved to work on. That's because half my gig is in the West and the other half is here. That's the only thing about this that puts me off... but that's just greed of some kind, maybe (laughs).
Coming back to Death on the Nile, how much of an Agatha Christie fan are you?
I have a very, very old relationship with Agatha Christie. I have actually had a love-hate equation with her. I will tell you why. I literally grew up around physical books of Agatha Christie and P.G. Wodehouse because my mum was a crazy and avid reader (laughs), and she had the whole damn collection. To the point that I actually didn't want to read any of them! (Laughs) Actually, the first Agatha Christie book I read was Death on the Nile. A book that Kenneth actually signed and gave me before the film started.
Growing up in the '80s and '90s, we were all big fans of David Suchet's portrayal of Hercule Poirot. Was it the same for you?
Totally, totally! I don't think any film based on Agatha Christie will ever match up to that. It's the best series ever! So good he (David Suchet) was! And that's the image of Hercule Poirot one has stuck in one's head.
What was it like on the sets of Death on the Nile?
With a franchise like this, from the word go, everything was big about it. The cast is so glamorous and diverse, and coming from all over the world. We were all under one roof, sharing notes, and working under the legend called Kenneth Branagh. He has a grounding in theatre and is hence very disciplined. When he brings that to the table, you want to do good yourself. You want to do your part well, and also have fun.
The fact that was different about this film is that I am not playing an Indian character. We have not gone out preaching about our ethnicities. It is what it is...  we are actors in an Agatha Christie book/film. My part was called uncle Andrew (in the 1978 film Death on the Nile) and was played by George Kennedy. In this film, they have made my part cousin Andrew and have brought down the age and tailormade it for me. It was very generous for Kenneth to do this. The look is very different, and we worked a lot on it. My character and Gal's character, we are cousins, and we have grown up together. So there's that history of a shared childhood. It's all of that character-building that adds up to us being prime suspects in the plot.
What manages to keep you so grounded even when you are doing so well for yourself globally?
I am trying. I want to be able to champion others because no one ever did that for me. It's not that I have lived a crazy number of years or had a great career, but I do know that industries that flourish are the ones that champion others. Insecurities just kill us, and I would never want to get into that. If that makes me humble or grounded, then maybe. If I can be part of the wagon of some change, then why not? As an actor, you also have to go hand-in-hand with empathy. The world is anyway going through shit, isn't it? So we may as well try to be good.
Is the idea of championing others the vision behind the production house that you and Richa have launched recently?
Yes, to begin with. And since charity begins at home, we wanted to champion each other (laughs). And champion good scrips too. We wanted to build a medium for artistes to come in and enjoy the process and then move on to where life takes them. There is no philosophy behind this... we are here to tell good stories. We are also opening different wings and different avenues. It's baby steps right now. We have one production almost on the floors. We aren't acting in it, but it's a wonderful script we are excited about.
No matter what you do, do you think you will always be Guddu in Mirzapur for a large section of the audience?
Ya, ya! What works, remains. What doesn't work remains with me and I carry that with me. Happy to, as long  as the next one comes in at some point.