Based on the DC Comics character of the same name, Black Adam that releases in theatres this Friday has Dwayne Johnson in the role of the titular protagonist. After nearly 5,000 years of imprisonment, Black Adam, an antihero from the ancient city of Kahndaq, is unleashed into modern times. His errant ways attract the attention of the Justice Society of America that tries to teach him how to be a hero more than a villain.
The Justice Society is led by Hawkman, an archaeologist who is the reincarnation of the Egyptian prince Khufu who enslaved Adam, and has the power of flight from his Nth metal wings. Slipping into the suit of Hawkman/ Carter Hall is Aldis Hodge.
Known for playing football great Jim Brown in the Regina King-directed 2020 film One Night in Miami and central parts in Hidden Figures and the TV show Leverage, Hodge spoke to The Telegraph over a cross-continental video call on his superhero film that also stars Pierce Brosnan and Noah Centineo, his intense physical prep to become Hawkman and his side gig as a horologist.
Before this film, what was your understanding of the Black Adam universe and particularly of Hawkman?
I am a big comic book guy, especially the JSA (Justice Society of America, a superhero team appearing in American comic books published by DC Comics). I knew of Black Adam's antagonism with Hawkman and his conflict with the JSA. When I got the film, I did more of a deep-dive into Hawkman, his origins and his ideas... and it was pretty awesome. Hawkman has an incredible backstory and that got me very excited.
Given that there have been quite a few versions of Hawkman, the number one question I got was always, 'Which version of Hawkman are you going to be?' I wasn't really focused on trying to pick a specific version. I was looking for the stream of consistency of who this person was... what is the thing that most people familiarise themselves with when they think about Hawkman? The key I figured out was being emotionally consistent with the character, I just built off of that and made my own sort of variation of that.
Was the challenge of playing Hawkman synonymous with the creative highs you experienced while filming Black Adam?
The challenge for me was primarily physical. We trained non-stop for many months before shoot began because making this film was a big endurance test. I spent 12-14 hours a day carrying a lot of weights! (Laughs) That was the craziest part of shooting this film for me because it was a definite education for me in terms of what fitness looks like.
I was very excited about prepping for this film because I knew I would get a very different perspective into fitness and I would get to completely change my body in a way that I hadn't ever before. And God knows that was tough, man! (Laughs)
What was the most difficult part of the physical prep to become Hawkman?
The weights and all that I could master after a while, but it was the nutrition and the diet bit of it that really threw me. I love juice, juice is beautiful, but then everything has sugar. I had to give up everything that has sodium. It was really tough and sometimes I would be like, 'Give me a bagel, please! (Laughs) And my nutritionist would just give me six pistachios! (Laughs)
But one knows that the body always follows the mind and I had to strengthen my mind first. It was a lesson, I will tell you that. Doing the kind of physical prep that I have done for this film has helped me a lot even after that. There was a time when I had hurt my back and I wasn't regular at the gym for a very long time. The physical prep I did for Black Adam helped me then, in terms of understanding my body. The process of shooting this film was the best time I have ever had on set. Just trying to make something of this magnitude and seeing everyone on this film working the way they do, at such a high level, was enlightening.
What was the first thing you ate when you got out of that punishing diet?
(Laughs) I am not a big burger guy but there is a place in Atlanta called Fred's Meat & Bread and they have some great burgers, they have Philly cheesesteaks and when I knew I had to put back all that daddy weight, I just plunged in and ate a lot of their stuff.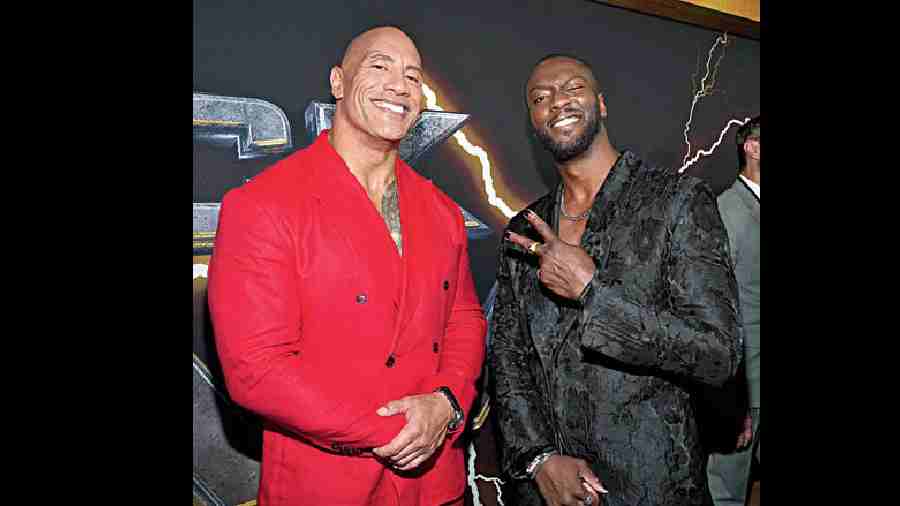 Aldis Hodge (right) with Dwayne Johnson, who plays Black Adam
What were the biggest learnings from working on Black Adam?
I am a film-maker, producer and writer myself and I saw how hard Jaume (Collet-Serra, the film's director) and our DoP (director of photography) Lawrence Sher worked together in unison. That really informed my understanding of the true importance of that cohesion that a director and a DoP really need to have.
This kind of a film is pretty much a synchronised dance of form and story and how you marry it all together. In this film, I understood what a good strategic and functional team needs to look like. I was having a conversation with Jaume and one of our producers Beau Flynn on the process of film-making and understanding what the tone of our film was. Jaume is quite successful as a film-maker and there is a reason for that. He's such a visionary and so stylised as a film-maker.
Something that I carry into every film that I work on is that the producer and the director both have to understand that they are making the same film. One would think that's obvious, but on many sets you will see people struggle to understand that! (Laughs)
Black Adam is a part of the DC Extended Universe (DCEU). Growing up, do you remember your first brush with DC comics?
Batman got me into the game as a kid. I was as young as three or four and then I moved on to the graphic novels. I can't remember exactly what collection it was. When it came to films, I was quite clued into Michael Keaton's Batman.
Besides being a multihyphenate talent in the performing arts, you are also a skilled horologist, which is a maker of clocks and watches. How did that interest develop?
It's a full-on job. I have been in the world of conceptual design for a number of years. I also own a conceptual art studio (called 9B Collective). Among various other things, we design watches. I started it off on the side and then it became a major job. This is a job that puts together everything that I love — engineering, art, design, physics, architecture. This is a side of myself that I put to use outside of my film work.
Designing watches is not easy. It takes a lot of time to make time (smiles). But I always figure out a way to balance this with my acting career. For me, both my careers are the same... they are, at the end of the day, all about creating art.