Actress Samantha Lockwood on her India stopover
'I am not looking to becoming a Hindi film star'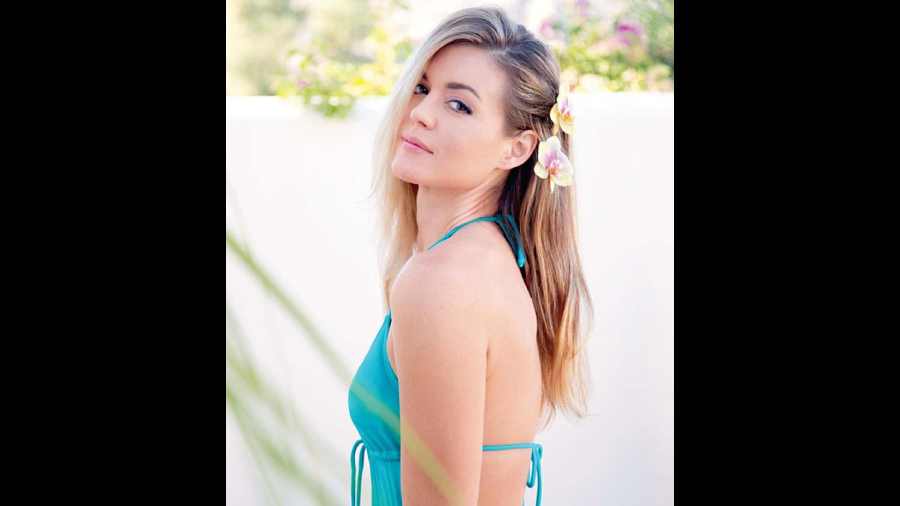 ---
Published 13.01.22, 12:06 AM
|
---
Actress Samantha Lockwood, who has featured in shows like Hawaii Five-0 and CSI: NY, apart from a few films and shorts, is currently in India. With her parents (Gary Lockwood and the late Denise DuBarry) being actors and having studied acting herself, Samantha chatted with The Telegraph on what made her want to be in the movies and what she admires about Bollywood.
How has it been in India so far?
Cool! I just came here on a whim. I was in London taking some meetings for some acting work. I am now slowly getting back to work after my mom (Denise DuBarry) passed away a few years ago. But then just as I was getting back, Covid hit the world, and not much filming has happened anywhere in the world.
But now things are slowly getting going. In London, Hollywood has three big projects that are being filmed now. In London, I met a few Indian people since I was staying at the Taj there and our conversations led to them suggesting that I should make a trip to Mumbai and to Bollywood.
I met someone from Bollywood there and I decided to come over for a bit. I have been watching Bollywood films for years now, since I was 15 probably. From a very young age, I have been watching films from all over the world.
What is it about Bollywood that fascinates you the most?
I like action... I have done quite a bit of action in my career, and I really liked Sultan (starring Salman Khan and Anushka Sharma) a lot. I like the way the characters are developed in Hindi films... they have soul and meat. A lot of times, your films have a good message  to give out. I like being part of films that put out a message... like I have never done horror films and I have avoided explicit sex scenes.... I just like the fact that Bollywood films, in general, rely on themes that work on uplifting the human spirit. I like the fact that many Bollywood films work on connection and bond. Like how Kabhi Khushi Kabhie Gham is a mother-and-son story.
I like human stories, I like biopics, stories about heroic women who have lived... and I want to tell the stories of these women. Reese Witherspoon has started producing a lot of content about women and that's so inspiring. Even Priyanka (Chopra Jonas) has established herself well in another market and now she's a global phenomenon. Women who have stepped out of their comfort zone are the ones I admire. There are so many stories of women that can be told... pilots, doctors, nurses.....
I think Hollywood has become a little formulaic when it comes to certain things. They seem to be remaking the same stories over and over again. A lot of Indian films now have great writing and great acting. And such things can really cross geographical boundaries. A really good movie is a really good movie.
So I am just trying to do some good work. I am not looking to becoming a Hindi film star. I like doing action and I can speak a few lines of Hindi and I want to learn more of the language. I came here because there is a lot of globalisation happening, courtesy Netflix and Amazon (Prime Video) and they are casting people from all over the world. I watched Zindagi Na Milegi Dobara and that had people talking in English and the film was set in Spain. And even Hollywood now is casting Asian faces and people with darker skin. People of mixed races are being cast a lot more.
You met Hrithik Roshan recently. What was it like interacting with him?
I think he's a very sweet person, and that was my first impression of him. Very relatable and easy to talk to and easy to share ideas with. I felt a kind of understanding with him. He's very involved with the creative process of his films and I could see that's he a bit of a perfectionist in that way. I understand that perfectionist mentality because after you have been in the business for so long, you like to be involved in the whole making of your film. You really want to put your hand in it a 100 per cent, and that part of him is what I understand very well. We communicated well, we shared nice ideas. He's an incredibly talented actor and dancer... I have seen a lot of his movies. A lot of my friends in Hollywood like Hrithik's work a lot. He has a certain Hollywood-like appeal.
What is it about the action genre that you like?
It's so much fun! (Smiles) I am very athletic and I like doing action. On screen, I like to be the person who is doing stuff, rather than just standing and talking. But a good script is a good script, and I don't want to say that I only want to do action. Everyone wants to put you into a category and I don't want that to happen.
I have studied acting and we did different kinds of scenes from different genres. I do like action, but I like it more in a film like Sultan which has action and then there is a real human story underneath it. Action without a credible story can become boring and one-note after a while. I like something like Deadpool where the guy (played by Ryan Reynolds) is an anti-hero and he's so layered and complicated... he didn't want to be anybody's hero, but he ended up being a hero anyway.
With your parents being actors, was it a given that you would also make a career in the movies?
Since I was young, I have been inspired by the movies. Forrest Gump inspired me to become an actor. Splash, another Tom Hanks film, was also an inspiration. I loved the mermaid in that... I wanted to be a mermaid! (Laughs) A lot of the early Tom Hanks films made me want to be a character in those films. I also loved The Princess Bride and I wanted to play that princess! (Laughs) My dad (Gary Lockwood) did a film called The Magic Sword and I wanted to be in that movie too!
But those are just childhood fantasies, you know. At that time, one doesn't know how hard it is to be an actor. Getting an acting job isn't easy, working in a film isn't as easy as some people think it is.... It's not glitz and glam, half of the time it is just about sitting around waiting for things to happen. And the moment, you get some fame, people start talking about you, and mostly it's not about your work. So, for me, it's been a love-hate relationship.
A few years ago, I met Meryl Streep at a film festival in which our respective movies were showing. And she gave me some really good advice about life and the job that we do. I am inspired by her... she's been married for so many years, has raised a healthy family and has had such an amazing career. But she's known for her work and not for her personal life.
Can we expect some announcements from you in India soon?
I really don't know. I have just started meeting people here. I am just planting seeds, and we are just discussing what kind of work I can do. So it can be in a month, or it could be in six months.