Abir Chatterjee on playing a double role in Maayakumari and his Hindi OTT debut
The Karnasubarner Guptodhon actor also shares his experience of hosting Zee Bangla's music reality show Sa Re Ga Ma Pa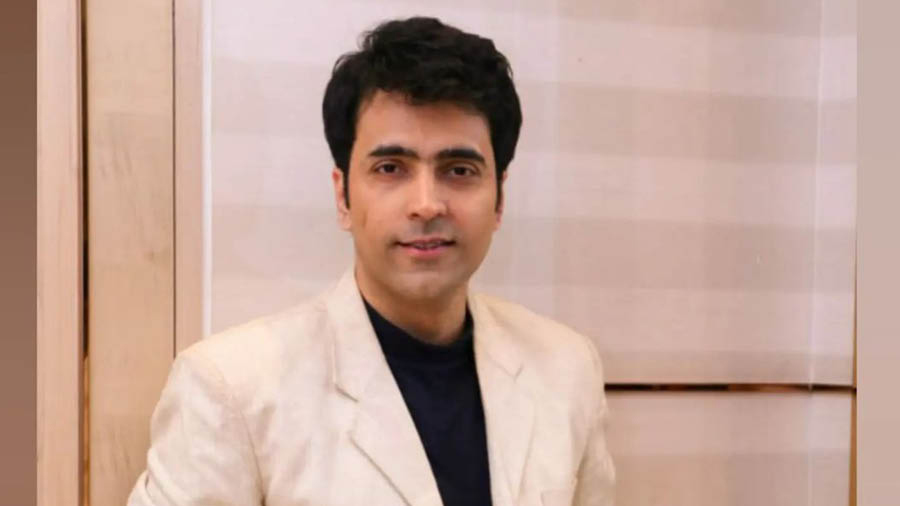 Abir Chatterjee.
Instagram
---
Calcutta
|
Published 18.01.23, 05:32 PM
|
---
Doing a double role isn't easy, more so when the switch involves transitioning between two very different time periods. But Abir Chatterjee, known for his portrayal of sleuths Byomkesh Bakshi and Sonada onscreen, has pulled that off with elan in Arindam Sil's period mystery drama Maayakumari.
In a recent heartfelt chat with us, Abir opened up about his experience of playing a double role in Maayakumari, his OTT journey and his future projects.
When you got the offer for Maayakumari from Arindam Sil, what made you say yes to the film? 
Abir Chatterjee: I had heard the story long before we started filming. Arindamda was developing an idea related to Bengali cinema, its 100 years and stories of film stars. When we discussed the storyline, I had said, 'This is a nice storyline but this character is not that exciting for me. I want to play a character that has several shades.' He got the script ready. After that, I put in my observations and inputs. Arindamda is very open about actors giving inputs. Maayakumari mainly talks about the biggest female star of the 1940s. I never had a problem playing a character in a women-centric film. From the first draft of the script, I thought my character needed to have more participation. While filming, we tried to incorporate some more shades into the character. 
Beyond the mystery part of it, I feel Maayakumari is a very humane film. It also talks about two different time zones. The film shows how films were made, how stars enjoyed their stardom in the 1940s, which is completely different from today. Other than the story of the actors and directors, Maayakumari also shows the contribution of the crew members and technicians who work so hard on a film. Maayakumari is also their story. Besides that, the film shows the journey of a woman in the acting profession. These are the things that intrigued me.
You have a double role in the film — Kanan Kumar and Ahir Chatterjee… 
Abir Chatterjee: Kanan Kumar was a big star of the 1940s and Ahir Chatterjee, who is also a film star, happens to be Kanan Kumar's grandson. Though it is a double role, there are actually four different shades to the characters. The young Kanan Kumar, the old Kanan Kumar, the young Ahir Chatterjee of present day, and young Ahir Chatterjee cast in the role of his grandfather Kanan Kumar in a film. 
Kanan Kumar was a superhit star. On set, he would behave like he's the boss. His was the last word. Though he was very nice to his crew members and co-actors, deep down he felt that people were crazy only about him. Compared to that, Ahir is much more friendly. He enjoys his stardom but he's very much approachable at the same time. 
There were strong rumours that Maayakumari and Kanan Kumar had an affair. In the present day, Ahir suggests that Rumi, a young model, plays the role opposite him in the film and we understand that there is a romance between them. Kanan Kumar's interpretation is different from Ahir's interpretation of personal relationships and how these personal relationships make way to their reel life is also different. 
How challenging has it been to switch from one character to another?  
Abir Chatterjee: Playing a double role is itself a challenge but it is more challenging in a film where you have to portray four different shades of two characters who are also from different time zones. The body language, expression and acting in front of the camera are completely different. In the previous era, a certain amount of theatrical acting was very welcome. In today's time, we are trying to behave. The acting pattern is different. 
While acting, I had to keep the minute details of both the characters in mind. Suppose something happened in Kanan Kumar's life when he was around 65, that thing is being portrayed in the film-within-a-film. Ahir is now playing Kanan Kumar. I told Arindamda that since Ahir would be playing Kanan Kumar from his memories of his grandfather, Ahir's acting can't be similar to Kanan Kumar's. Because Ahir remembers very little of his grandfather. So, the same scene is portrayed differently. There are subtle changes in the makeup too. Somnatha Kundu has done an amazing job. 
There was no preparation process as such. I'm more of an instinctive actor; I try to follow what my director says. I ask too many questions. I try to go through the script multiple times to understand the basic sentiment of the story. A lot depends on my co-actors too. The rest is instinct. 
Who did you resonate with more – Kanan or Ahir? 
Abir Chatterjee: I resonated more with Ahir Chatterjee because he represents my time. The name is also similar to my name. It is intentional. Since I was supposed to play the role, Arindamda changed it to Ahir Chatterjee. I resonated with Ahir's point of view but there's a huge difference between me and him. Ahir is younger than me. He's a very sweet person and I'm not that sweet. I am also more experienced than him. I'm much more connected to ordinary people than Ahir. Our upbringing is different. 
Among your other projects, the Byomkesh Bakshi and Sonada films brought you box-office success last year…
Abir Chatterjee: Karnasubarner Guptodhon broke all previous records. It is the biggest hit of my career. I am happy that so many people made watching the film a part of their Durga Puja plan. I would have been more happy if Byomkesh Hatyamancha did a little better. But it did well in a time when people had just started to go out and watch films in the theatres. Also, it had released in the Independence Day weekend and competed with two of the biggest Hindi films at that time. But I'm grateful for the love that the audience has given to both the films.
Avrodh 2, your debut on Hindi OTT, has got a positive response. How did the series happen? 
Abir Chatterjee: It was just after the first lockdown around February-March 2021; I got a call from the team of Avrodh. They sent me the script and briefed me on the whole storyline. I quite liked the idea. It actually took me two video calls to finalise everything. I strongly believe that if something has to happen, it will happen. It was quite a learning experience for me. Everything was special. When I was doing Avrodh 2, I felt like a newcomer because for the first time I was doing something that was completely outside my comfort zone. It was a new industry. There was a mixed feeling – of being both debutant and not. 
We shot all over Mumbai, Nashik and Kashmir. I shot in Kashmir for 18 days during Durga Puja. It was the first time I was not in Kolkata during Durga Puja. Also, the moment you're wearing an army uniform and you're shooting in real locations with army people and listening to real-life stories, your respect for them just goes up. I saw their hardships from very close quarters. My character is based on a real-life hero and it was an honour to play him. I met him. He's a really nice guy. Interacting with him was a great experience. 
How do you see OTT as a medium to tell stories? 
Abir Chatterjee: With OTT, the filmmaking process has changed. The way actors approach their work has changed. Language is no longer a barrier. Actors from different parts of the country are now in the mainstream media. You can experiment with the storyline and other technical aspects. OTT has given us the independence to experiment. At the same time, the competition is fierce because if someone doesn't like your content, they can switch in seconds. It's also quite exciting for artists like us and for people who are in performing arts as there are a whole lot of new characters and new storylines being explored. 
You recently anchored the music reality show Sa Re Ga Ma Pa. How has that experience been?
Abir Chatterjee: It is the biggest non-fiction show of Zee Bangla and is also one of their top shows all over India. It is thrilling to anchor a non-fiction show because you tend to reach out to a wider audience. The response is unbelievable. 
I anchored the first season during the pandemic and I feel only music could have given everyone the healing touch. Elderly people come up to me and say that they wait for the weekends for the show. They immerse themselves in music and feel relaxed. I also get to listen to so many talented singers. It is a privilege to be there on the stage. 
What are your upcoming projects?
Abir Chatterjee: My next film is Fatafati with Ritabhari Chakraborty, which will release sometime in March.