'Aamis is a love story with meat as a catalyst'
Director Bhaskar Hazarika wants to see how the film's home ground reacts to it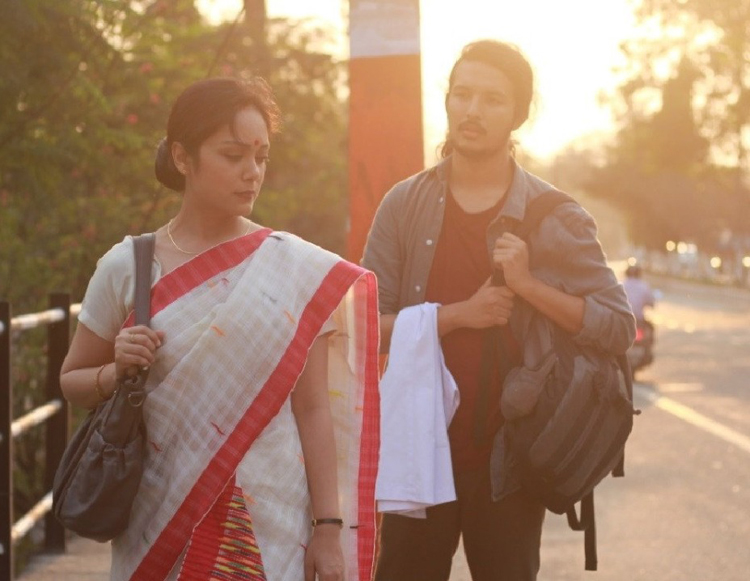 ---
---
We've shown the film at international festivals, but I think I am more excited and nervous about showing the film to the people of Assam. We have already seen the reception of a cosmopolitan audience, but I am eager to see how the film's home ground reacts to it," Bhaskar Hazarika told The Telegraph when we caught up with him at the Jio MAMI 21st Mumbai Film Festival with STAR 2019 last month.
Hazarika's film Aamis elicited long queues at MAMI and received a standing ovation, as well as at other international film festivals like Tribeca. The Telegraph caught up with Hazarika — who directed the powerful Kothanodi on debut a few years ago — for a chat on his second film that's creating waves.
What do you think has made Aamis so relatable despite it being such a dark story?
I am very surprised by how so many people have connected with this movie. Frankly, I started off thinking that not many people would get the emotions that drive the film, but I am pleasantly surprised to see the sense of relatability. It's a great feeling when your ideas resonate with your audience. But I must also tell you that there have been walkouts, especially by old people after the morgue scene (smiles). Apart from that, the reactions have been really good.
Was love the starting point of this film or was it desire?
Simply put, it's a story about two people who are in love but they have an alternative way of touching each other. And then the meat trope came in. But essentially, the idea was to do a Romeo and Juliet tale with two lovers who never touch. Lust is such an important part of love, but the film transfers that feeling on to something else.
There are films about love and films about food. But no one has really brought them together in the way Aamis does…
I was actually talking about this with a few people yesterday. There are many who watch the film and ask me, 'How could you have an idea like this?' I think it comes from the fact that I work in a non-Bollywood set-up. I am expected to make films out of pure passion, but I also make them to propel my career forward and Aamis has done that by leaps and bounds. As a filmmaker, if I don't think out of the box, if I don't think of unconventional, weird stuff, then I feel I am not doing my job well… I need to stand out.
Was the idea always to go this dark or did it happen while you were filming it?
The idea was to go much darker (smiles). Not in terms of what happens on screen, but the way we wanted to shoot it… the whole transition from a repressed person to an addict. But my lead actors (Arghadeep Baruah and Lima Das) are so naive and have such an innocent charm and brought so much softness to their characters that it became a far gentler film than what we had envisaged. More than straight-up, pure horror, it's the philosophy of fear that intrigues me more.
Why cast first-timers as leads?
That's primarily because we were working within the Romeo and Juliet template, apart from the angle of wanting martyrdom and poor, tragic deaths for them. But I wanted to bring in the element of them being degraded and humiliated. Any Romeo and Juliet story in the world wouldn't be effective if one casts known faces. In Aamis, the audience just sees these characters as Nirmali and Sumon. They don't have the baggage of a preset image. It was very important for us to cast fresh faces.
The film is unique in the way it condemns sin and yet creates empathy for sinners…
Definitely. We should always hate the sin, but never the sinner, because tomorrow it may be you. There's a very thin line. Human tendency is that whenever we hear of a crime, we tend to judge the person doing it, without bothering to look at the circumstances in which the crime was committed.
Meat is integral to your story, but did you also use it to make a statement, given that it is such a contentious word in today's India?
Actually, no. In fact, it was the other way round. I didn't want to get into trouble because I was using the trope of meat. If I had to make a film based on the issue that you mentioned, then it wouldn't be Aamis (smiles). I would make a far more direct film that puts forth a statement. This is a love story with meat as a catalyst.
Are you aware that some people may go off meat after watching the film?
(Laughs) It's good for the planet, in a way. The way we harvest meat is really unethical and also environmentally degrading. I try to consume less meat — not because of this film — but because I am aware of the effect it has on the environment. Locally procured meat is a better option, something that I have also tried to show in this film.
How much does having filmmaker Anurag Kashyap presenting Aamis benefit the film?
Oh, immensely. He's been a huge support. We weren't sure whether this film would get a release, but thanks to him, we are now releasing on November 22.
What do you feel has spurred the resurgence of Assamese cinema in the last few years?
I think Assam always had the talent, but it was defused because no one was really making films. All the talented people who wanted to make quality cinema had no option but to leave Assam and move to Bombay or Delhi. But now, people are coming back. Like, I was working in Bombay and never thought I would ever make an Assamese film. Through my first film (Kothanodi), I discovered that this is virgin territory… the kind of stories I want to tell are very organic to Assamese culture and landscape and it's not been done before. Then Rima Das's film (Village Rockstars, India's official entry to the Oscars in 2018) happened and Kenny (Basumatary) has been doing some crazy good work. So, there's been a huge resurgence, led by people who have honed their skills outside Assam, whether it's on film sets or film institutes. The resurgence is only going to get stronger. We went through a very dark phase in Assamese cinema and we deserve our place under the sun now.