A wonder dance pair from the east wows the judges on America's Got Talent
Bad Salsa duo — along with their mentor — are eyeing the bigger picture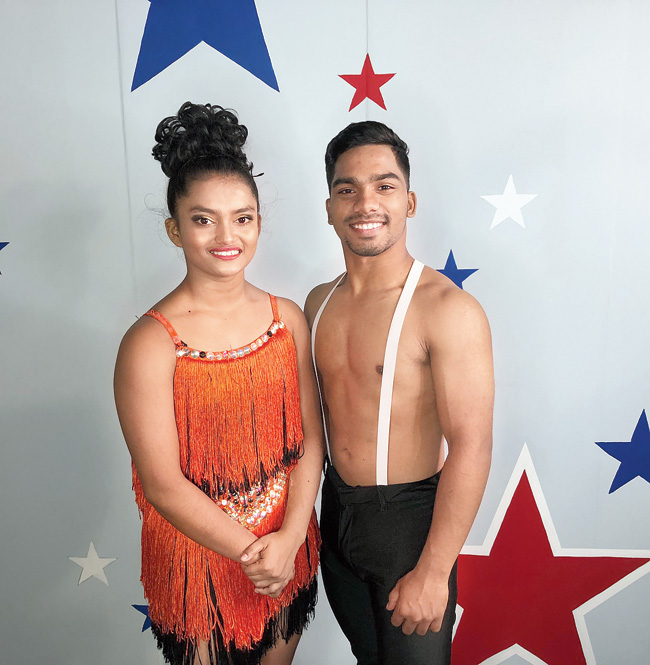 Dancing stars: Sonali and Sumanth on America's Got Talent
Sourced by the Telegraph
---
Published 14.06.20, 01:48 PM
|
---
Eight years ago, I motored for six hours on a cold December day to Sholoardari, a tiny and nondescript village on the India-Bangladesh border to meet its most famous resident: seven-year-old Sonali Majumdar. The daughter of a farmer who barely made Rs 20 a day at that time, Sonali had put Sholoardari — which doesn't show up on Google Earth and is nothing more than just a narrow lane, a minute's walk away from the Bangladesh border — on the reality show map in end-November that year by dancing her way to the India's Got Talent title. This March, Sonali — now 15 — and her India's Got Talent dance partner Sumanth blew away the judges with their salsa act on America's Got Talent.
"It all seemed so surreal. Everyone stood up and applauded. I have to pinch myself even now to believe that Sumanth and I went all the way to America's Got Talent, danced on that stage and even progressed to the next round," laughed a still coy Sonali when The Telegraph caught up with her on a phone call recently. Sonali and Sumanth's acrobatic moves on America's Got Talent earned special praise from the show's judge and executive producer Simon Cowell — the man responsible for spotting and nurturing success stories like One Direction, Little Mix and Susan Boyle — as well as huge applause from his co-judges: actor Sofia Vergara and supermodel Heidi Klum.
"Simon Sir told us that these kids are very special and that they will go a long way. He was very surprised at the kind of flexibility they had and their mastery over the salsa form. He spoke to us off stage for about 20 minutes," added Bivash Chowdhury of Bad Salsa, a dance academy located in Lake Gardens, who had taken both Sonali and Sumanth under his wing close to a decade ago and continues to hone their talent.
"Simon Sir said we were 'real talent', and that they were honoured that we had danced on that stage," added Sonali.
"Sonali and Sumanth have travelled the world with their dance acts. We had been trying for quite some time to make it to America's Got Talent. We finally got an invite this year. Our visa came through at the last minute, so we were naturally under pressure. But the moment we landed in Los Angeles, we were given complete support by the organisers. After the act, Simon Sir told Sonali and Sumanth that he had become a big fan of theirs," said Bivash.
The video of the judges rising to their feet even before Sonali and Sumanth had finished their act has now gone viral. The next round of the competition, in view of the coronavirus pandemic, will be held live online. If the duo progress to the subsequent rounds, then they will possibly have to travel again to the US.
"It's a very big thing for us to be on the America's Got Talent stage. We've been dreaming this dream for years. We've worked very hard over the last eight years ever since we won India's Got Talent," said Sumanth, who hails from Odisha and is now in his early 20s.
Both Sonali and Sumanth, who have worked together as a team for many years in a dance form that calls for a high degree of coordination, attribute their success to the trust they have on each other. "If we don't have trust on each other, then we can't perform even a single step. When I fling Sonali into the air, she needs to have the confidence that I will not let her fall when she comes back down," said Sumanth.
"Sumanth and I have worked very well together right from the start... we have a comfort factor with each other that's only kept growing through the years," added Sonali.
Bivash believes that it's a combination of "single-minded dedication" and "love for dance" that's made his proteges go from strength to strength, travelling the world and enthralling audiences with their acts. "The two have a genuine love for dance. They live and breathe dance. When they aren't practising or performing, they spend their free time studying and researching dance. Given the kind of acrobatic moves they are known for, they still have about 15 years of dance left in them. We want to make every minute count," said Bivash.
Even as they keep their America's Got Talent hopes alive, the Bad Salsa duo — along with their mentor — are eyeing the bigger picture. "Sonali and Sumanth are special because not many dancers can keep up this kind of form and flexibility for so many years. Our only goal has been to put India, through Sonali and Sumanth, on the world map as bonafide international dancing stars," said Bivash.
America's Got Talent Season 15 streams exclusively in India on Voot Select and will air soon on TV on Colors Infinity.