A review of Mrs. Chatterjee vs Norway
Based on real-life battle bordering on being unbelievable and bizarre of Sagarika Chakraborty, who fought against Norwegian government to get back her children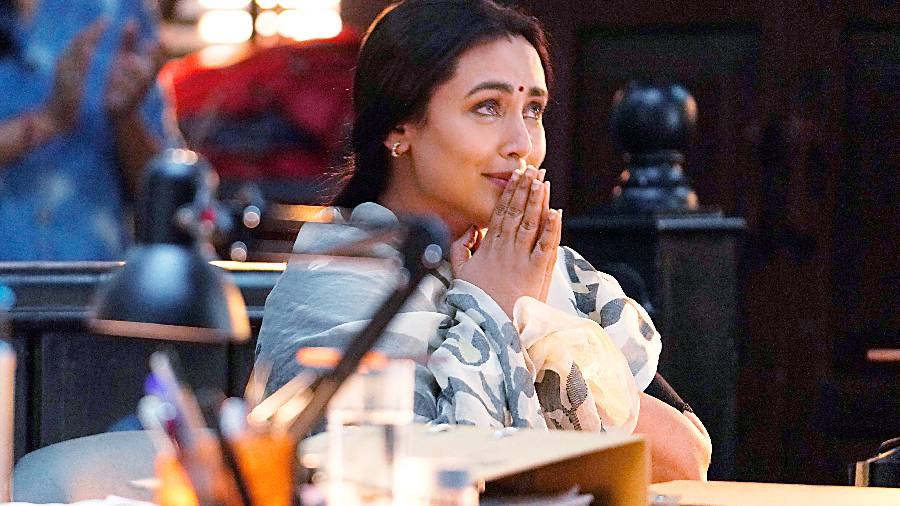 ---
Published 18.03.23, 01:18 PM
|
---
We had just come out of the special press preview of Mrs. Chatterjee vs Norway in PVR in Juhu on Monday night. And, the smudged kajal on most eyes in the lift bore testament to the emotional rollercoaster we had just been through. "All the mothers will be able to relate to this," said an elderly lady, misty-eyed. "Why only mothers? I could also relate to it so well. I love my mother a lot," said a young gentleman. The eagerly anticipated film led by Rani Mukerji and directed by Ashima Chibber is truly a moving watch. Based on the real-life battle — bordering on being unbelievable and bizarre — of Sagarika Chakraborty, who fought against the Norwegian government to get back her children who had been taken away from her and put in foster care, based on allegations of bad parenting, Mrs. Chatterjee vs Norway is a heart-rending watch and at the same time hugely uplifting. Sagarika later went on to capture her horrific experience in a book titled The Journey of a Mother.  The film begins with a slice of life of the Chatterjees — Debika, played by Rani Mukerji and Anirudh portrayed by Anirban Bhattacharya, an immigrant couple from Bengal, who live in Norway. Debika is a mother of two — little Shubh and Suchi, the latter being only five months old. The opening scenes show a sleepdeprived Debika, struggling to balance the impossible demands of being a good wife and a good mother. Anirudh, her husband, is working towards a citizenship of the country and will not let anything ruin his chances at it. The lack of empathy in Anirudh is palpable almost from the very beginning as is Debika's earnestness to make the marriage work and tick all the boxes. Her smile never fades.
The couple are, however, under a review, the reason of which comes to light much later in a shocking revelation. And, at the end of the 10 weeks of supervision, one fine day, Debika finds her kids whisked away by Velfred, an organisation that looks into child welfare. She is told she is an 'unfit' mother and 'mentally unstable' to bring up kids. She feeds the kids with her hands and sleeps beside them, experiences that could potentially harm their future. 
In a dramatic scene, Rani's Debika runs after the speeding car, latches on to it before landing on the road with a thud. Her desperation and helplessness are piercingly painful.  And, thus starts her battle. She runs from pillar to post, from one court to another, only to see her plea to get reunited with her kids, rejected. Again and again. She never gives up though, her resilience shining through in moments of utter frustration. Rani is brilliant as the hapless Debika. There are quite a few scenes where Debika has an emotional meltdown and Rani is magic to watch. Crying, hollering and screaming for justice, Rani puts in a performance of a lifetime. This will sit right at the top with a Yuva or a Black. She embodies Debika's helplessness, her anger, the sense of despondency to a T, moving you to tears ever so often. In her beautiful saris and barely there make-up, Debika becomes a representative of so many women we see around us every day, in our families and neighbourhoods. Homemakers with 24x7 jobs of running the family like well-oiled machinery, often a thankless job. In a scene after the kids are taken away, Anirudh dumps the entire blame on Debika, holding her responsible for the course of events. An ever-so-familiar case of blaming the woman of the house for all that goes wrong.  
The hollow grief in Rani's eyes, the agony of something gnawing at her soul, will stay with you.     Anirban Bhattacharya makes a sparkling debut in Hindi films, proving his mettle in every frame. Sinking his teeth into the character of a selfish, abusive and cunning husband, Anirban portrays menace, rage and guile with effortless ease. You would want to slap his Anirudh, exactly like how Debika does, to thunderous applause from the audience. 
Jim Sarbh is so good as lawyer Daniel Singh Ciupek, who fights the case for Debika at first and then against her. Jim's eyes talk and the switch of lucid emotions is ridiculously good to savour.
Balaji Gauri as Rani's lawyer in the second half puts in a feisty performance. There are a slew of Calcutta faces — Saswati Guhathakurta, Mithu Chakrabarty, Bodhisattwa Majumdar, Soumya Mukherjee and Barun Chanda, which will put a smile on a Calcuttan's face. Neena Gupta features in a special appearance as politician Vasudha Kamat.
I had not met my mother for five days at the time of watching this film. As tears rolled down my eyes, all I could do was send up a silent prayer and a 'thank you'.  Rudyard Kipling said: 'God couldn't be everywhere, so he made mothers'. 
Indeed.
Did you like/not like Mrs. Chatterjee vs Norway?
Tell t2@abp.in