A post-release chat with Himanshu Sharma
The writer of Atrangi Re feels that the trickiest bit of the film was to make the audience understand this whole father-daughter angle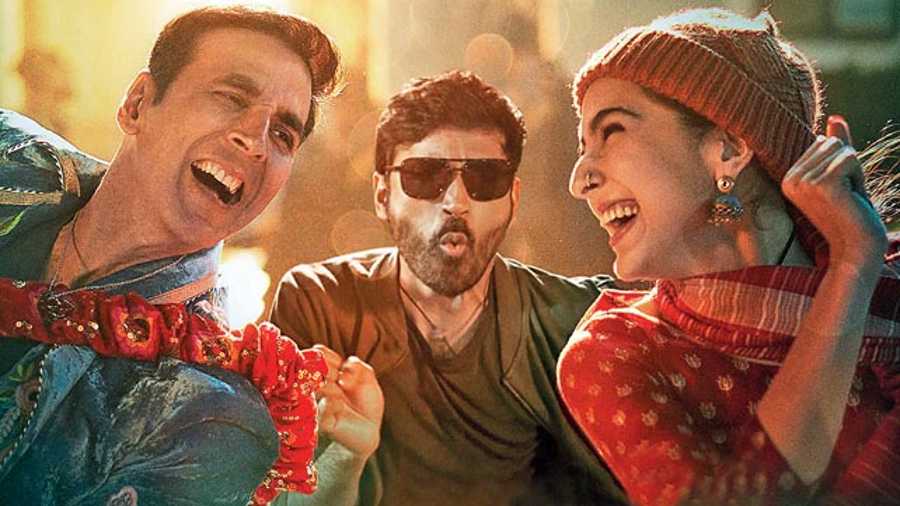 A still from the film Atrangi Re!
---
Published 01.01.22, 01:01 AM
|
---
Intense love lies at the heart of Atrangi Re, which combines multiple threads, including surrealism and a look at mental health, to tell its out-of-the-box story. While the Aanand L. Rai-directed film, now streaming on Disney+Hotstar, has been singled out for praise for its unique premise and stellar acts from Dhanush, Sara Ali Khan and Akshay Kumar, there has been criticism for its flippant treatment of mental health. The Telegraph chatted with the film's writer Himanshu Sharma — whose pen has produced films like the Tanu Weds Manu series, Raanjhanaa and Zero — on the positive and prickly bits of the film.
Atrangi Re has sparked off conversations, some of which have been negative. But that's better than making a film which doesn't stir any emotion in the audience, isn't it?
Yes, of course! I am glad that there are many people who have understood the film more than what it is at the surface level... they have gone deeper, they have understood the nuances of the film and have appreciated what we have tried to manifest on screen. They have gone beyond the sugarcoating of the film....
This has been a tricky subject to make. There is so much about love, about trauma, about how one navigates one's way to find real love.... Of course, the film touches upon mental illness. But a writer has to manoeuvre through so many things. At certain times while writing a film, certain issues need to take a back seat. But that doesn't mean that we aren't thinking about it or that I don't care for it.
One needs to understand that with Atrangi Re, we were not making a docu-drama. I have always believed that one shouldn't allow fact to blind you from the truth. That is my overall reaction to some of the reviews. There are a few that have judged the film completely at the surface level.
Some have felt that Atrangi Re trivialises mental health and humour is insensitively used to depict something that is not only traumatic but still such a taboo in our society. There is also the medical quackery bit associated with mental health, which has incensed many....
Why aren't we talking about how the other characters in the film are sympathetic towards that person? (Sara Ali Khan's Rinku) A film caters to a large section of the audience. A film shouldn't seem like propaganda, it shouldn't feel like it has an agenda. We weren't making a documentary on mental illness, but at the same time, our goal always was to present the issue in the most humane way. Being able to understand human anatomy doesn't mean that you understand human beings. The human mind is very, very complex and we were making a film that talks about that. We have a hero (Vishu, played by Dhanush) who has so much sympathy and sensitivity towards this girl.
As far as those talking about how we have used humour in the film, I strongly believe that one needs to temper the most traumatic parts, the hardest truths with a certain lightness. If you are talking about a hard thing in a hard way, then it won't work. One needs to take a tough topic and tell it in a way which is entertaining. One needs to go beyond the sugarcoated surface and see how the writer and director of this film are trying to tell you something that is bigger and more meaningful.
What was the genesis of this story?
In college, a friend of mine narrated this poem to me written by Alok Dhanwa which went like: 'Phir aa raha hai December/ Phir ghar se bhaagengi ladkiyaan/ Zaroori nahin hai ki jab ek ladki ghar se bhaagey toh ek ladka bhi bhaagey/ Kuch ladkiyaan sirf mann mein bhaagti hai.' This was the genesis of Atrangi Re. 'Kuch ladkiyaan sirf mann mein bhaagti hai' is what I have tried to manifest in this film.
That one line became the reason why I wrote this story. Does the poem talk about mental illness only? No! It talks about the women of our country... it talks about what binds them on so many levels. So I took this and wrote my story. We have to understand that Atrangi Re is not a poem or a painting... I needed to depict this idea through the medium of a soulful story.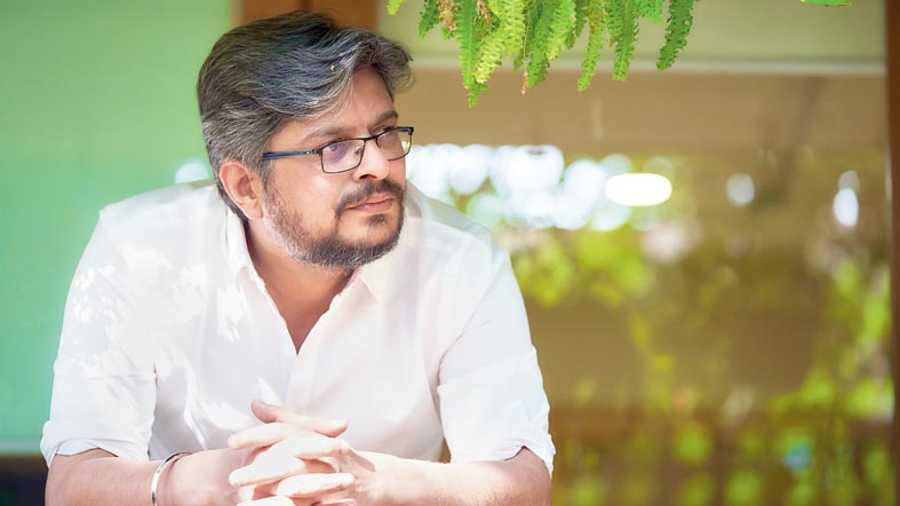 We needed a film that talks responsibly on many levels.
In a subject as challenging as this, which were the trickiest bits to write?
The trickiest bit was to make the audience understand this whole father-daughter angle. It could have really hit in a bad way. Our biggest worry was that how do we make it palatable and innocent that the viewer doesn't feel odd about it. By God's grace, we have pretty much managed to get through with that....
But there have been murmurs about the film's Oedipal overtones....
This is a country of 150 crore people. Everyone has a voice and with digitisation, they have an opportunity to present it now... which is a good thing. But I cannot read and control each and every person's heart and mind and tongue.... I believe to each his own. But I am happy that the larger section of the audience has connected to this thread of the film in a good way.
I will admit that we were always wary of how to present that bit in an innocent and nonchalant manner... in a manner that it doesn't hit the viewer in a wrong way. I am quite happy with the way that bit has turned out.
You have mentioned the word 'manifest' quite a few times here. Is there a moment in the film that you felt has elevated your writing from paper to screen most effectively?
It would be that scene in which Dhanush talks in Tamil (and tells Sara's Rinku that he loves her). I told him what I wanted in that scene and we were sure we wanted him to speak in Tamil. I told him that this is the larger idea and he had the freedom to choose how he wanted to go about it. I didn't ask him and neither did he tell me what he's going to do... agar bataa bhi dete, it's not that I would have understood what he would have said in Tamil! (Laughs)
That scene taught me that language is a very small thing. You exactly know what this boy is trying to tell this girl. And the reactions on both Dhanush and Sara's faces were so genuine and truthful. That day we wrapped up early because we actually got through that scene in only a few takes.
Aanand L. Rai and you have collaborated to give us some great stories. Could the collaborative relationship between the two of you be summed as simply as that you 'get' each other?
The good thing between the two of us is that he never asks me what I am going to write next (smiles). He lets me be, he allows me to come up with a story, and once we decide on a story, our next two years or so are completely focused on that. I narrate it to him and in the next two weeks, I sort of manao him into directing it! (Laughs) I kind of maneouvre him into saying, 'Let's work on this one.'
Are writers finally getting their due in the Hindi film industry?
There is a long way to go, but it's definitely better than what it used to be. We have covered a lot of ground and we are better off than what we were 10 years ago. But there is much more to do. It's a great time for writers because it's fresh, well-told stories that are only working now with the viewer. I really wish we have more storytellers who come up with interesting, genuine, high-concept films.