Tabu gets candid about foraying into voice work as she turns narrator of 'The Sandman'
Har type ki film mujhe mil jaati hain. Nothing is repetitive and everything looks different, says the actor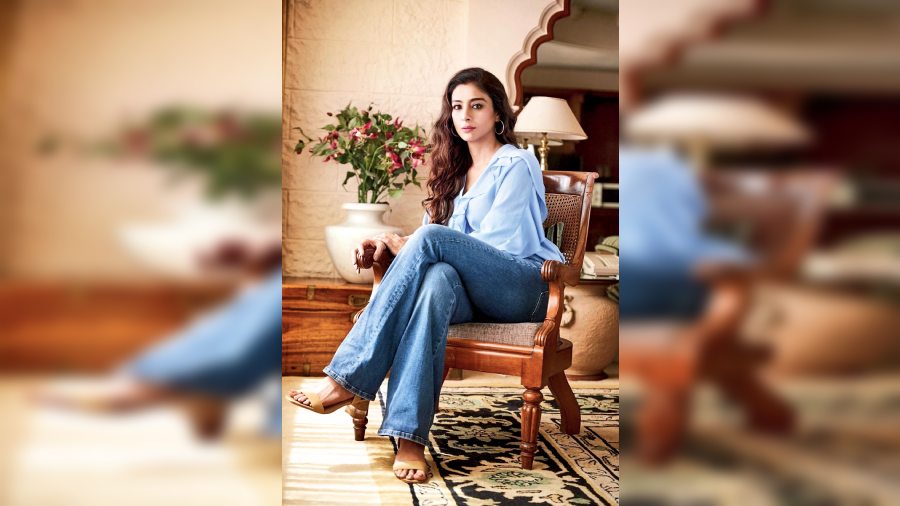 Tabu
Sourced by the correspondent
---
Published 05.05.22, 03:00 AM
|
---
Every conversation that I have with Tabu invariably starts off with how much she misses Calcutta. "I haven't been there for a long time now, in fact not after the pandemic. I really need to be in Calcutta soon," said the actor who always stands out for her grace as well as her vivaciousness. When I remind her how she's always told me that she loves Calcutta more during winters and this sweltering time of the year is not ideal for a visit, she says, "Yes, I love going during winters, but friends are there na, so summer winter sab chalta hain," she laughs.
This time, we had connected to speak about Tabu's foray into voice work, functioning as the narrator in The Sandman, Audible India's Hindi adaptation of the Neil Gaiman classic published by DC Comics. Of course, we ended up talking about a lot more.
What was the experience of being a narrator on The Sandman? Must have been pretty novel....
It was definitely thrilling, but it also came with huge responsibility. It was creatively very challenging. It was a new world for me to explore, and I was actually looking forward to seeing how it affects or changes anything about me... about my voice, my style of narration, the strength of my voice... I think it did, to a great extent.
While I was doing it, my yoga teacher was curious to know if my breathing exercises had helped me... is my breath long and all of that! (Laughs) For almost two-three weeks before I started work on this, I went through a daily breathing exercise routine. Now when I am talking to you, it's all coming back to me ki maine kaisi kaisi mehnat ki hain iske liye (laughs).
But yes, it was very exciting. It gave me the opportunity to both harness and hone my voice. As actors, we don't get to use just the voice to convey our emotions. I really wanted to do this well.
Did the yoga help?
I think it did! My voice, I feel, didn't get tired so easily. I could go on for pretty long takes. In fact, we had set aside eight days for this, but we finished it in just four.
How different is this experience from dubbing for a film?
It's similar in the way that you use your voice for both, but when one is dubbing, one also has the visuals to reference and match. Audio is 50 per cent, visual is 50 per cent... and the story is told like that.
In this, it was just 100 per cent voice work. Okay, 80 per cent because there is also background music, other actors, and all of that. But just using your voice to exactly show people what a story is, you are making them imagine through your voice, and you need to describe perfectly so that the visuals are created in their minds. It's a challenge to do that because you are sitting alone, you have no other stimulus.
I just had to use my imagination and the tonality of my voice. It's quite interesting, actually. One can really use this to expand the scope of one's imagination. It helps me understand where all my voice can go, how far it can travel and in which way.
Do you think this will enhance your skills as an actor?
I am sure. That's because voice is a big part of an actor's performance. The more you use it, the more you understand it and the more you better it, it will help. Especially now, when more and more films are opting for sync sound.
Were you familiar with the universe of The Sandman before doing this?
I am a big fan of novels, of comics... we have all grown up on them. I was a little familiar with this world, but when this project came to me, I started reading a lot and really got to know this character and the world of The Sandman. I would read them out to my friends and we would discuss what the symbolism meant, how similar or how different it is to the characters of other graphic novels.
The Sandman has such a huge fanbase all over the world that so many people came on board this project out of sheer excitement. And also the fact that I am going to be narrating it (smiles).
I was just looking at the list of films you are working on and I have to ask is this the maximum number of films you have ever worked on silmultaneously? Bhool Bhulaiyaa 2 is up for release this month, and you have four more films lined up. Is this a fallout of the two-year pandemic pause or the fact that some great roles came together at the same time?
Both! (Laughs) Bhool Bhulaiyaa 2 (co-starring Kartik Aaryan and Kiara Advani) we started before the pandemic and then had to pause in between and finally finish it later. Khufiya (directed by Vishal Bhardwaj) was planned during the pandemic. Kuttey (directed by Vishal's son Aasmaan Bhardwaj and co-starring Naseeruddin Shah, Arjun Kapoor and Radhika Madan) also came to me during the pandemic. Drishyam 2 and Bholaa (both with Ajay Devgn) then followed. So it's five films at the same time... I have never worked like this before! (Laughs)
So what was it like?
It's really hectic! Since March last year, I haven't stopped a day and I have been working back to back. All the films are big and challenging and being one of the main leads, I have a lot to do. So a lot of shoot days were required of me. It was both physically and mentally exhausting, as well as required travelling so much.
But the thing is that two of these films are with Vishal (Bhardwaj) and so it didn't feel tedious, and two are with Ajay (Devgn), which again was comfortable... for all these films, it felt like I was going back home. I am so comfortable with these people. But ya, it's been a lot! (Laughs)
The more we see of you on screen, the better for us. Once in a while do you enjoy throwing a curveball at the audience? Like Bhool Bhulaiyaa 2 is a completely 'un-Tabu-like' film....
(Laughs) I get what you are saying! But these are not things which I plan consciously. Yeh sab filmein aa jaati hain aur main kar leti hoon. I can't calculate these things. But the good thing is that all different kinds of scripts are offered to me at any given point of time. Out of that, one or two stick out which seem, as you said it, 'un-Tabu-like' (laughs). But it's nice that I get these films because they show that there is nothing that one can say that Tabu can't do. Har type ki film mujhe mil jaati hain... that's my good fortune. Nothing is repetitive and everything looks different.
Now there is so much talk of female actors being offered diverse opportunities, but you have always been someone who was doing  interesting and varied work when the going wasn't this good....
Yes, I have always got these good roles and scripts. When I was doing an Astitva, I was also doing a Hum Saath Saath Hain; along with Hu Tu Tu, I was doing Border; when I was doing Maqbool, I was also doing Biwi No 1. So mujhe hamesha ek mix toh mila hi hain. Also, over the years, one builds that kind of space where makers feel you can do different kinds of roles, no matter how diverse they are.
And when is a Bangla film happening? We always talk about you doing one....
I really, really hope soon! I spoke to Bumbada (actor Prosenjit) recently and I said, 'Bumbada, it's high time I did a Bangla film!' So many Bengali directors approach me, but for Hindi films. And I am always like, 'Why would you do a Hindi film with me?! Plan a Bangla film!' I am itching to do a Bangla film. Honestly, I am itching to go to Calcutta and just stay for a month... be with my friends, eat loads of fish and go for long drives!