6 reasons that make Netflix's Qala, starring Triptii Dimri and Babil Khan, a compelling watch
Bulbbul director Anvita Dutt's second directorial venture also stars Swastika Mukherjee and has music by Amit Trivedi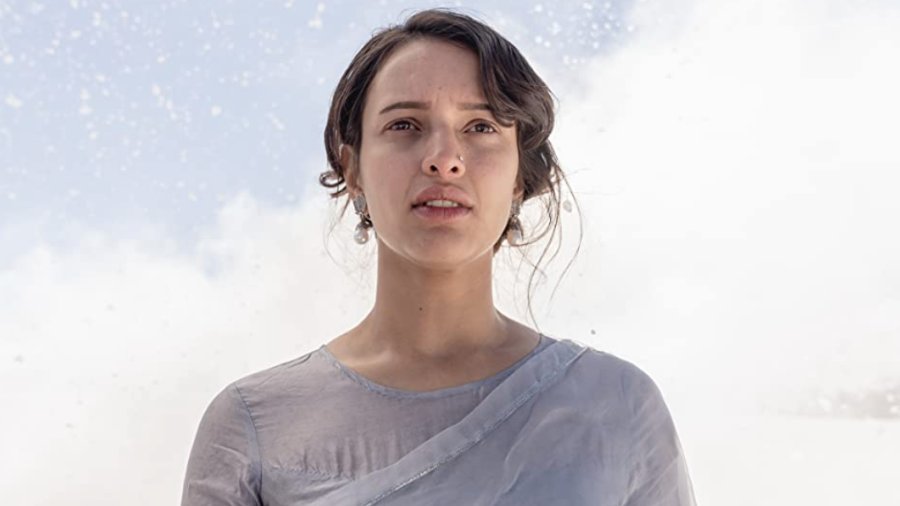 Qala, starring Triptii Dimri, Babil Khan and Swastika Mukherjee, is streaming on Netflix.
IMDB
---
Calcutta
|
Published 02.12.22, 05:58 PM
|
---
Director Anvita Dutt's second directorial venture, Qala, is a women-centric period drama set in the 1930s and '40s that doesn't hide the ugly side of unbridled ambition and an abusive childhood under the veneer of a musical. Frontlined by Triptii Dimri, Swastika Mukherjee and Babil Khan, the film delves deep into the psychological crisis that desire for fame brings with itself. 
Like Bulbbul, the protagonist in Anvita Dutt's first film by the same name, Qala, too, is a lone woman who struggles to make her mark in a deeply patriarchal society. Here are six reasons why Qala should be on your weekend watch list. 
A story of love, loneliness and ambition
After a remarkable debut with the supernatural thriller Bulbbul in 2020, Anvita Dutt tells the story of a female playback singer, Qala (played by Triptii Dimri), in her second film. 
Born into a family of musicians, Qala is expected to carry the legacy of her father forward. She is devoted to music and desperately seeks validation from her mother, Manjushree (played by Swastika Mukherjee). Pushed to breaking point by her mother, Qala withdraws into her shell. Her only company in the cold, snowy neighbourhood of Devisthal in Himachal Pradesh is the noise in her head and the fear in her heart. 
Qala's desperation peaks when Manjushree takes a promising young folk singer Jagan (played by Babil Khan) under her wing, driving her to make a few rash decisions. Qala laboriously climbs her way up the ladder of success in a male-dominated world but at a cost. 
A toxic mother-daughter relationship
Manjushree has an axe to grind against Qala — for the twin baby who died at birth. Losing her baby son makes Manjushree take out her frustration on her little daughter, even going to the brink of throttling Qala on one occasion. 
An excruciatingly hard and unforgiving childhood begins for Qala as a budding singer under Manjushree's tutelage. A wrong taan during riwaz would make Manjushree throw Qala out in the cold, on a wintery night, without food and water. 
When Qala deviates from the original tune at her debut public performance, a vengeful Manjushree brings a local folk singer home to groom him. She showers love and care on Jagan, the son she never had, further pushing Qala to a mental breakdown. The mother-daughter bond is severed when Qala decides to record a film song in Calcutta and Manjushree snaps all ties with her.
Impressive performances by Triptii Dimri and Swastika Mukherjee
Triptii and Swastika share an electric bond as the mother-daughter duo. Swastika's calm stoicism belies the tide of anger swelling inside her. Triptii portrays too well the vulnerabilities of a daughter growing up in the towering presence of her mother. In the later half of the movie, Triptii is spot on as a guilt-ridden woman seeking an escape from the noises in her head.
Among the rest of the cast, Amit Seal leaves an indelible mark as composer Sumant Kumar, who is a bhadralok to the world but a slimeball behind closed doors.  In a blink-and-you-miss film-within-a-film sequence, Dutt roped in Anushka Sharma to drive the message that 'no means no'. Varun Grover, as the lyricist Majrooh, is impressive even in his short screen presence. 
An assured debut by Babil Khan
The late Irrfan Khan's son, Babil Khan, has remarkable screen presence. He slips into the character of the folk singer Jagan with considerable ease, delivering a mature performance in his first outing in front of the camera. Every time he appears on the screen, one hopes Jagan will wrong Qala, so that our loyalties never shift from the protagonist. But Jagan is simply an artiste who wants the world to know about his craft, and Babil is able to hold this delicate balance quite well.
A set that has the feel of a Sanjay Leela Bhansali film
Qala, which means 'art', lives up to its name. Every frame of this visual spectacle can be savoured like a painting. From the snow-capped hills in Himachal Pradesh to the warm tones of the streets of Calcutta, the film has been exquisitely shot by Siddharth Diwan. Meenal Agarwal's production design is reminiscent of the opulence of a Sanjay Leela Bhansali set, brought to life by the beautiful interplay of light and shadow. The narrative is laden with metaphors, with the moth being a constant motif throughout the film, specially as a design element in Qala's saris, signifying her own character arc.
Amit Trivedi's music — the real hero of Qala
The real hero of Anvita Dutt's sophomore venture is the music composed by Amit Trivedi. The compositions often bring out the mental upheaval that the characters are going through. Shauq, written by Varun Grover and sung by Swanand Kirkire, Shahid Mallya and Sireesha Bhagavatula, stands out in the album, conveying metaphorically the story of Qala's heartbreak. 
Another soothing number is Nirbhau Nirvair, a Sant Kabir song whose lyrics have been reworked by the director herself. Even Ghodey Pe Sawaar, written by Amitabh Bhattacharya and sung by Sireesha Bhagavatula, is a memorable track that rekindles the nostalgia of the bygone era.