5 true-crime documentaries on Netflix that take a trip down the criminal's mind
From Nazi atrocities during World War II to exploiting women on dating apps, these films cover a wide range of disturbing issues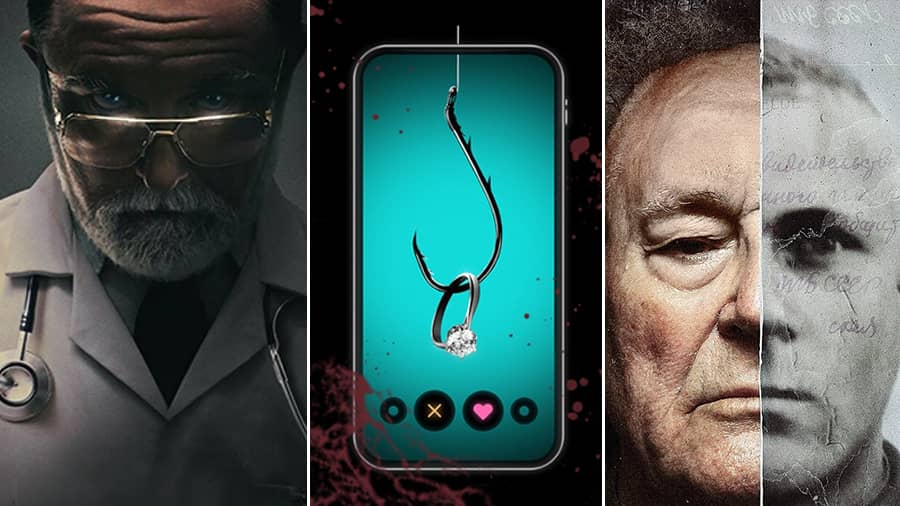 A poster of Our Father, The Tinder Swindler and The Devil Next Door.
Twitter
---
Calcutta
|
Published 31.08.22, 05:12 PM
|
---
A charming swindler, a serial killer, a morally bankrupt doctor, a war criminal hidden in plain sight — these true-crime documentaries and shows take a trip down the mind's macabre lane. 
Here are five documentaries and docuseries on Netflix — based on real-life incidents — that a true-crime buff must not miss. Academy Award-winner Jean-Xavier de Lestrade's 2004 documentary mini-series Death on the Staircase pushed the envelope in true-crime documentary making with its gripping narrative. Netflix brought back this docuseries in 2018 with added footage and renamed it The Staircase. The 13-episode series follows the trial of American novelist Michael Peterson, who was convicted of murdering his wife, Kathleen Peterson. In December 2001, Michael called 911, the emergency helpline number in the US, to report that his wife had died after taking a tumble down the stairs.
Being filmed soon after his arrest in 2001, The Staircase follows events until his eventual guilty plea in 2017. It records the reaction of family members and law enforcement officials. HBO Max has recently produced a dramatic adaptation of the docuseries into a limited series of the same name with actors Colin Firth, Toni Collette and Sophie Turner.
The Tinder Swindler (2022) Netflix's 2022 documentary The Tinder Swindler exposes a crook's elaborate lies to cheat women. It chronicles the tale of Israeli conman Simon Leviev aka Shimon Hayut, who used the dating app Tinder to connect with several women. He then emotionally manipulated those women into supporting his extravagant lifestyle under the pretence that he needed cash to escape from his (invented) enemies.
Directed by Felicity Morris, the Emmy-nominated documentary follows the investigation carried out by a Norwegian media outlet that was contacted by several women with accusations of fraud against a man posing as the son of Israel's biggest diamond tycoon. This gripping true-crime documentary sheds light on the dark side of online dating.
The Devil Next Door (2019) War crimes committed by the Nazis during World War II have been the subject of many feature films and documentaries. This 2019 documentary by Yossi Bloch and Daniel Sivan follows the highly publicised trail of one such war criminal — John Demjanjuk.
The Devil Next Door follows a retired autoworker in Cleveland who was accused of being a Nazi prison camp guard at the Sobibor extermination camp in German-occupied Poland.
The five-part docuseries focuses on Demjanjuk's trial in Jerusalem after his extradition from the US. The series features interviews of war survivors, historians and war crime investigators. It also highlights the eccentric Israeli lawyer who represented Demjanjuk during the trial.
Our Father (2022) Lucie Jourdan's 2022 documentary Our Father focuses on Indianapolis-based fertility doctor Donald Cline, who used his own sperm to impregnate his patients without their knowledge. The director of the documentary is also the biological child of the doctor. After taking a DNA test and months of research and conversations with various people, Jourdan begins to piece together the disturbing truth that she had a seemingly endless roster of half-siblings within a 25-mile radius.
Our Father features interviews of the victims, Cline's numerous biological children who share the same genetic illness as the doctor and dramatised retellings of the events. The documentary, which highlights how a doctor misuses the trust of his patients, also speculates on possible religious and race-related motivations by Cline.
Crime Stories: Indian Detectives (2021) Directed by N. Amit and Jack Rampling, Netflix's 2021 Indian docuseries Crime Stories: Indian Detectives follows the real-life investigation of four different violent crimes. The four-part series follows investigative teams from four different police stations in Bengaluru. These teams are handling three murder cases and a child kidnapping case.
Focusing on law enforcement officials, Crime Stories: Indian Detectives throws light on police investigations, from a manhunt to catching a psychotic killer. Exploring the human angle associated with such investigations, the lives of the cops and the impact this work has on them are also recorded in this series.