5 recent neo-noir films to add to your OTT watchlist
Actors like Denzel Washington, Cate Blanchett, Rami Malek, Bradley Cooper, Hugh Jackman and Brad Pitt have frontlined these films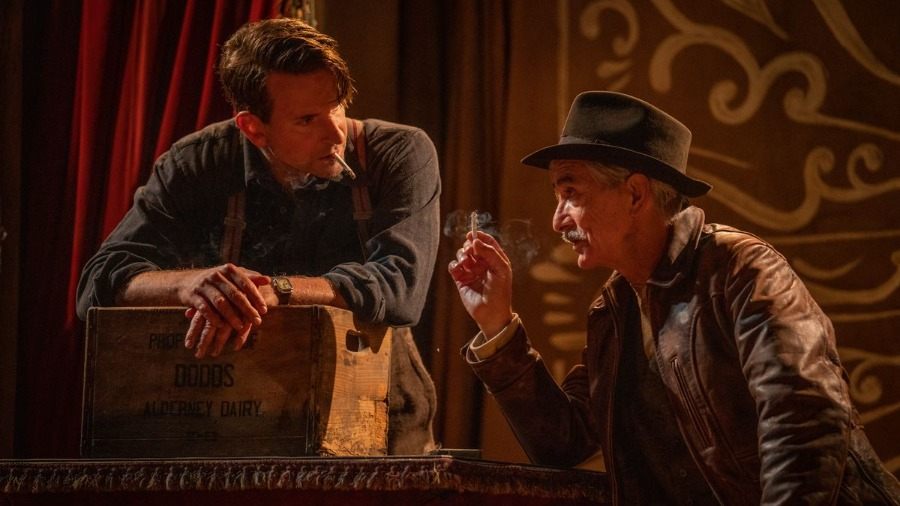 A still from Nightmare Alley.
IMDB
---
Calcutta
|
Published 21.11.22, 12:28 PM
|
---
From post-World War II to the 2000s, the film noir genre has undergone one of the most exciting transformations. The 1970s New Hollywood movement revived noir into a new genre, called neo-noir. We pick five recent neo-noir films that cast classic noir elements in modern-day settings and sensibilities with crackling results.
Bullet Train (2022) Based on Japanese author Kōtarō Isaka's novel Maria Beetle, David Leitch's 2022 action comedy film incorporates the elements of the noir genre with contemporary sensibilities. You have shadowy men, mysterious women and twists in the plot in this film starring Brad Pitt, Joey King, Aaron Taylor-Johnson, Sandra Bullock, Brian Tyree Henry, Andrew Koji, Hiroyuki Sanada and Michael Shannon. 
Bullet Train revolves around an assassin codenamed Ladybug (Pitt), who is sent on an assignment on the Bullet train from Tokyo to Kyoto. The train is filled with other deadly assassins who are all here for different but connected reasons. The leader of Japan's biggest crime syndicate called White Death is the mastermind behind this collision course as he tries to settle a personal score. 
Watch it on: Netflix
Nightmare Alley (2021) Helmed by Academy Award-winner Guillermo del Toro, this 2021 neo-noir psychological thriller is based on the 1946 novel of the same name by William Lindsay Gresham. From gloomy atmospheres to genre-specific murky characters and a tragic conclusion, Nightmare Alley recreates the noir mood by blending newer visual techniques. It stars Bradley Cooper, Cate Blanchett, Toni Collette, Willem Dafoe, Richard Jenkins and Rooney Mara. 
Nightmare Alley follows Stanton Carlisle (Cooper), who befriends a psychic and her mentalist husband at a travelling circus in 1940s New York. Carlisle uses his newly gained expertise to con the rich and powerful to create a better life for himself. He comes up with a plan to defraud a dangerous tycoon with the help of a mystifying psychologist. But there's a twist awaiting him.    
Watch it on: Disney+ Hotstar 
Reminiscence (2021) Starring Hugh Jackman, Rebecca Ferguson, Thandiwe Newton, Cliff Curtis, Marina de Tavira and Daniel Wu, Reminiscence is a 2021 American neo-noir science fiction thriller written and directed by Lisa Joy. The film is ambitious in its narrative with a blend of sci-fi action elements and noir thriller. 
Set in the future when climate change has caused the seas to rise and flood Miami, Reminiscence chronicles the journey of Nick Bannister (Jackman), who runs a business where people get to relive their favourite memories. Bannister finds himself in danger when he falls for a woman seeking his help to look for her missing set of keys.
Watch it on: Amazon Prime Video
The Little Things (2021) This 2021 neo-noir psychological crime thriller starring Denzel Washington, Rami Malek and Jared Leto is written and directed by John Lee Hancock. This is the only film on the list that follows the original approach of Hollywood noir movies. 
The Little Things revolves around a serial killing investigation in 1990 by a former detective, Deacon (Washington), who worked on the case years ago and has now teamed up with the rookie detective Baxter (Malek). Their investigation leads them to a loner named Sparma (Leto), but they only have circumstantial evidence. However, before they can find solid evidence against the suspect, the FBI gets involved and Baxter becomes desperate to zero in on the killer.    
Watch it on: Netflix
Polar (2019) Based on Victor Santos's 2013 graphic novel Polar: Came From the Cold, Jonas Akerlund's 2019 neo-noir action thriller film Polar stars Mads Mikkelsen, Vanessa Hudgens, Katheryn Winnick, Matt Lucas and Ruby O. Fee. The film is filled with wild action set-pieces and stylised violence attached to manga. 
Polar follows Duncan Vizla (Mikkelsen), a top assassin also known as The Black Kaiser. Vizla is about to retire on his fiftieth birthday and moves to a remote town in Montana. However, his previous employer brands him as a liability to the company and sends a team of assassins to kill Vizla. Now, Vizla finds himself back in the game against his will, facing off a horde of younger, faster and more merciless killers who will do anything to bump him off.  
Watch it on: Netflix