10 best pop culture jokes from Phone Bhoot that will leave you in splits
The horror comedy, starring Katrina Kaif, Siddhant Chaturvedi and Ishaan Khatter, released on November 4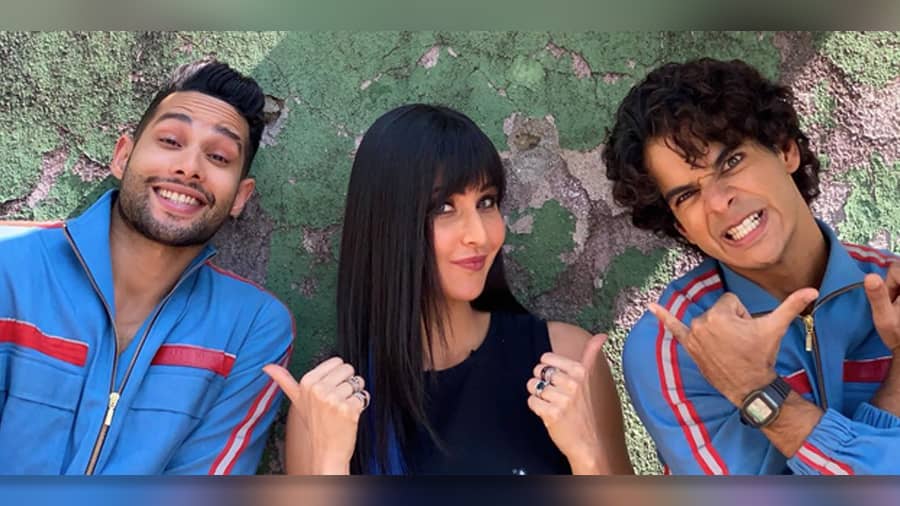 (L-R) Siddhant Chaturvedi, Katrina Kaif and Ishaan Khatter in Phone Bhoot
@katrinakaif/Instagram
---
Calcutta
|
Published 10.11.22, 11:08 AM
|
---
"Tumhari hindi weak hai? (Is your Hindi weak?)", says Katrina Kaif to Sheeba Chadha's Chikni Chudail, taking a dig at Katrina's own Hindi diction that has been mocked since she stepped into the industry. This, and many more spoofy pop culture jokes and fourth-wall breaks surround the plot of Phone Bhoot, which in all honesty, is more comedy than horror.
The Gurmmeet Singh-directed film stars Katrina Kaif, Siddhant Chaturvedi and Ishaan Khatter as Ragini, Major and Gullu, respectively. The plot surrounds Major and Gullu's horror obsession which turns into a successful career after an electric shock leads them into seeing ghosts — one of them being Ragini. Other than the obvious Ghostbusters references, the film is filled with jokes that will definitely get a chuckle out of you. Here's a list of our top 10 favourite pop culture jokes from Phone Bhoot. 
1. Katrina's Slice advertisement
In an attempt to convince Major and Gullu to get into business with her, Ragini does the exact enactment of Katrina's advertisement from Slice where she seductively drinks the mango drink while the two gawk at her. 
2. The entry of the Fukrey gang
The first caller of Phone Bhoot turns out to be a prank caller group of none other than the Fukrey gang consisting of Hunny (Pulkit Samrat), Lali (Manjot Singh) and Choocha (Varun Sharma). 
3. Hands-on-window Titanic scene
When Siddhant's Major Shergill refuses to go with Gullu and Ragini on an adventure to save Ragini's partner from doom, Gullu knows exactly how to make Major come back and become a part of the trio. Recreating the famous hands on the window scene from Titanic, Gullu and Ragini fake being together to make Major come back. 4. The heroic Kabhi Khushi Kabhie Gham entry
Falling for Gullu and Ragini's plan, Major comes running back to the two in a heroic re-entry with the Kabhi Khushi Kabhie Gham soundtrack playing in the background. The only thing missing was a puja thali in the hands of Ishaan Khatter's Gullu. 5. 'Bohot Hard'
Siddhant's Gully Boy dialogue "Bohot Hard" is used against him this time as a possessed kid bashes him with a baseball bat.
6. Jackie Shroff's flute skills
In a major throwback moment, the film's villain Atmaram, played by Jackie Shroff, picks up the flute and mesmerises the onlookers with the famous Hero flute track that had become synonymous with the 1983 film. 7. A Suitable Boy
Ishaan's Gullu might have taken the helm of the most comedic dialogues but Siddhant's one liners are just as funny. In a scene where Major is trying to figure out the relationship between Ragini and Gullu, he calls Ishaan character a suitable 'bhai', a very obvious pun on the Ishaan-starrer A Suitable Boy.
8. Rajinikanth's Sivaji laugh
When Major and Gullu come into contact with a South Indian ghost, Gullu being a Madurai native, brings the ghost into control by showing it a photo of Rajinikanth on his phone and recreating the iconic laugh from the 2007 film Sivaji.
9. The never-ending Brahmastra digs
In Brahmastra, Guruji's ashram was marked on Google map, and Phone Bhoot did not miss out on turning it into a joke. Gullu and Major want to rescue Ragini from Atmaram but are at their wit's end because the villain's lair is unfortunately not on Google maps. In the climax, the trio hold Atmaram's staff but can't get it to work. Major tells Gullu without missing a beat, "Astra hai toh button toh hoga," taking a dig at the infamous Brahmastra dialogue where Shiva (Ranbir Kapoor) calls Isha (Alia Bhatt) his button.
10. Koi Mil Gaya's Om
Even Koi Mil Gaya's famous alien-calling tune of Om-Om is integrated into the climax where Gullu tries to make the magical staff work by pushing buttons on it.