Delhi elections 2020: Kejriwal blunts BJP's toxic challenge
'AAP victory in Delhi will spur new kind of politics'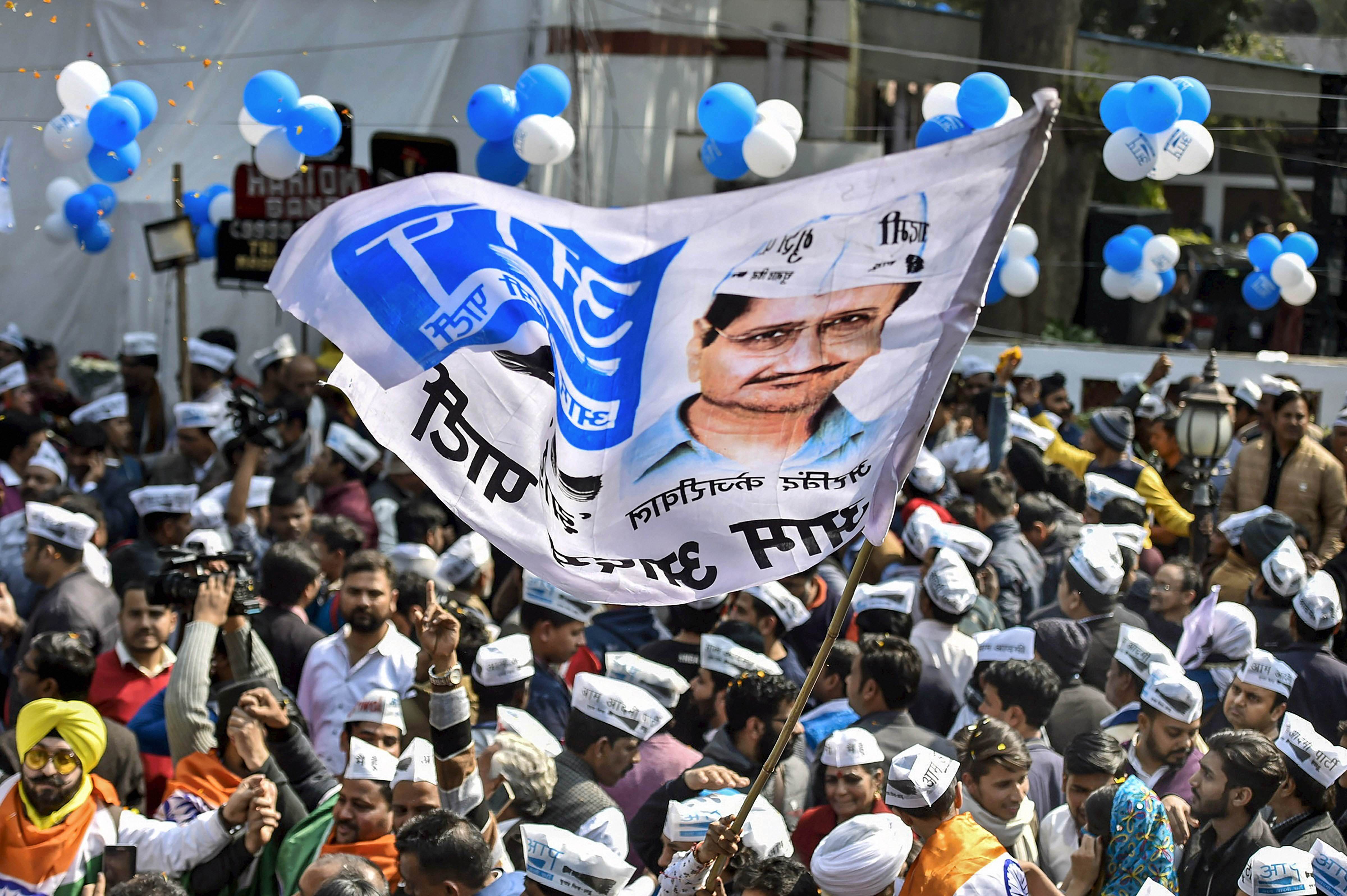 ---
New Delhi
|
Published 11.02.20, 08:33 AM
|
---
The Aam Aadmi Party (AAP) stormed to an even greater victory than exit polls predicted with trends and results indicating it is poised to win 63 seats in the 70-seat Delhi Assembly.
The party was leading in 62 seats meaning that it was only down by five seats on its 2015 seat tally of 67 out of 70. The BJP looks to gain four seats and the Congress, which has been almost non-existent in the contest, is heading towards a total washout in a city that in a city it had ruled for three consecutive terms under Sheila Dikshit.
"Dilli walon ghazab kar diya aap logon ne! I love you,' said AAP boss and chief minister Arvind Kejriwal.
"This is a win for every family whose children are going to school, whose family is getting good treatment in hospitals. People of Delhi have given birth to a new kind of politics. They have conveyed that vote will only go to the one who constructs schools, mohalla clinics, 24x7 electricity, water, roads. It's the beginning of a new kind of politics,' he said.
His political strategist Prashant Kishor was equally effusive. "Thank you, Delhi for standing up to protect the soul of India," said Kishor, who played a key role in guiding AAP's poll plans from the time the campaign got under way.
Top AAP leader Manish Sisodia, who was trailing all morning, made a strong comeback in the afternoon and finally won by over 12,000 votes in his East Delhi constituency.
Two other AAP leaders, Atishi and Raghav Chadha, also staged a comeback after being behind all morning to win their seats by comfortable margins.
In the Okhla constituency, in which the Shaheen Bagh protest against the Citizenship Amendment Act (CAA) is taking place, the AAP candidate, Amanatullah Khan, swept to an extraordinary victory, at one stage having 44,384 votes compared to his BJP Brahm Singh, who had only garnered slightly over 7,000 votes.
There has been speculation that the Congress purposely ran a lacklustre campaign to ensure that AAP was able to defeat the BJP and win the city once again. This also led to murmured talk about an alliance on a wider scale.
Tuesday's win has also raised chief minister Kejriwal's national profile and pushed him to the forefront as one of the Opposition's key leaders.
Celebrations began early in the AAP's party headquarters, even though a number of constituency contests like Sisodia's initially appeared too close to call.
The AAP victory comes in the backdrop of its highly disciplined campaign that focused sharply on its achievements in Delhi during the last five years, setting up health centres and improving the quality of government schools. It has also made voter-pleasing moves like offering free electricity for smaller consumers and free bus travel for women.
Even though it hasn't translated into more wins, the BJP pointed to the fact that its vote share has gone up from 32.3 per cent to 38.99 per cent. The party's gains have come at the expense of the Congress, which fell from a 9.7 per cent vote share in 2015 to 4.24 per cent this time. The AAP's vote share fell by around 1 per cent from 2015.
AAP supporters starting pouring into the party headquarters by 7.30am, ready for a victory party. By contrast, the BJP only a few party workers had turned up at its party office where the mood was subdued.
The BJP which has been out of power for 22 years in Delhi laid the blame for the defeat on the fact that its local leadership is weak and divided between different groups like the Punjabis and the Purvanchalis.
By contrast, Kejriwal took care not to let the campaign focus turn away from his government's achievements even when the BJP turned up the decibel level attacking him as an anti-national and saying that he sympathised with the protesters at Shaheen Bagh.
"We redefined nationalism as service to the country," said an AAP spokesperson.
The election saw a very different Kejriwal from the angry agitator who fought at the hustings in 2015. This time, the Delhi chief minister presented a very mellow image and focused on presenting his government's achievements.
Analysts said the BJP has lost ground amongst crucial younger voters in the 18-25 age group.
For the BJP this is the sixth state-level defeat in a row and it came despite the fact that home minister Amit Shah led from the front and addressed almost 50 electoral rallies. Prime Minister Narendra Modi too addressed numerous rallies and set the tone for what became a mudslinging campaign.
"It was a Kejriwal Vs Amit Shah battle," said an AAP spokesman.
On the ground, AAP campaigners say they were never doubtful about victory because they were getting constant positive feedback from voters about their five years in office. They said the campaign turned particularly nasty in the last two weeks but this did not affect the final result.