At the end of the Arvind Kejriwal's address after taking oath, two Muslim men came forward from the rows of supporters with placards taking a dig at Union home minister Amit Shah.
Written in Hindi, one placard read 'Current laga kya? (Did you get an electric shock?)' and the other one said 'Dilli ne current lagaya, ab Bihar current lagayega (Delhi gave a shock, now Bihar will shock you)'
On January 26, Shah had asked party supporters at a BJP rally in East Delhi's Babarpur to "press the (voting) button with such anger that the current is felt at Shaheen Bagh."
After heavy polling in constituencies with a sizeable Muslim population, AAP won in all the seats. In Okhla, where Shaheen Bagh is situated, AAP candidate and former MLA Amanatullah Khan won with a record vote share of more than 80%.
Waqar Choudhary, one of the two men who work for AAP's IT team, said BJP spread several rumours in his constituency, Laxmi Nagar. According to Choudhary, a few days prior to the election, their competition spread rumours that Muslims will build a mosque there and that they'll rape and abduct their women.
Choudhary said the vitriol was to such an extent that it not only had an impact on their seat but also in the neighbouring Patparganj constituency where Manish Sisodia got a real scare when he trailed behind BJP candidate. Sisodia, however, took the lead in the 13th round of counting and secured the for his party.
In Laxmi Nagar, the contest was intense too. The winning BJP candidate scraped through with a small margin of 880 votes.
No date for 'Muffler Baby'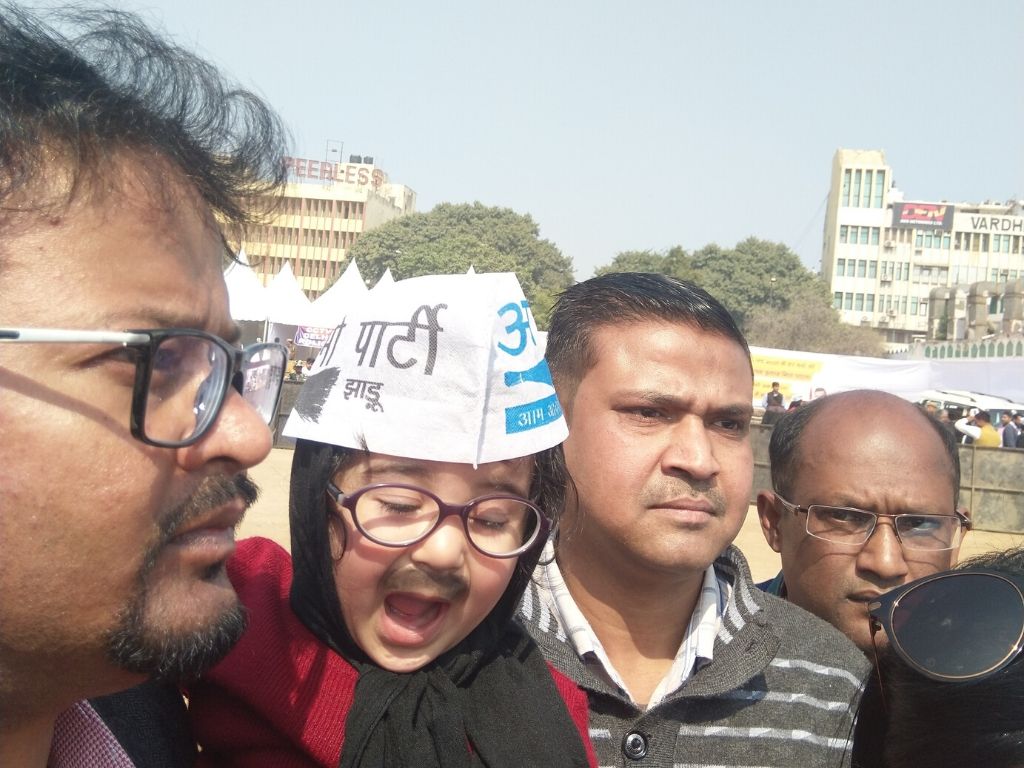 One-year-old Avyaan Tomar, known as the 'Muffler Baby', with his father Rahul Tomar during the swearing-in ceremony of Delhi chief minister Arvind Kejriwal at Ramlila Maida, New Delhi, on Sunday, February 16, 2020. Vishal Narayan
Winning hearts since the election result day, little Avyaan could not meet his favourite leader Arvind Kejriwal on Sunday too, despite an invitation from the latter himself.
One-year-old Avyaan Tomar, who has been in news for his Kejriwal impersonation on the day when the results of Delhi Assembly polls were announced, was invited by Kejriwal to his oath-taking ceremony held on Sunday.
But the kid, who had come to be known as the 'Muffler Baby', could not secure a date with Kejriwal despite the invitation because of the bustle at the Ramlila Maidan, which was crowded by thousands of AAP supporters.
'We are not disheartened at all. I am a huge fan of Kejriwal and it's more than enough that he invited us personally for the ceremony,' Rahul Tomar, father of Avyaan, told The Telegraph Online.
No place for goli, gali: AAP supporter
The message from the Delhi polls mandate has let people know that the language of 'goli and gaali (violence and obscenities)' will not be tolerated, said Sandeep Sharma, an AAP supporter, who was present at the ceremony.
'The message from this Delhi polls mandate has informed the people that the language of 'goli and gaali (violence and obscenities)' will not be tolerated. There is no place in this siasat (dispensation) for those who speak ill and do bad things. The government should be saaf-suthri (devoid of corruption) and productive. Today, Delhi making Kejriwal the CM gives the message that he will not remain just the CM but reach Lal Qila, become PM.People expect this from him,' he said
Sharma was holding a placard that read: 'Goli, gaali ab manjoor nahi, Lal Qila ab door nai. (Violence and obscenities are not acceptable anymore, Red Fort is not far away,' in a reference to Kejriwal becoming the PM in the years to come.